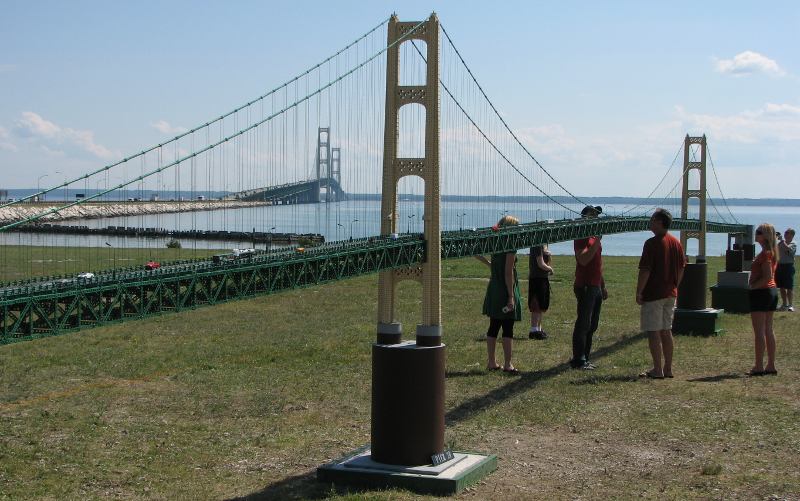 101' long Erector Set model of the Mackinac Bridge built by Forrest Wyrick
On Saturday, July 28, 2007, the communities of St. Ignace and Mackinaw City celebrated 50 years of the Mackinac Bridge. It was billed as the Mackinac Bridge 50th Anniversary, the anniversary of the opening of the bridge was not until November 1st. There were many events during the day including parades in both cities, activities at Bridge View Park and a Mackinac Bridge fireworks display where the bridge was closed to traffic and the fireworks were fired from both shores.
Although there was heavy rain and fog in the Mackinac Straits area on the day before the celebration, Saturday July 28 was beautiful, warm and clear. The first parade was in St. Ignace and was followed by a procession of 50 convertibles over the Mackinac Bridge to participate in the parade in Mackinaw City. (complete set of photos from the parade)

Mackinaw City float in Mackinac Bridge 50th anniversary parade.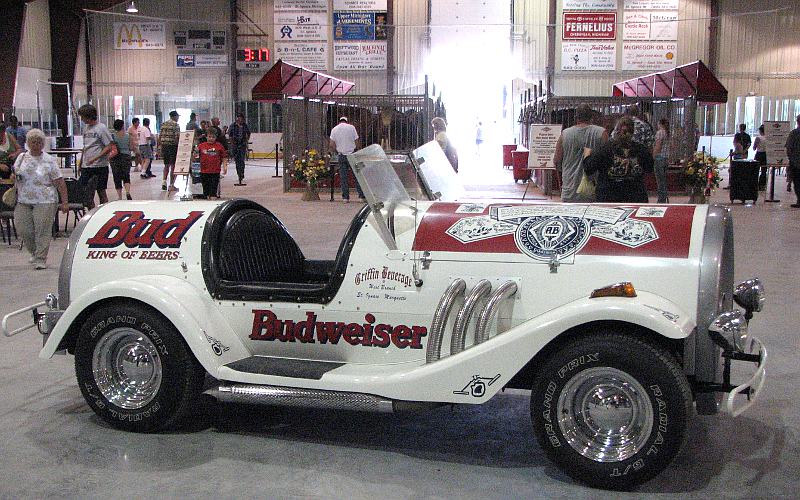 Budweiser Car in St. Ignace with Clydesdales in the background
The highlight of the afternoon was the unveiling and dedication of a sculpture of a Mackinac Bridge ironworker, sculpted by Janice Trimp of Grosse Pointe Park, Michigan. Other activities in Bridge View Park included demonstrations of Ironworkers trades using I-beams, a working forge, rivet tossing and other activities.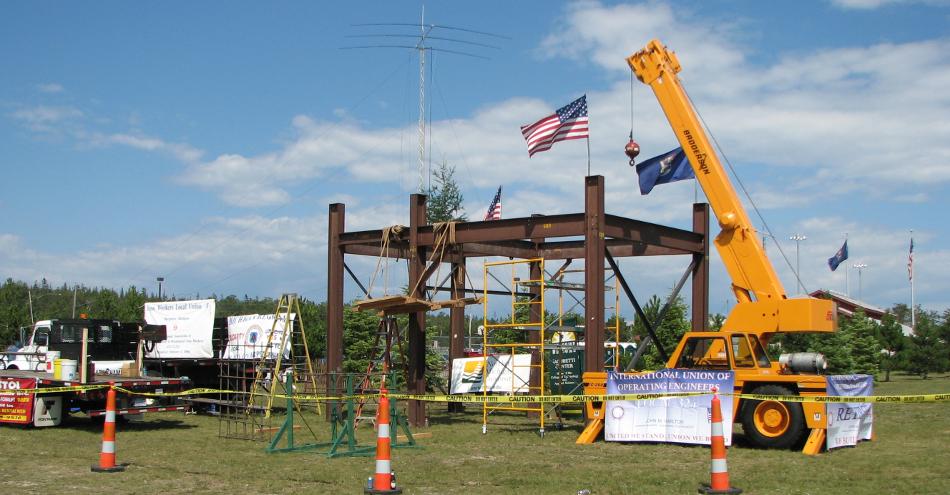 Ironworkers Building Trades Demonstration in Bridge View Park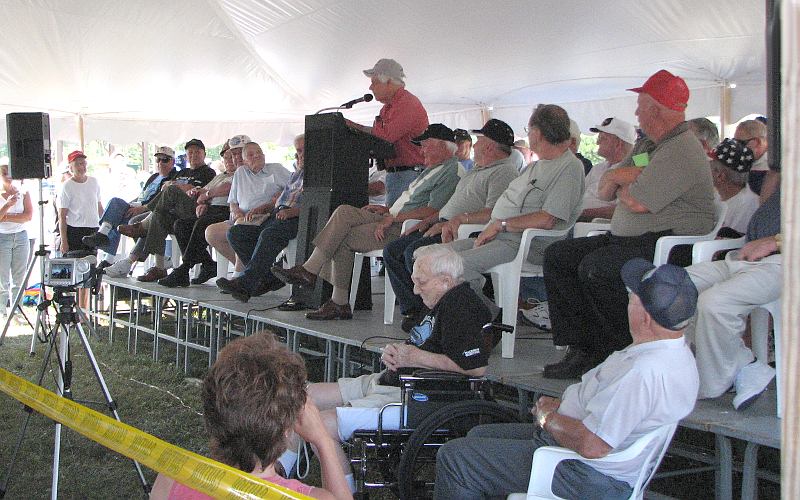 Ironworkers & Building Trades Stories and Question & Answer Session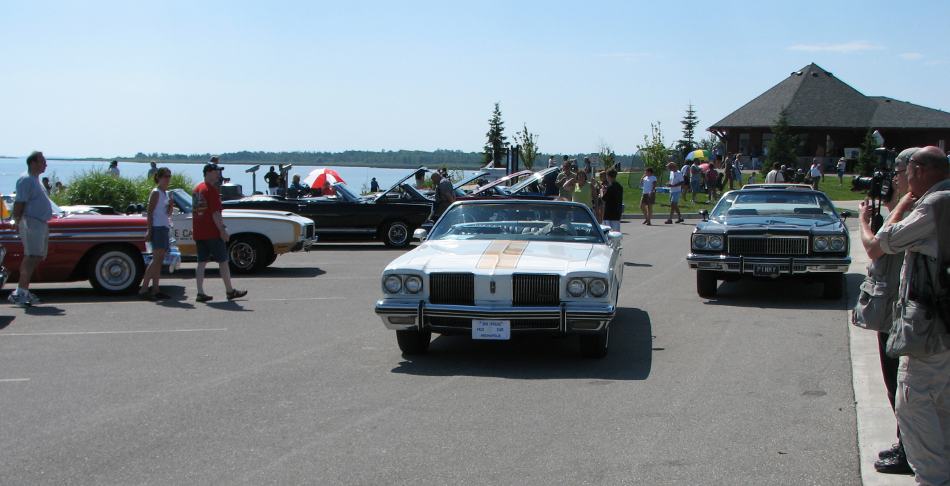 A few of the 50 convertibles which participated in the 50 anniversary parade earlier in the day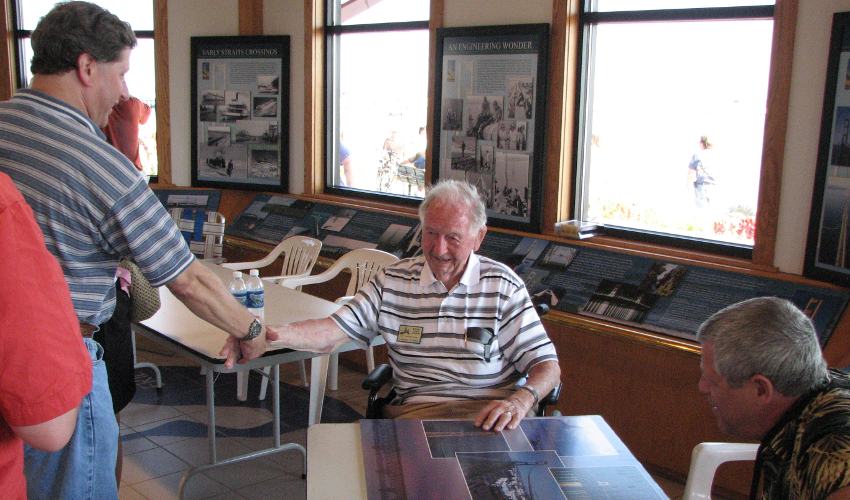 Larry Rubin - first Executive Secretary of the Mackinac Bridge Authority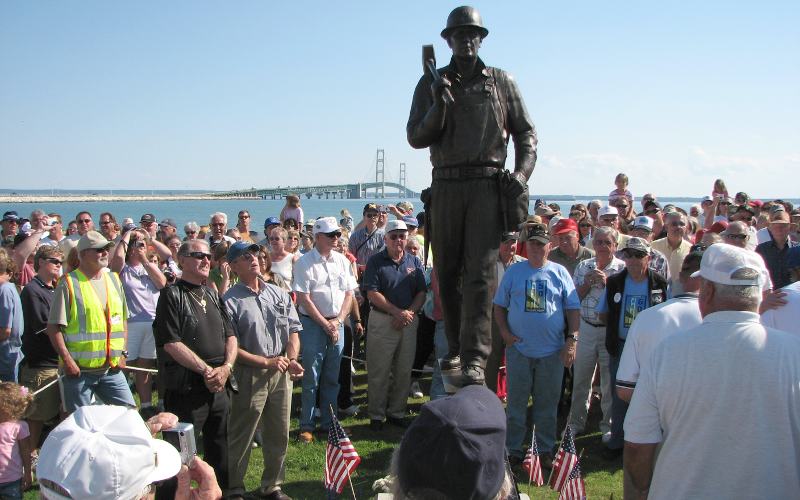 Dedication of the Mackinac Bridge Ironworkers Statue and Memorial with retired Ironworkers looking on
On the evening of the dual St. Ignace/Mackinaw City fireworks, the water was mirror like as the sun set over Lake Michigan. A few minutes latter, a breeze started up creating a chop and keeping away the bugs that might have been along the shore A little after 10 PM, there was a distant fireworks display on Mackinac Island, entertaining the thousands waiting for the main show.
As 10:30 approached, the crowd saw the rare sight of the 5 mile long Mackinac Bridge with no vehicles crossing. Traffic was halted during the fireworks. Finally the crowds saw the huge dual fireworks display. There was long applause afterward. Traffic from the enormous crowd was still working its way out of the community an hour and a half later.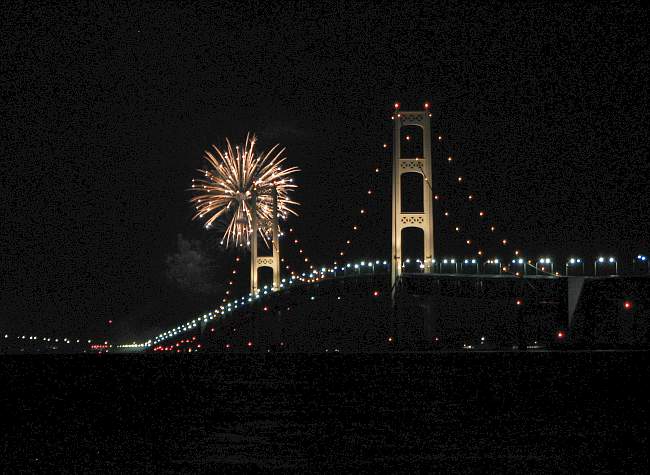 Mackinac Bridge Fireworks display as seen from Fort Michilimackinac
These are sets of photos that your web master's father took of the building the Mackinac Bridge, and the 1958 Mackinac Bridge parade for the celebration of the building of the bridge.
copyright 2007-2020 by Keith Stokes