Construction of the Mackinac Bridge began on May 7, 1954 and although construction continued into the last half of 1958, the bridge opened to traffic on November 1, 1957. The Mackinac Bridge Dedication Festival took 4 days in June of 1958. Although the celebration centered on the communities of St. Ignace and Mackinaw City, Michigan, there were also activities in Sault Ste Marie and Cheboygan. Among other activities, there was a release of a new Mackinac Bridge United States postage stamp, two nights of fireworks in both Mackinaw City & St. Ignace, a ribbon cutting ceremony on the bridge, and major parades in both St. Ignace & Mackinaw City.

The Oldsmobile Company provided 103 white convertibles, which were used to transport dignitaries, Miss Michigan, and other beauty queens, including queens representing each of Michigan's 83 counties.

The Straits of Mackinac was hit by high winds on June 26 which damaged several of the floats and flattened an army exhibit in Mackinaw City, but the everything went smoothly on.

There were 140 units in the parades and all of those entries crossed the Mackinac Bridge between the events. There were color guards from the United States Army, Marines, Navy, Air Force, Coast Guard and Civil Air Patrol. There were also many military vehicles and bands, including the 5th Army Band & Chrysler Imperial Highlanders - a bagpipe band which represented the Chrysler Corporation at special events around the United States.

The images on these pages are from slides taken by the late Lester Stokes.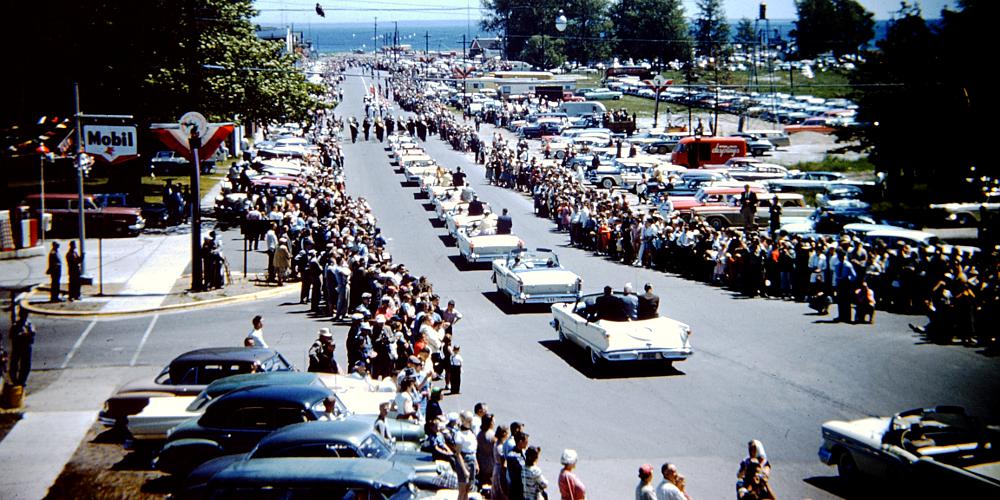 The first few of the 103 white 1958 Oldsmobile Convertibles at the beginning of the parade along Mackinaw City's Central Avenue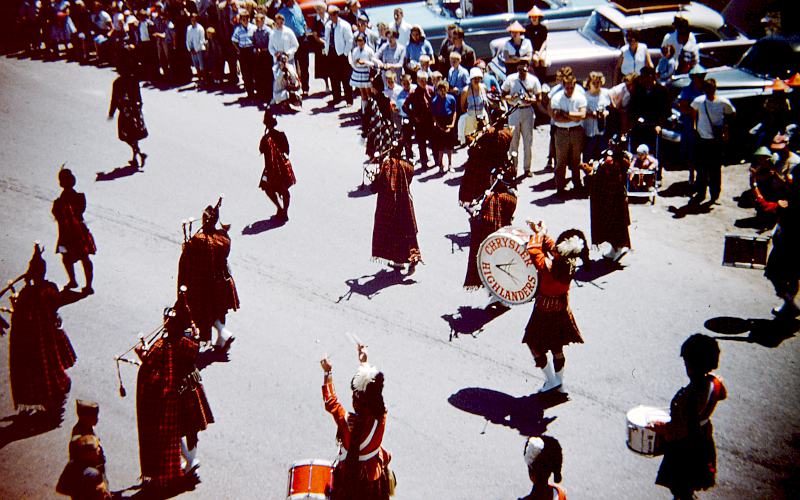 Chrysler Highlanders pipe band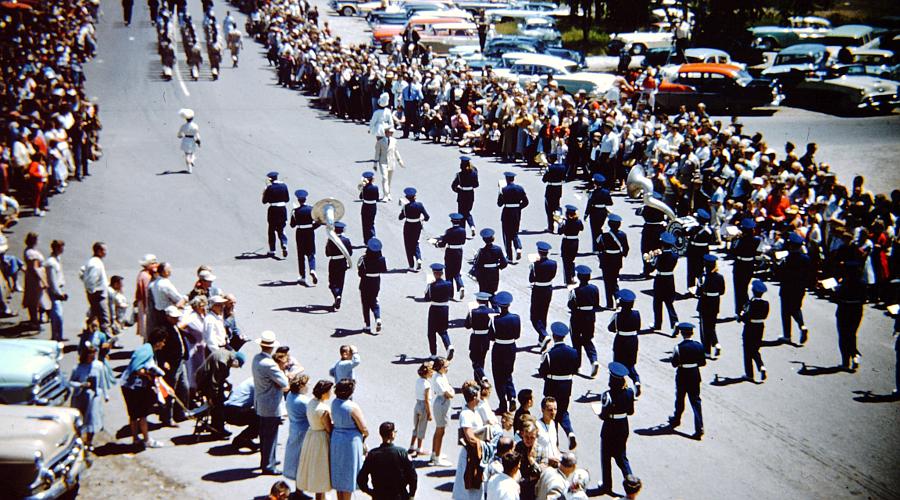 Mackinaw City High School Comets Marching Band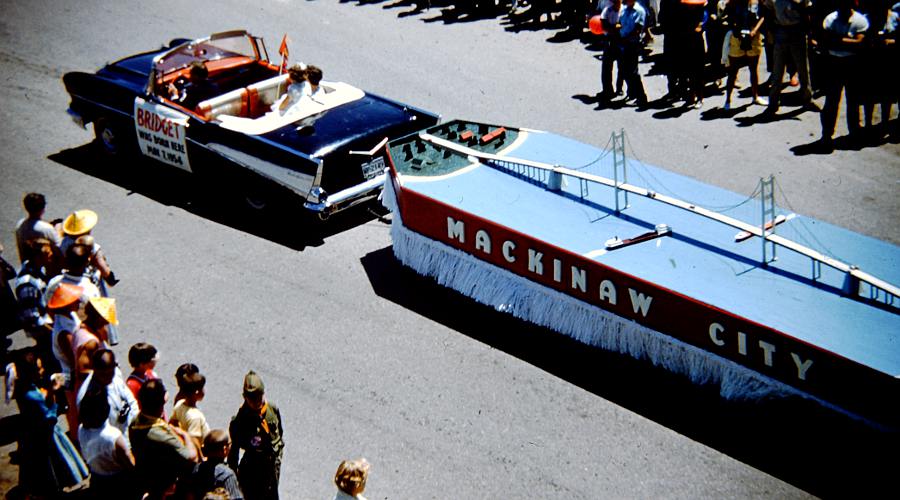 Convertible carrying Bridget Paquet, who was born on May 7, 1954, the day of the ground breaking for the Mackinac Bridge -
for many years, the Mackinac Bridge float represented Mackinaw City at parades across Michigan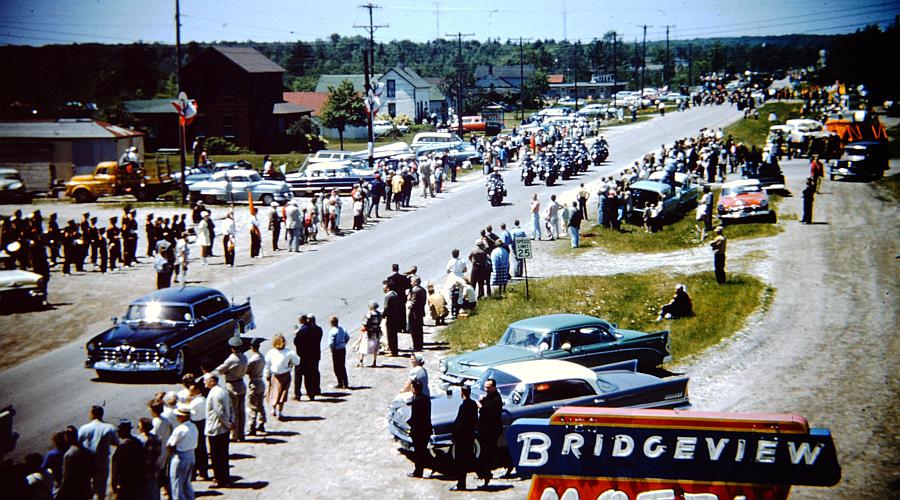 Parade staging area on West Central Avenue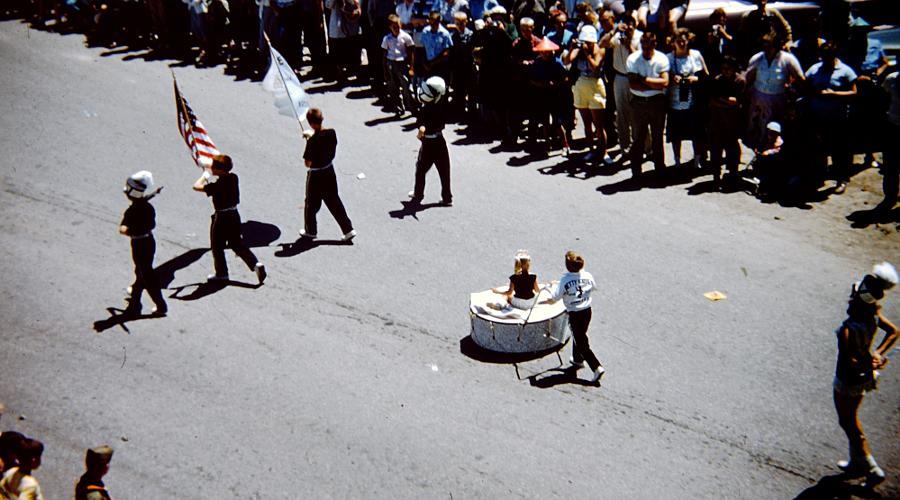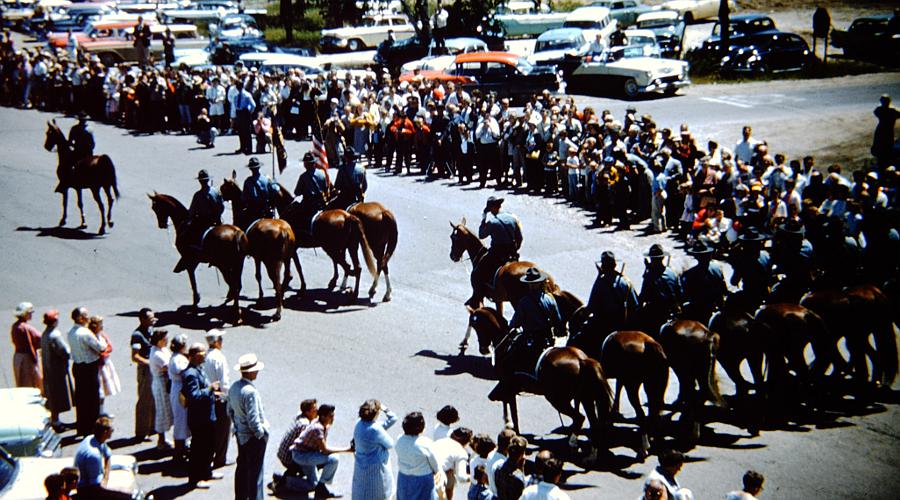 Detroit Mounted Police patrol
Page 2 of Bridge Dedication photos
images copyright 1958, scans copyright 2012-2021 by Keith Stokes