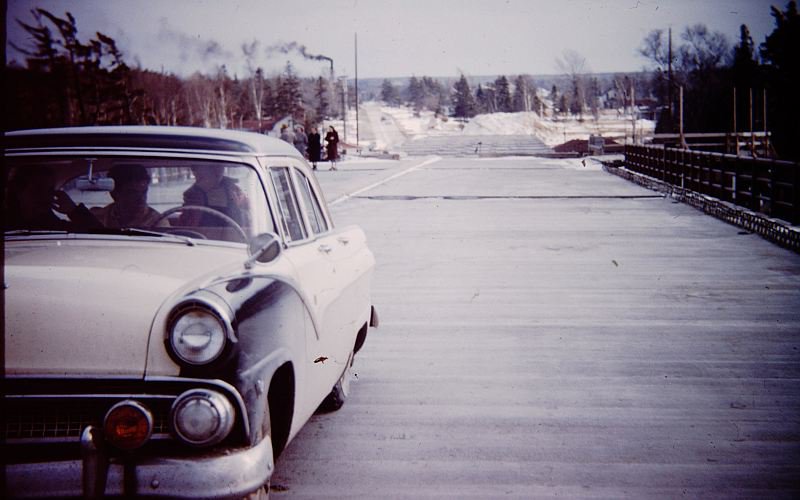 As the south end of the Mackinac Bridge was finished, Mackinaw City residents would occasionally drive out
onto the bridge to look at the work in progress. It was usually done on the weekends when the workers
were not present and they would not be caught.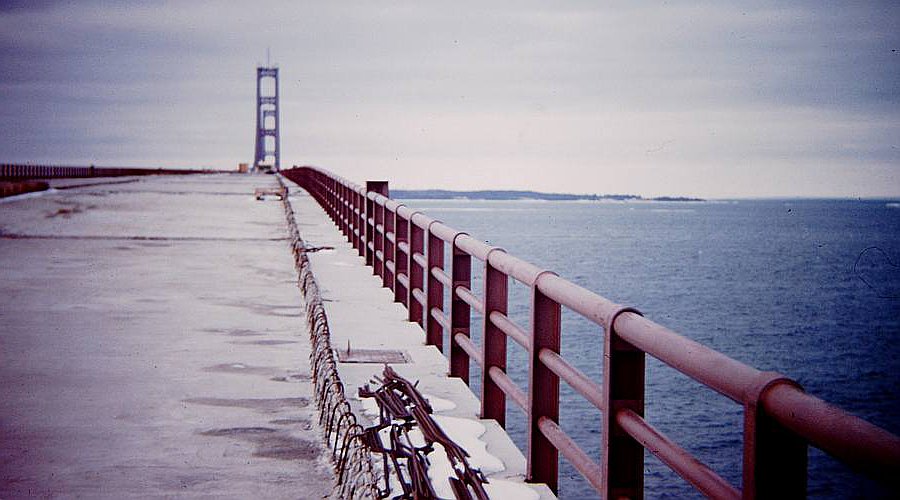 Mackinac Bridge roadway being finished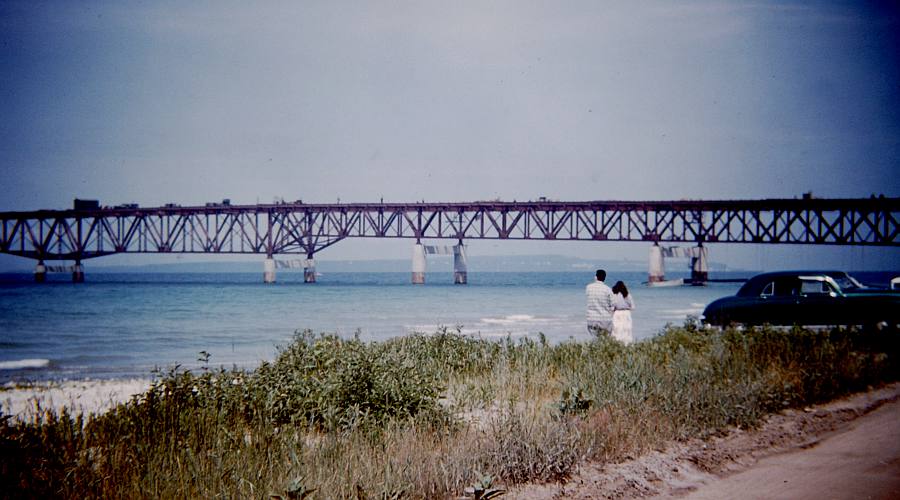 Hundreds of visitors watched and photographed the Mackinac Bridge construction each day.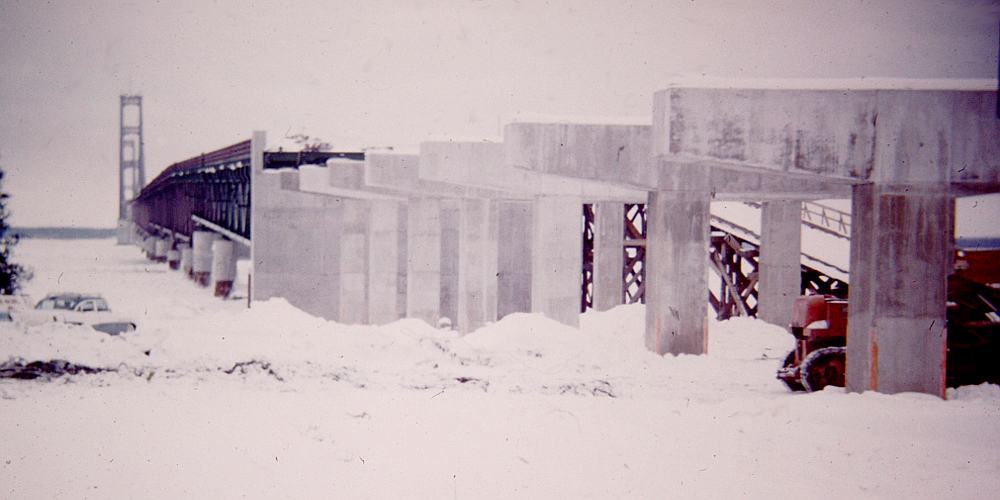 The wooden ramp at the right was used to drive onto the Mackinac Bridge before the approach was built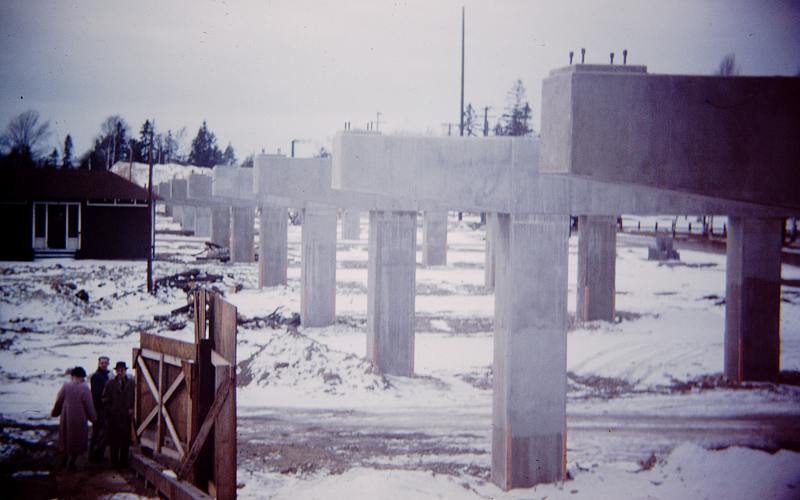 Construction of the Mackinac Bridge approach where the Fort Michilimackinac parking lot is today.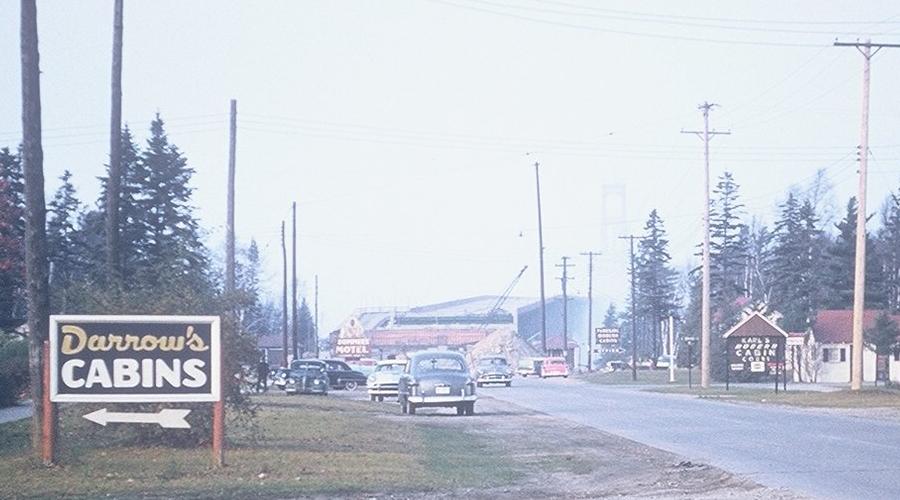 My Grandparent's home was up this street on the left and was moved to make way for the south Mackinac Bridge approach.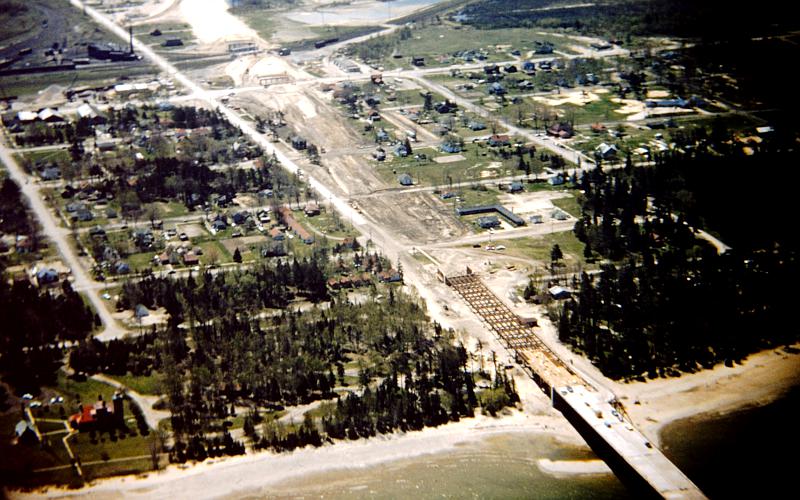 Construction of the south approach to the Mackinac Bridge. Old Mackinac Point Lighthouse can be seen at the
lower left and the Michigan Central Railroad roundhouse with the tall smokestack at the upper left.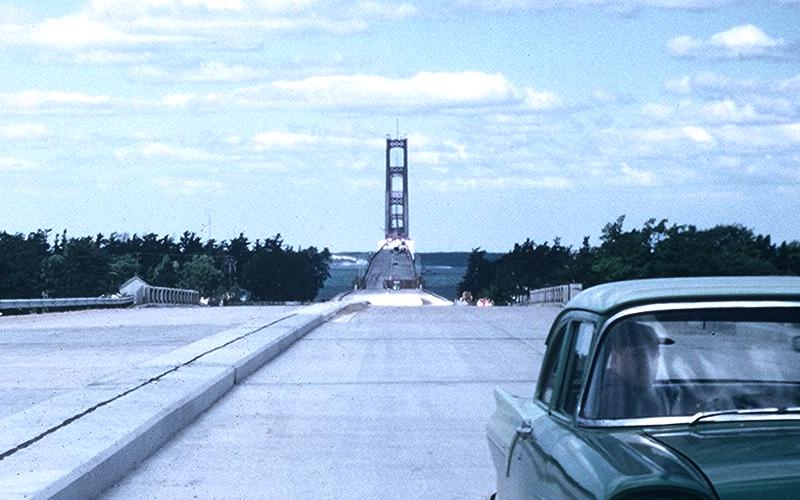 My first memory of the Mackinac Bridge (I was born in 1954) was being driven out
on the roadway of the uncompleted bridge in the car in the foreground.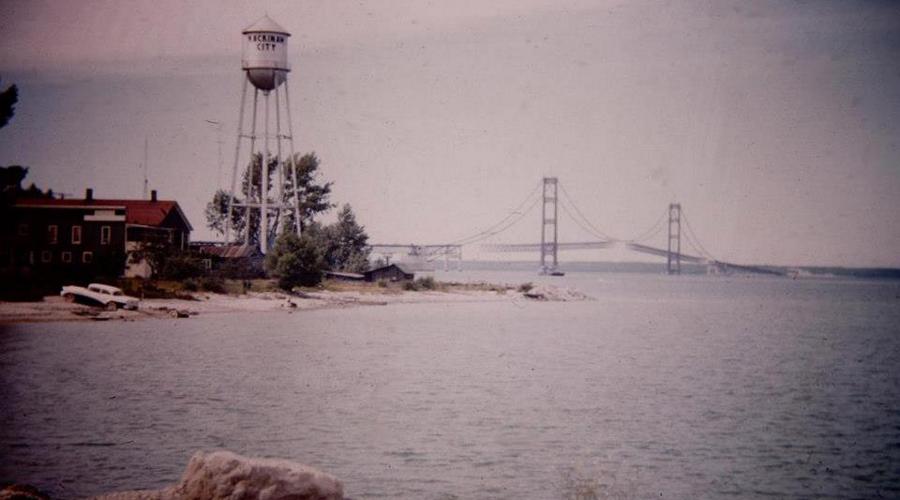 This photo was taken from the dock used by Shepler's Mackinac Island Ferry. That was the Windermere Hotel at the far left.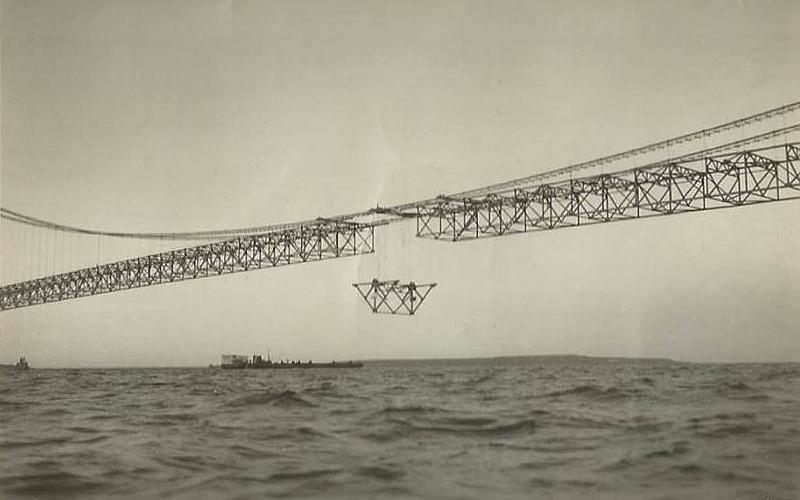 The final section of the superstructure is raised into position - photo taken by Red Saunders, who was a crane operator on
the bridge and rented a tug to American Bridge Company. Photo courtesy of Jim Saunders.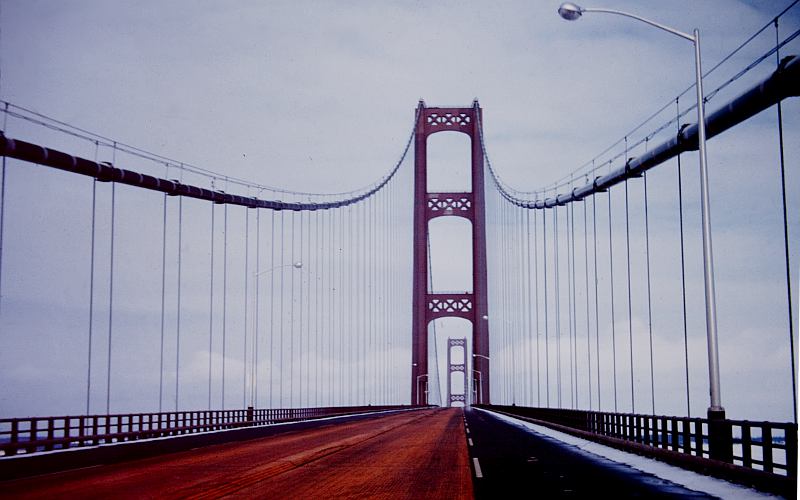 The Mackinac Bridge roadway is complete.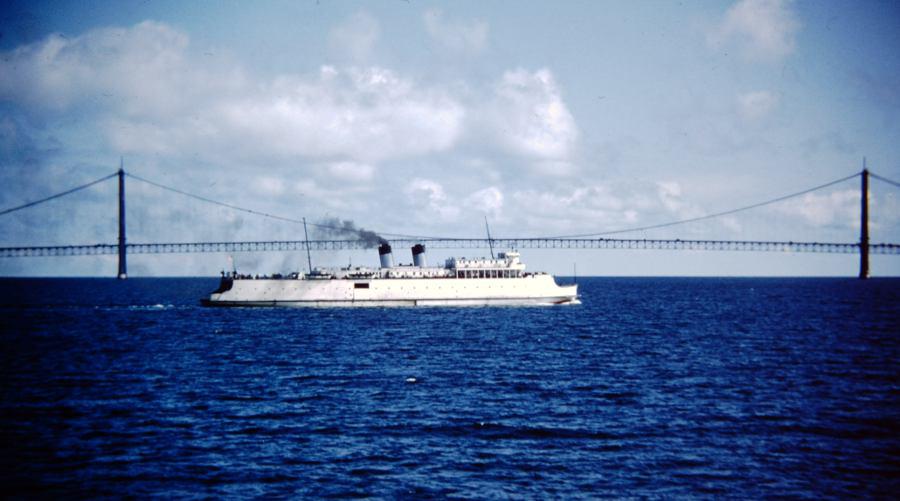 The Mackinac Bridge looks complete in late 1957, but the auto ferries are still running, so it has not opened.
This ferry is either the City of Munising or the City of Petoskey. They could each haul 105 cars.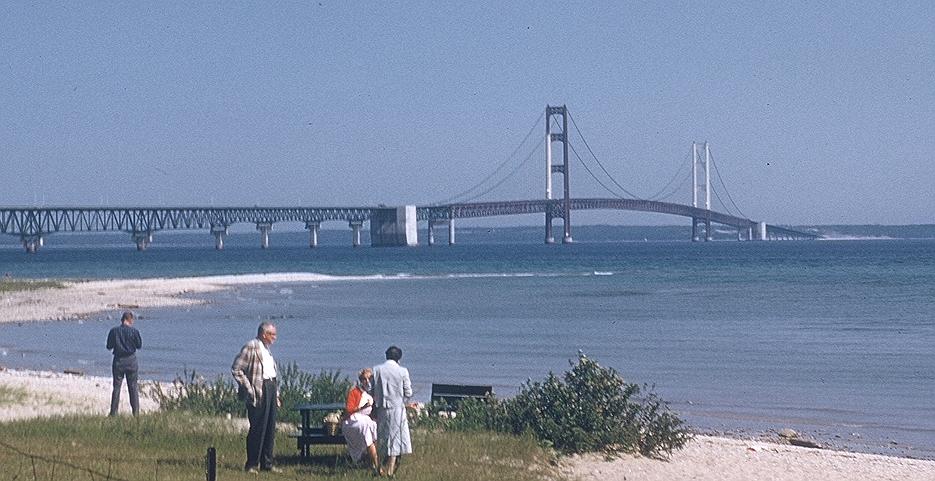 Painting the towers in June 1958 near the completion of the final construction of the Mackinac Bridge.
There is no official day for when the Mighty Mac was complete, as constriction transitioned into maintenance.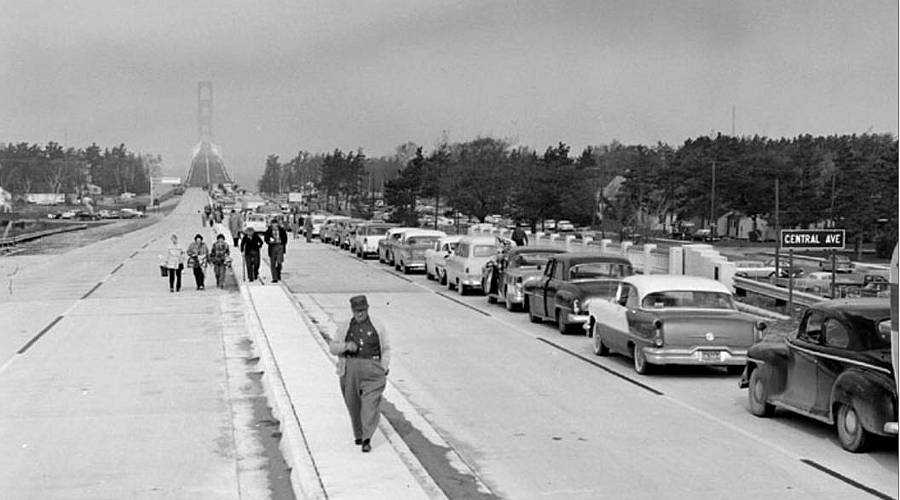 Waiting for the Mackinac Bridge to open for the first time on November 1, 1957 (photo courtesy of the Mackinac Bridge Authority)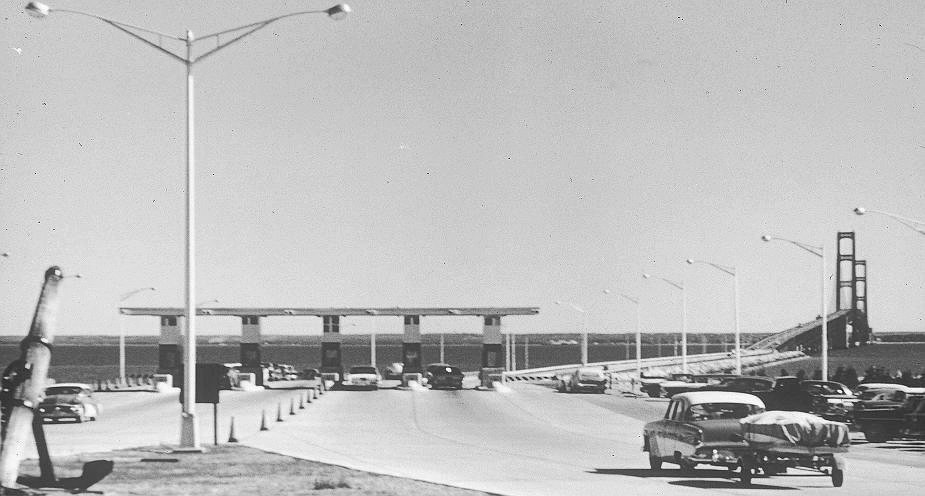 1958 - The toll gates and Mackinac Bridge in operation. The 7,000' causeway leading from St. Ignace at the north end of the Bridge
was built in 1941 as part of an earlier attempt to bridge the Straits of Mackinac and link Michigan's Upper Peninsula and Lower Peninsula..
The initial toll for a passenger car was $3.25 each way and increased to $3.75 in 1961. Many years later, the fare fell to $1.50 each way,
but it has slowly crawled up to $4 in 2013.

Page 1 Page 2 Page 3 Page 5
1957 Vacationland auto ferry ride