Kansas Nebraska Weekend
March 23-25, 2007
I left work about an hour early Friday and headed west on I-70.
The first stop was a brief visit to the Dean's Books in Topeka that is closest to the freeway. I picked up a couple more Randy Wayne White novels and one by John Scalzi.
Then back on I-70 heading west to get to Lincoln, Kansas before a couple of businesses closed. Getting there with a few minutes to spare, I took so photos of the Court House and many other limestone buildings lining the main street. Then a quick stop at Extra Innings Barbecue to buy a few jars of their jalapeno mustard sauce.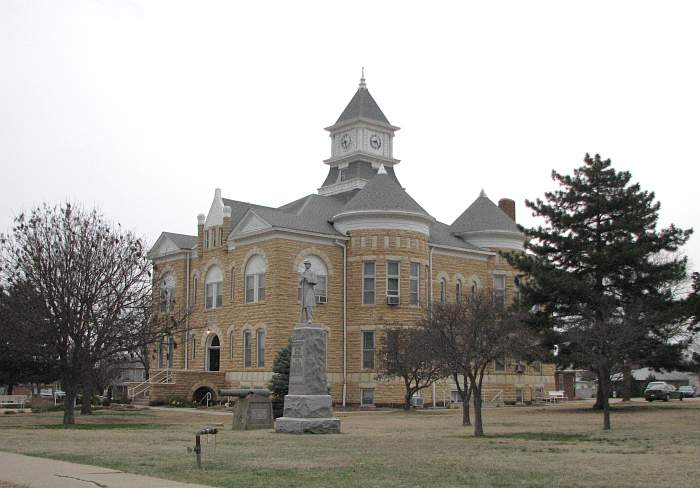 1900 native stone Lincoln County Court House
Then a block back down Main Street to the Hungry Hunter, a nice family restaurant which I visited early last fall. The liver and onions was good on my previous visit, but not good enough to make my online list. This time they made it. I had one of the two $10.95 specials:
I don't like many coleslaws, but cleaned the plate that held their sweet creamy coleslaw. Then the main course came out, filling a dinner plate the size of a serving plater. Good French fries and outstanding chicken fried steak with pepper gravy and toast. the only reason I didn't clean this plate was there was so much food.
But wait there was more. The special includes homemade pie. I selected something I've never had before sour cream and raisin pie - topped with real whipped cream. So very good! I savored every bite.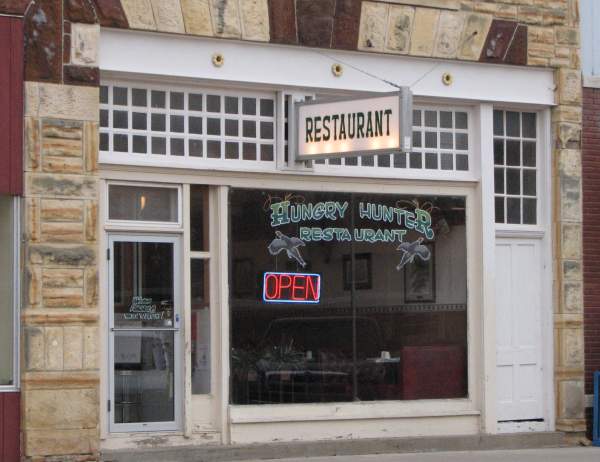 Hungry Hunter Restaurant -Lincoln, Kansas
Then back to Salina to stay at the Days Inn.

Saturday morning I needed to wait for places to open at 10AM, so I slept in. Then I ate my first breakfast of the year: burgers from the Cozy Inn - a tiny, 85 year old restaurant that prepares only one hot food: hamburgers with grilled onions. Little burgers - 16 to the pound, 79 cents each.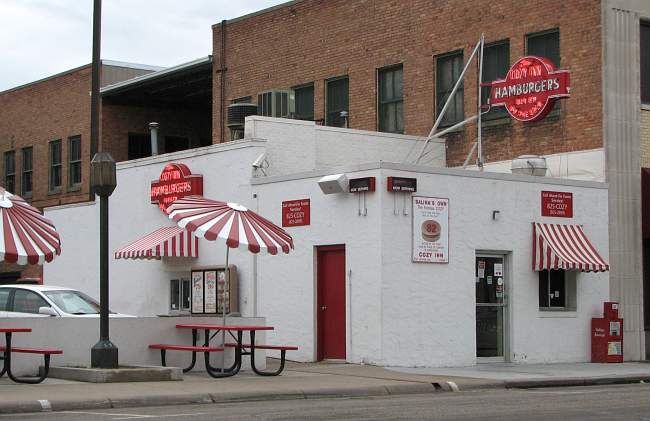 Salina's Cozy Inn - since 1922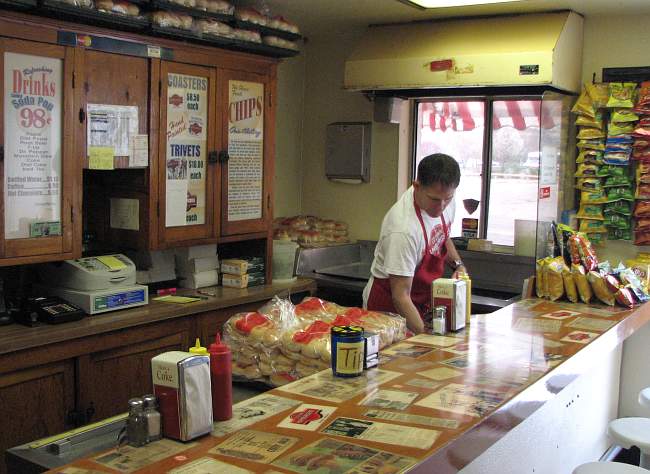 Cozy Inn Dining room counter
Then over a block to visit the Smoky Hill Museum. I was pleased with small museum, which has good looking displays and does a much better job of telling the community's story, than most local Kansas museums.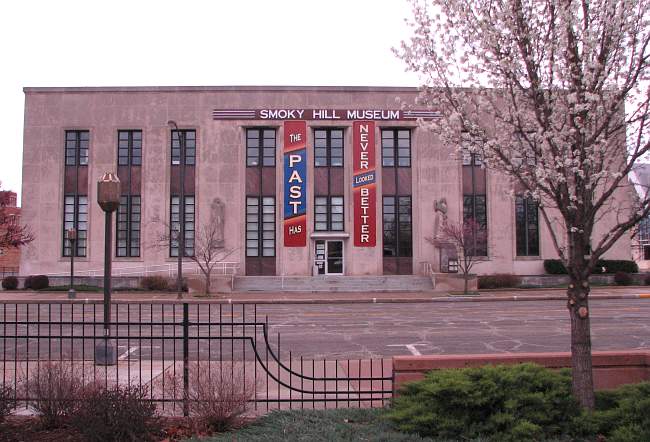 Smoky Hill Museum - Salina, Kansas
It was now 11AM, and I headed north toward Nebraska on US 81, stopping only in Belleview to check on the Boyer Gallery which is scheduled to reopen in May.
Then up to I-80 and west toward Grand Island where I had a late lunch at a restaurant that has tons of good reports on the internet: the Coney Island Lunch Room. The cafe has been operated by the same family since 1933. They did a good job on the coneys, fries and a handmade chocolate malt.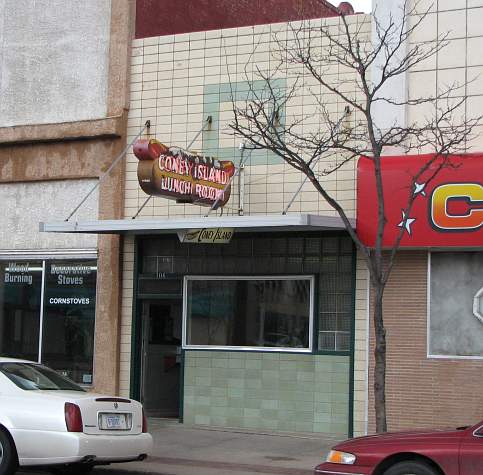 Grand Island, Nebraska's Coney Island Lunch Room
After checking in to the mediocre but inexpensive Rodeway Inn, I changed for the woods and headed out toward Crane Meadows.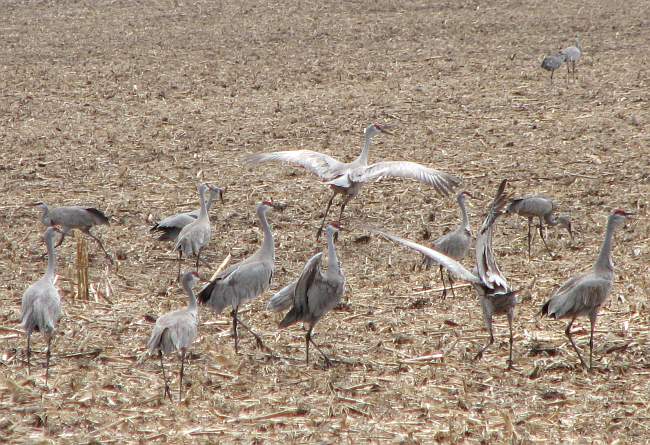 Sandhill Cranes feeding on waste corn neat Grand Island, Nebraska
Along the way I stopped along some of the fields to view large flocks of Sandhill Cranes feeding on waste corn. Over 500,000 cranes stop along a 60 mile stretch of the Platte River each spring and spend 2-4 weeks flattening up before their final 7,000 mile flight to the arctic and sub-arctic. These are big birds: 3-4 feet tall with a 6 foot wingspan.
Copyright 2007-2019 by Keith Stokes My other trips.