I left work about 3:30 on Friday afternoon, heading west on K-10. After making three brief stops in Lawrence to get some more photos for my web page about Quantrill's Raid, I continued west on I-70.

Oak Hill Cemetery Memorial to the 150 men slain during Quantrill's Raid on August 21, 1863
The next stop was west of Topeka at Maple Hill where I revisited two places. The small old cemetery is very picturesque, particularly with setting sunlight. But when I photographed it the first time, I missed its one unique feature - the grave of Sarah Ann Oliver who died in 1923. Her family poured her headstone themselves. When it came out of the mold, the lettering was backwards!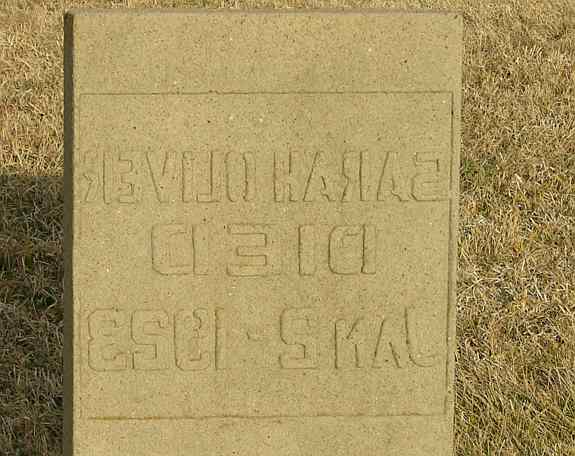 Sarah Oliver Died Jan 2 - 1923
Then I had supper at Puffy's Steak and Ice House. I wasn't satisfied with my experience the first time I ate there, but I hadn't had steak. The experience was much better this time with the ribeye. The service was even better, extremely good. Though I felt a little funny about it, the young waitress was so pregnant that I felt like I should have her sit down, and wait on her.
Overall the food isn't outstanding, but I cut extra slack for restaurants in tiny communities far from other alternatives. Plus the price is right and there is an interesting story. To help the business in Puffy's small market next door, the steak house didn't have a front door when it opened, you had to go through the market. Today there is a front door, but you still have to go into the market to pay the bill.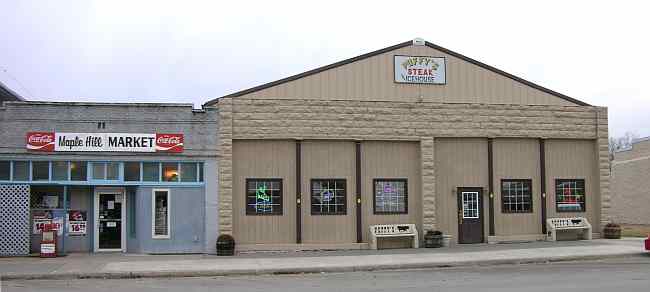 After supper I drove the rest of the way to Salina. I've had poor luck with Salina motels. Friday night was no better. There were other problems, but the one that really got my goat was the internet. It took 90 minutes and two long phone calls to get it working. The problem was something the office staff easily corrected, but it took that long to get them to do it.