Kansas Weekend
Junction City, Kansas
August 20-21, 2005

Leaving Fort Riley by the Junction City entrance, I drove through town toward I-70. Along the way, I noticed a Korean grocery, church and several restaurants.

Arriving at the Ecnolodge where I had a reservation, it was before 6PM, so I needed to decide if I was going to stay or head on home. Parked in the parking lot, I fired up my laptop and logged into the hotel's wifi to check email and look for a place for supper. It took a while to weed through all the garage websites that fight to come to the head of any Google search, but finally found a couple of high recommendations for a tiny restaurant that I had driven past - Pusan Diner.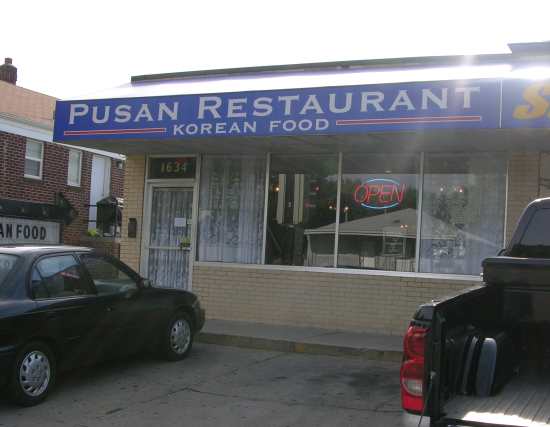 Pusan Restaurant
Wow, was this a good recommendation, the kind of tiny out of the way place that we all hope to find.
I was waited on by the woman who has run Pusan for 20 years. She was funny and friendly, though I did have some trouble understanding her. If I can believe one of the other websites I visited, the food is prepared in the tiny kitchen by this woman's aunt.
Per one of the recommendations, I ordered the Lunch Special. It is $6.50 before 1:30PM and $10 the rest of the day. After about 5 minutes the food came. Generous portions of bulgogi, 2 mando, fried rice, several different types of kimchi, and 3 garlic chicken wings.
Wonderful food! I particularly liked the bulgogi (thin strips of slightly sweat BBQ steak), cucumber kimchi and radish kimchi. Since this restaurant is only a couple of miles off the freeway, I will be stopping in there again. (closed Sundays)


Sunday morning I worked my way back toward Manhattan, stopping just a couple of miles of town at I-70 exit 301 to visit the World Largest Atomic Cannon. The parking lot and picnic area is just a couple hundred feet from the exit. The cannon isn't that interesting, but since it is on top of a hill, is good for some exercise. The view wasn't that impressive, though I bet it is better in the fall.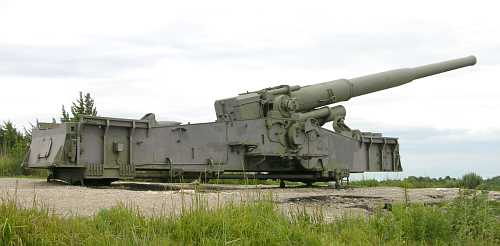 Atomic Cannon, M65-280mm. It can send a shell 20 miles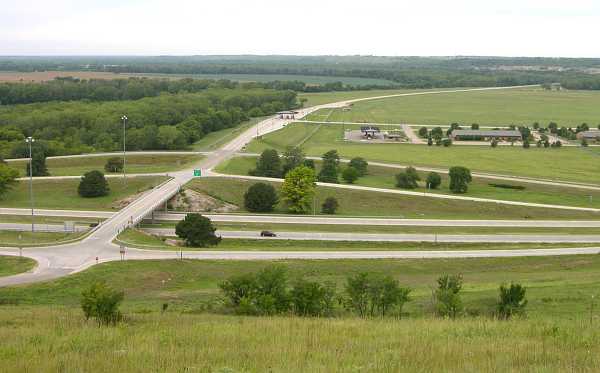 I-70 gate to Fort Riley at Exit 301 - visitors pull into the area on the right to get a pass to enter the base
The on up the freeway to highway 18 and north retracing part of my route from the previous day. Stopping to photograph the Kansas River (also known as The Kaw) and a small buffalo herd near the airport. Perhaps these are the ones that were missing at the fort?


Kansas River from Highway 18 bridge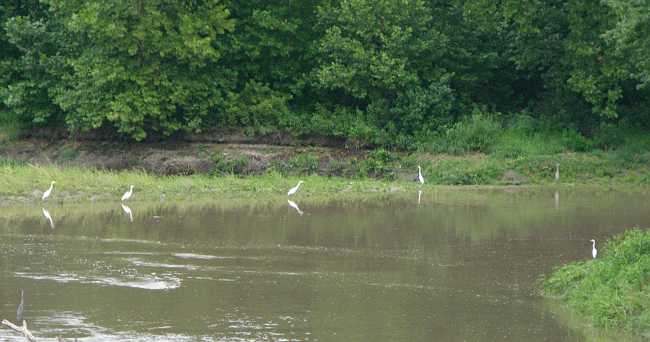 Cranes along the Kansas River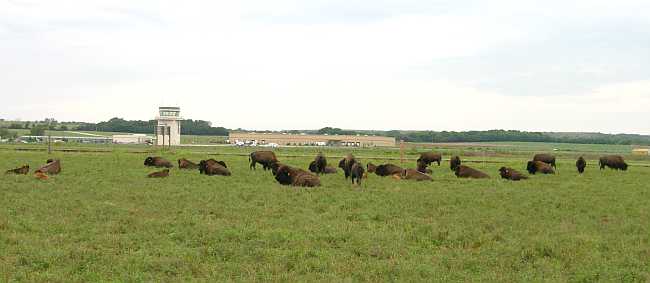 Buffalo herd with Manhattan Regional Airport in distance
Insect Zoo & KSU Gardens Fort Riley Junction City Manhattan's Sunset Zoo