Plattsmouth & Ashland, Nebraksa
April 23, 2005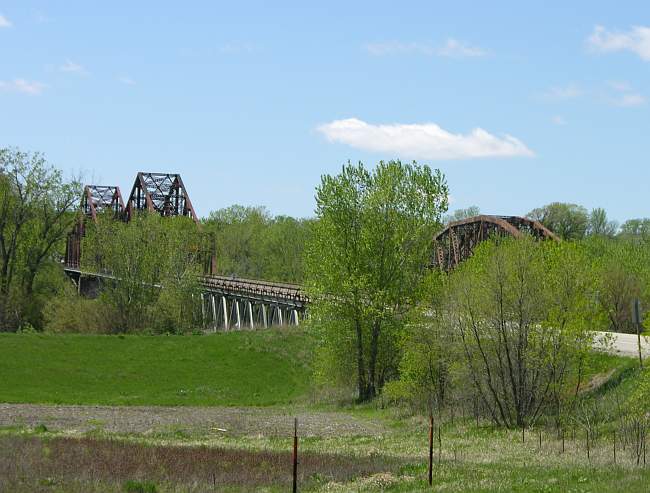 After working about 3 hours on Saturday morning, I headed north toward Nebraska, first up I-29 and crossing the Missouri River at Plattsmouth. It is an interesting crossing point, side by side there are the old Burlington Northern Santa Fe railroad bridge, Plattsmouth Bridge and one of the country's longest pipeline suspension bridges. The Plattsmouth bridge is so narrow, that no vehicles over 8' wide are permitted. The fare is $1.25 each way.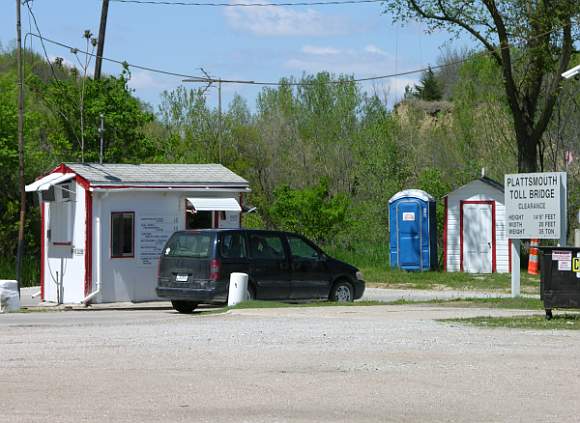 Plattsmouth Bridge fare booth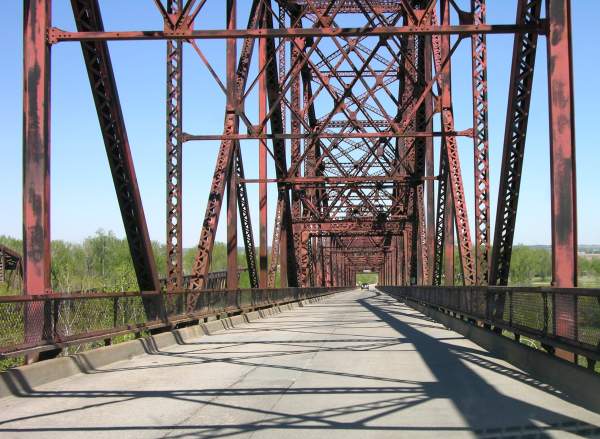 Plattsmouth Bridge - clearance 14' 9" width 20'
The 1929 bridge carrying highway 34 is built in seven spans: a 402-foot cantilevered truss anchored by 201-foot through spans, with two 203-foot and two 104-foot deck trusses over the eastern flood plain. It is privately-owned by the Plattsmouth Bridge Company. Unfortunately there are "no trespassing" signs everywhere and photography options were limited.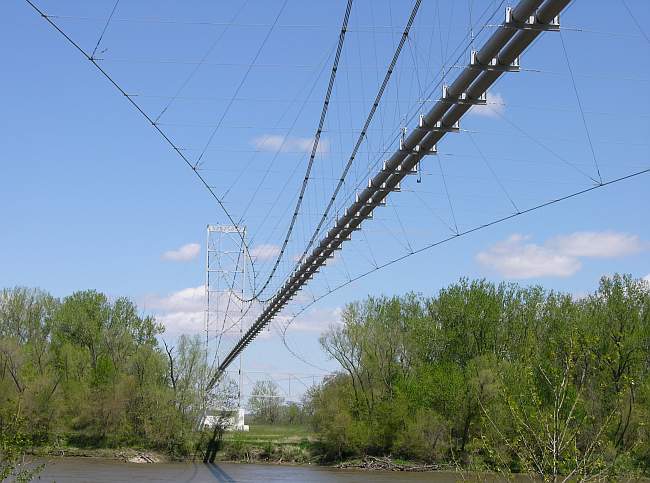 1500 foot Missouri River Pipeline Bridge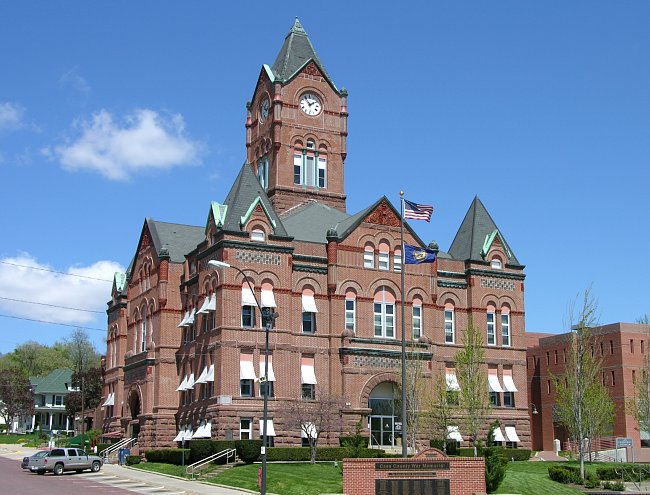 Cass County Courthouse in Plattsmouth, Nebraska - 1892
Leaving Platsmouth, I took quiet highway 66 west to the Lee G. Simmons Conservation Park and Wildlife Safari near Ashland, Nebraska. The drive though park featuring Nebraska animals is part of Omaha's Henry Doorly Zoo.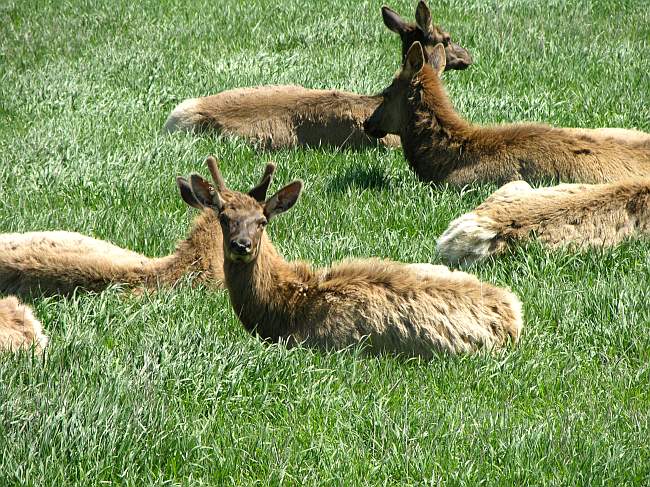 Elk with the antlers in "velvet"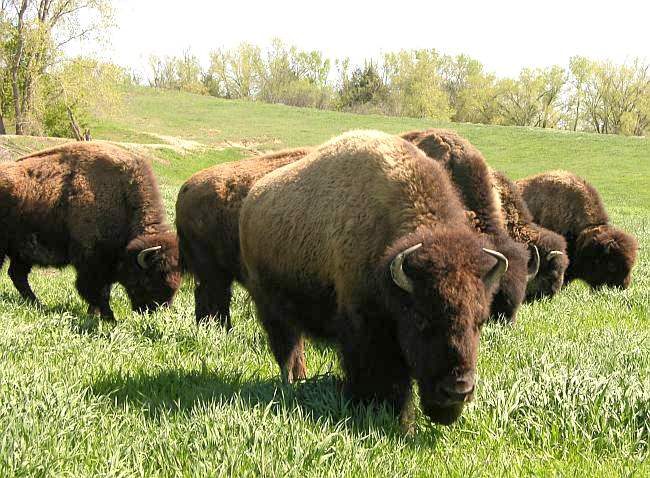 Bison
I spent about an hour and a half in the park, creeping along the seven miles of roads taking pictures. There is one stop, to hike to the Gray Wolf area and loop through some of the park. But the wolves were hiding and it was mostly just the exercise.
My favorite part of the visit wasn't part of the exhibits. It was two wild turkeys in the Buffalo area doing their spring mating dance. Sadly they stayed in the shadows about 70 feet away and I was unable to get any good photos.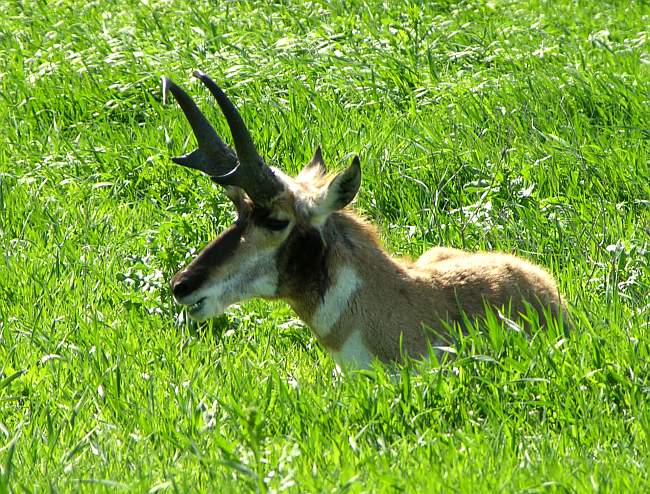 pronghorn antelope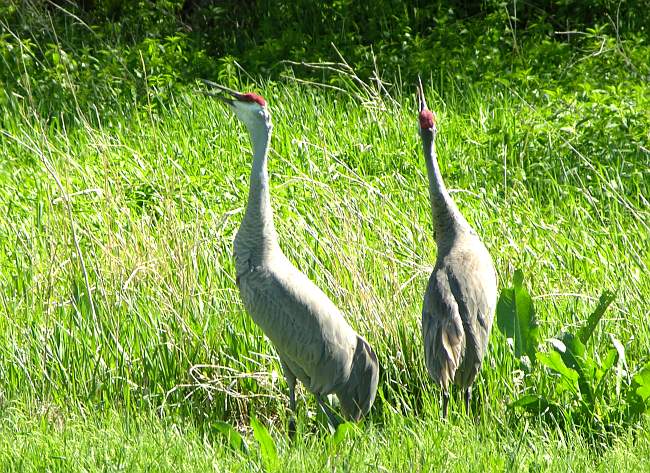 Calling Sanhill Cranes
Leaving the park, I made one more stop before driving up to Omaha. Ashland is the home of one of Nebraska's rare lighthouses, Linoma Beach. The lighthouse is next to a sandy beach on a 40 acre private lake near the Plate River.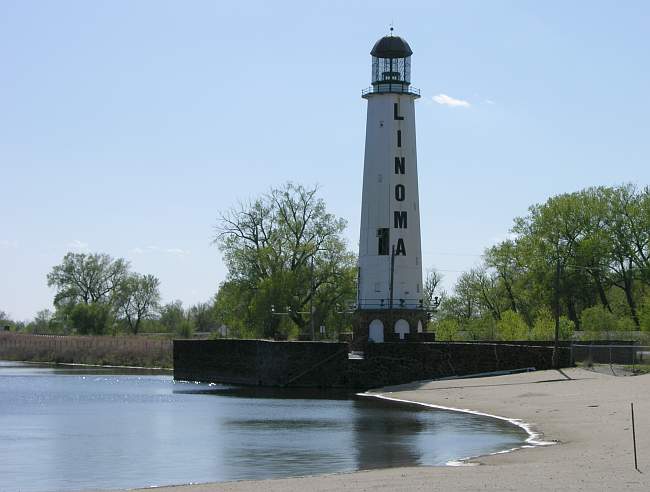 Linoma Lighthouse
After taking a few pictures, I headed north to check in at the Quality Inn at Hwy 50 & I-80. In addition to being closer to Safari and SAC museums, this location at the southwest corner of metro Omaha has about half the taxes that most of Omaha's hotels have.
Diner on Saturday was at Taste Of Thailand, one of my favorite Omaha restaurants. Taste of Thailand is located on the southwest corner of the metro area a few miles from the motel. Afterward, I saw "Finding Neverland" at a $2 movie house.