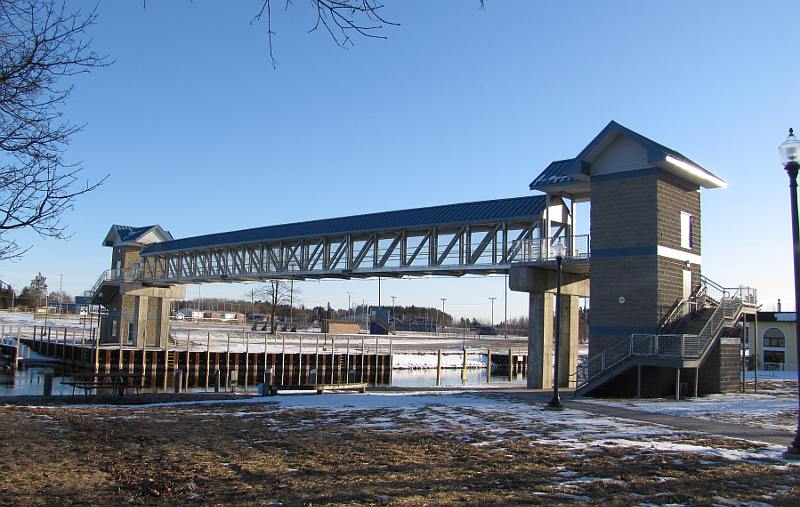 This new pedestrian bridge over the Cheboygan River opened in late 2009..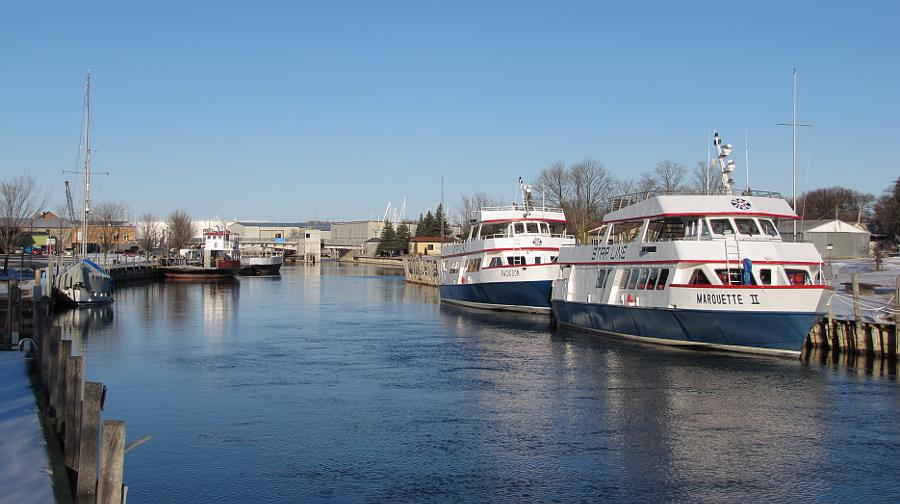 Star Line ferry boats wintering on the Cheboygan River in Cheboygan, Michigan. Notice the US-23 draw bridge on in the distance.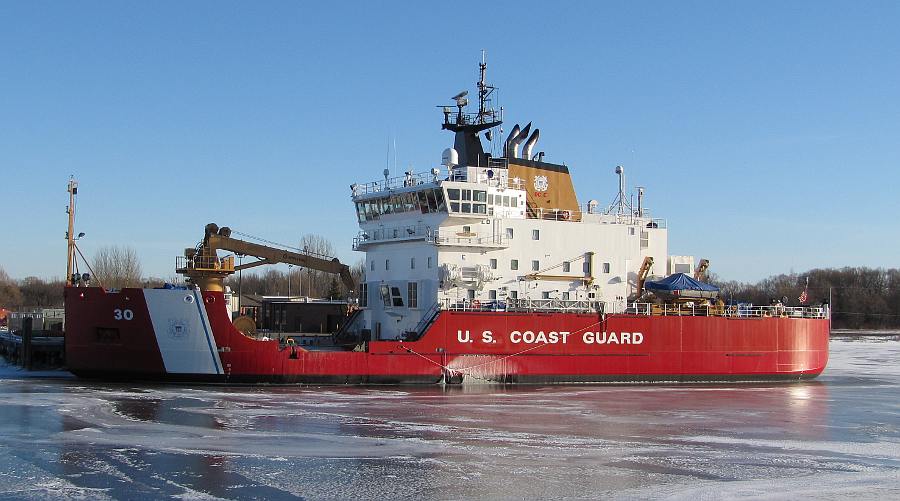 240' WLBB 30 - United States Coast Guard Cutter Mackinaw at its mooring in the Cheboygan River

Very long telephoto shot of Fourteen Foot Shoal Light (1930) from the mouth of Cheboygan River.
Fourteen Foot Shoal Light was one of the first automated lighthouses on the Great Lakes.

Boats in winter dry-dock in Mackinaw City with the Mackinac Bridge in the distance.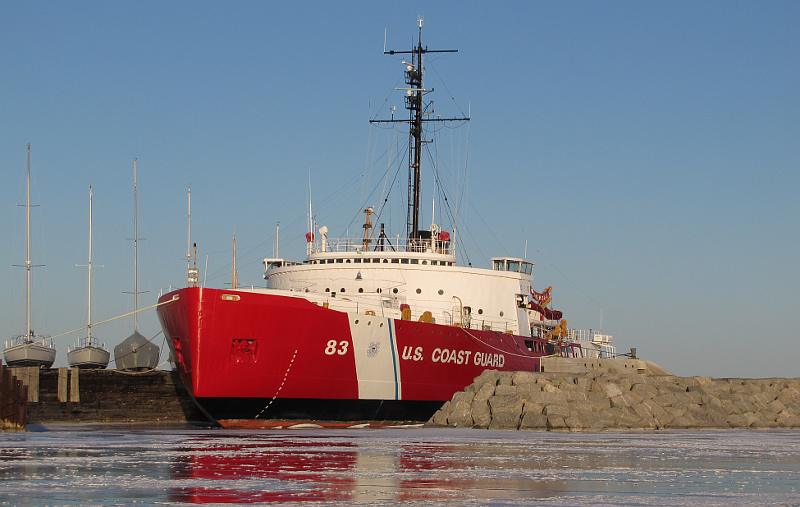 WAGB 83 United States Coast Guard Cutter Mackinaw - retired and now a museum ship in Mackinaw City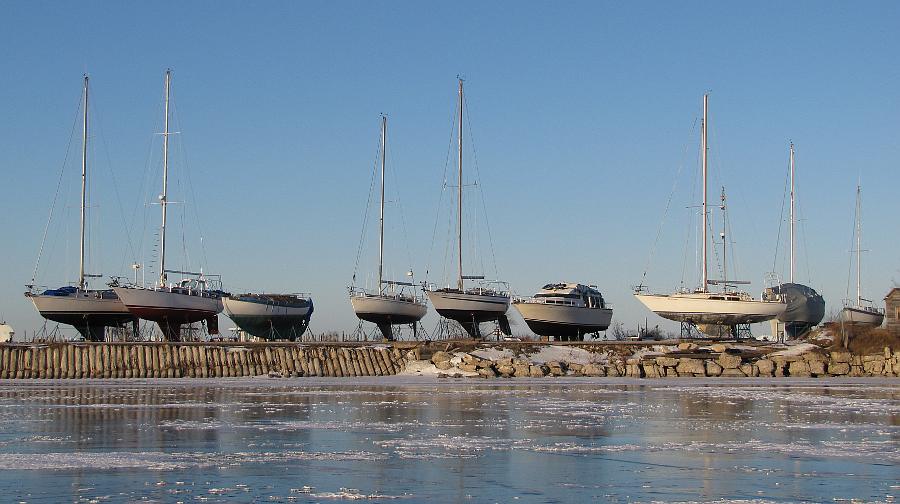 Sailboats in dry-dock on the old Railroad Dock in Mackinaw City.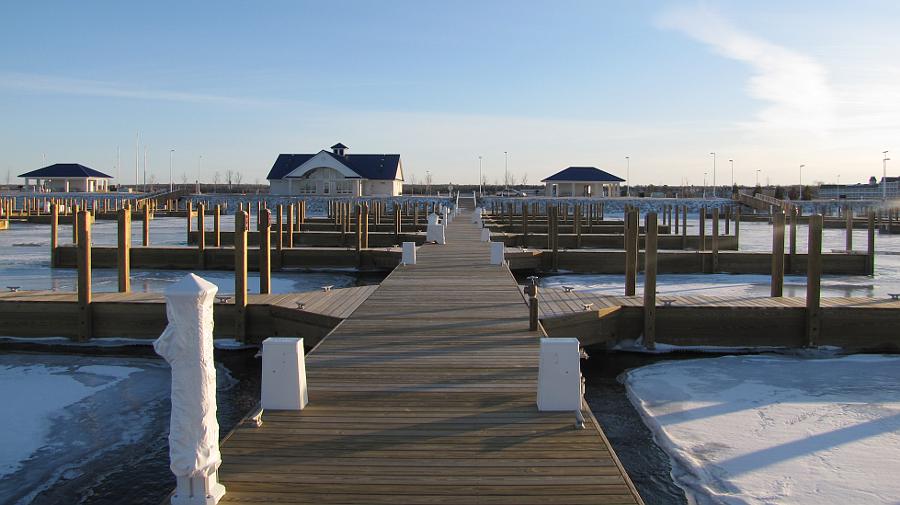 This newest marina in Mackinaw City opened in 2009. Many air compressors run around the clock and pump air bubbles along the docks
to keep ice from pushing the docks up out of their footings.
Supper was at Audie's Restaurant by the foot of the Mackinac Bridge in Mackinaw City. The restaurant was built and started by the Downing family in the early 1960s, but changed hands and name to Audie's in the 1970s. The restaurant has two dining rooms, the family dining room where we ate and the upscale Chippewa Room. The presentations are so different that it is hard to believe that the two dinning rooms are side by side, but the food is still good in both restaurants.
Dad had a 5 ounce filet mignon with salad, potato and vegetable for $17.79. Despite his ordering well done, the steak was juicy and tender. My beer batter fried perch ($17.39 with choice of salad and choice of potato or vegetable) was as good as I have ever had anywhere, Sweet, lightly battered and just great. The presentation on my tossed salad was terrible, but the ingredients were good and it tasted fine. Tonight's vegetable was sweet and sour cabbage and an unexpectedly good treat.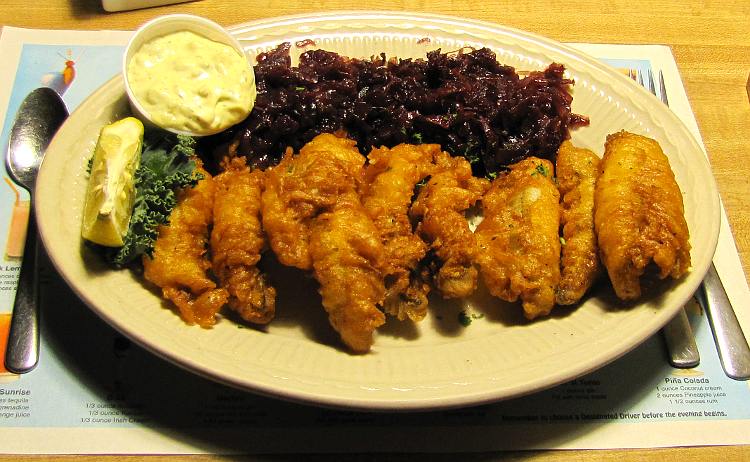 Fried perch and sweet & sour cabbage at Audie's Restaurant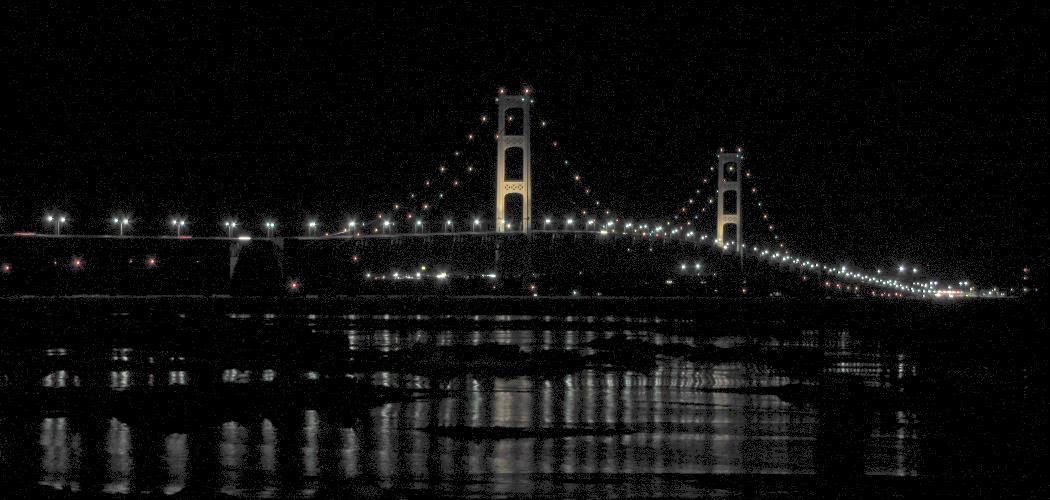 The Mackinac Bridge "The Mighty Mac" was featured on a new postage stamp released February 3, 2010..