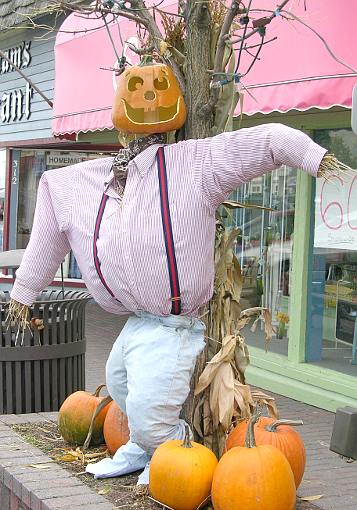 October is one of the great times of the year in Mackinaw City, Michigan. The crowds of summer are gone and there are hotel bargains, but many of the businesses are still open at least through the third weekend of the month. There will probably be some cold weather, but there isn't much rain and it is no surprise to get a sunny day of 60 degrees or so.
The peak of the fall colors is different each year, but a typical Autumn color peak might be sometime between October 3-15. In 2005 there was a late fall and there was still a fair amount of color remaining when these photos were taken in late October.
But one of the great things about using Mackinaw City as your base is you can easily drive north or south to hit the best fall colors. You will also see the progress of the seasons change as you move away from the the Great Lakes lake shore. As you get farther inland, the season changes faster.
Many of the businesses and homes in Mackinaw City decorate for Halloween. The holiday decorations shown on this page are only a sample of those seen during the October 2005 weekend.