Driving around the Leelanau Peninsula
May 26, 2013
Linda & Keith Stokes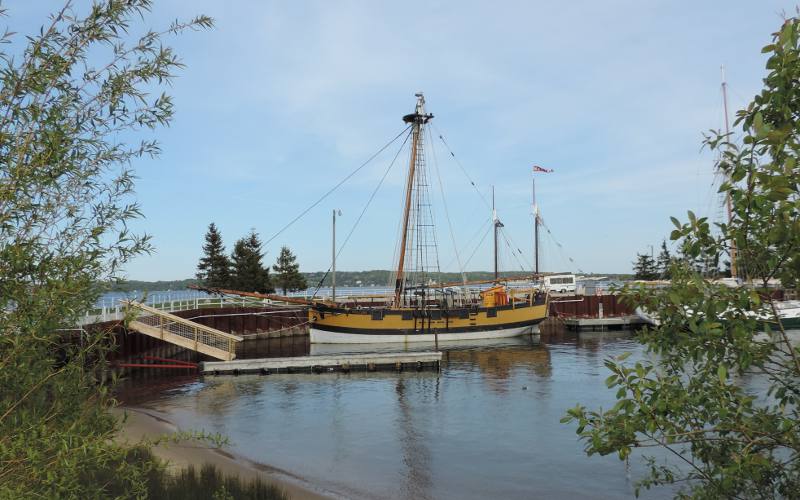 The Welcome
Sunday - day 5 (continued)
After freshening up, we drove into the Leelanau Peninsula for the evening, As we started up the Grand Traverse Bay Shore, I was excited to see the Welcome docked at the Maritime Heritage Alliance. The 55 foot armed sloop was built at the Maritime Park in Mackinaw City when I worked there in the 1970s. It is a slightly scaled down version of the original Welcome, which was built at Fort Michilimackinac in 1778. The original vessel assisted in moving the community to Mackinac Island during the American Revolution. It was lost in a storm in 1781 and the location of its remains is unknown.
After several years of display in the Mackinaw City Municipal Marina, the Maritime Heritage Alliance in Traverse City became the Welcome's custodian in 1992.
The Leelanau Peninsula is the little finger of Michigan's mitten shape. The area feels a lot like New England and was extra beautiful with the cherry orchards in bloom. There were more stops for photography and window shopping at the huge display of lawn decorations at Bayside Gallery in Suttons Bay. If they had been open, we might have made some purchases, even though they would have needed to be shipped back to Kansas.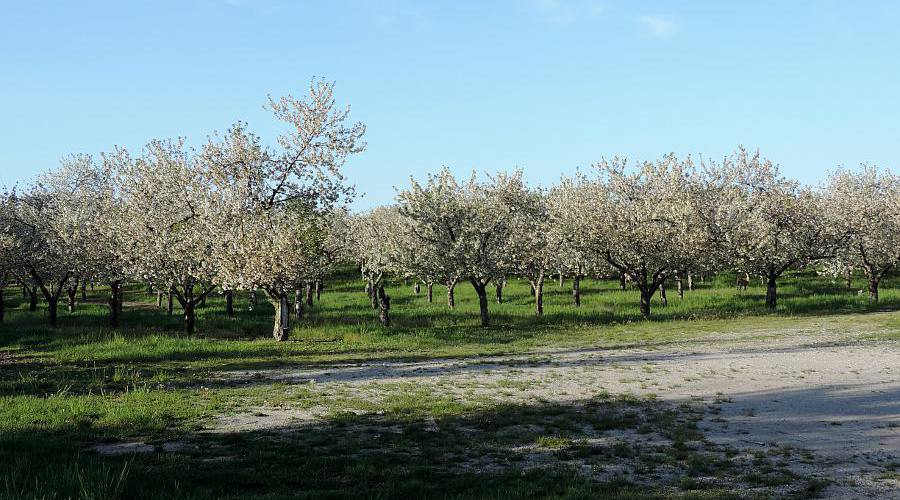 Cherry orchard in bloom
We made an extended stop at the 1858 Grand Traverse Lighthouse in Leelanau State Park at the tip of the peninsula. Although the lighthouse turned museum was closed for the day, we enjoyed walking the grounds and photographing gulls & terns along the shore.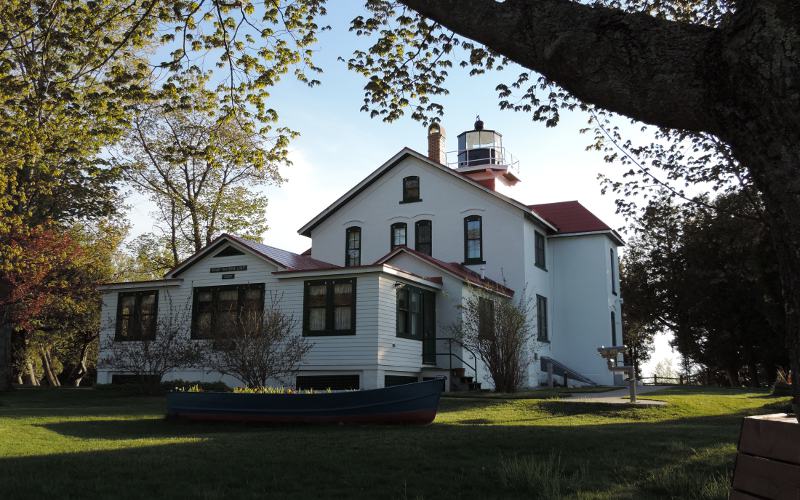 Grand Traverse Lighthouse (15500 North Lighthouse Point Road, Northport, Michigan 49670)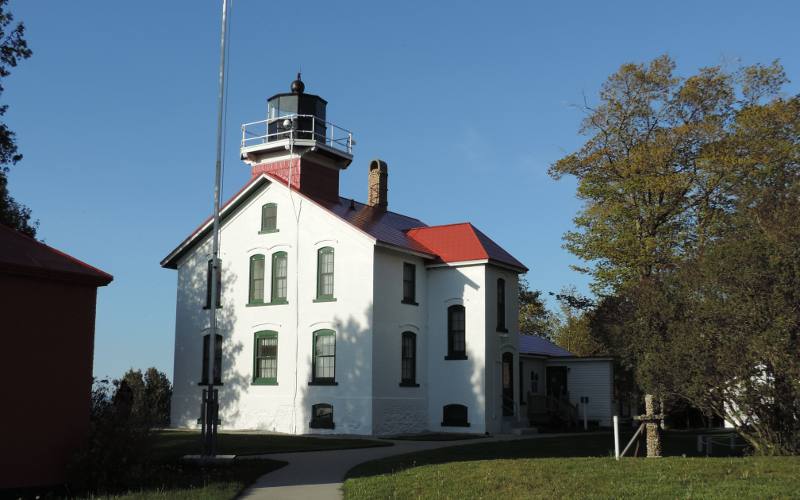 Grand Traverse Lighthouse was automated in 1972 - today volunteers live in the lighthouse museum for 2 or 3 weeks at a time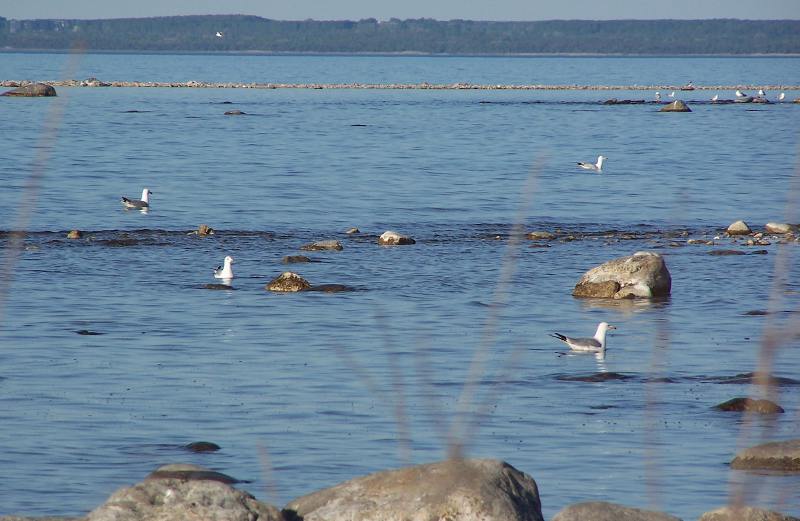 Ring-billed Gulls (Larus delawarensis)
We finally came to Leland, Michigan with its old Fishtown, river, dam, and the Falling Water Motel. My last time there was in 1977 during the honeymoon of my first marriage. Most of the arts and crafts shops in Fishtown were already closed or closing as we got there.
We had supper at The Cove, a two level restaurant & bar where part of the water falling over the adjacent dam goes through the restaurant. We had the perfect table where we watched the sunset over Lake Michigan, while I had my last seafood of the trip.
We started our meal with smoked whitefish pate, which was baked and topped with slivered almonds. Then we both had the lake perch diner. It was good, but the perch didn't taste as fresh as we had been having earlier in the northern Michigan trip.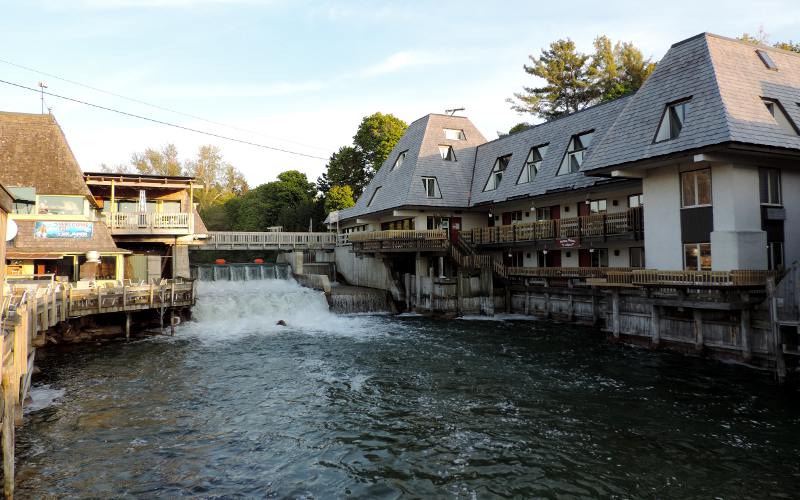 The Cove (at left) and the Falling Water Motel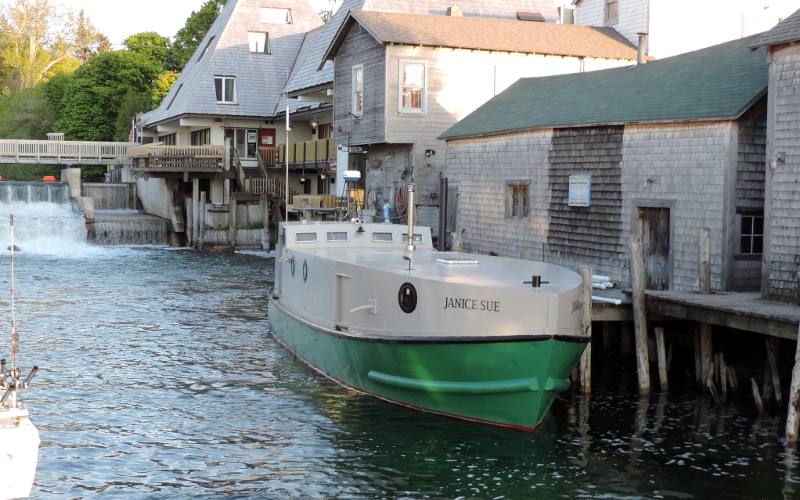 The fishing tug Janice Sue was built in 1958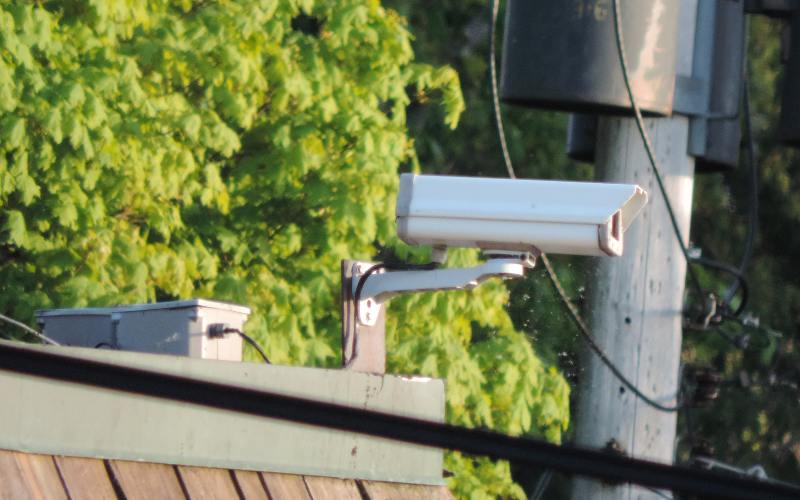 The web cam at The Cove has one of the best views in Michigan and lets you take control of the direction and zoom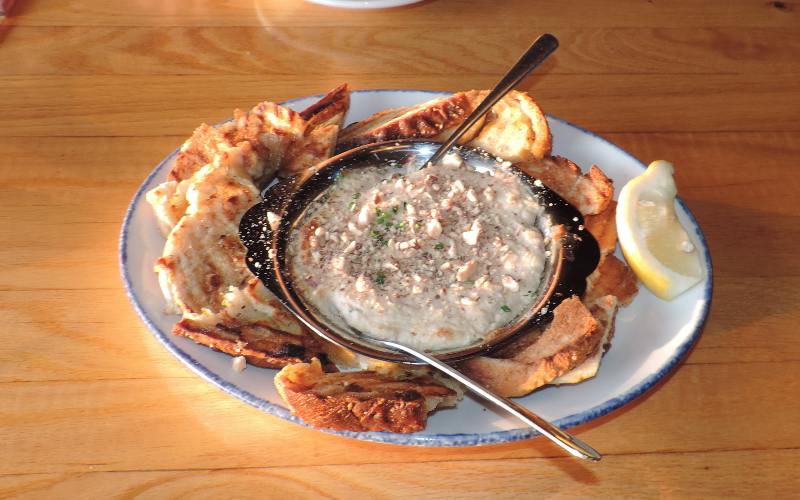 smoked whitefish pate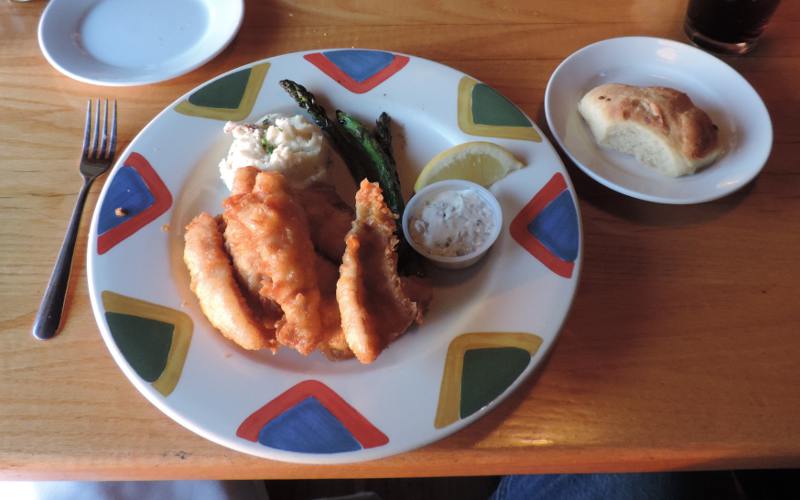 Fried yellow perch with smashed potatoes and asparagus - $19.95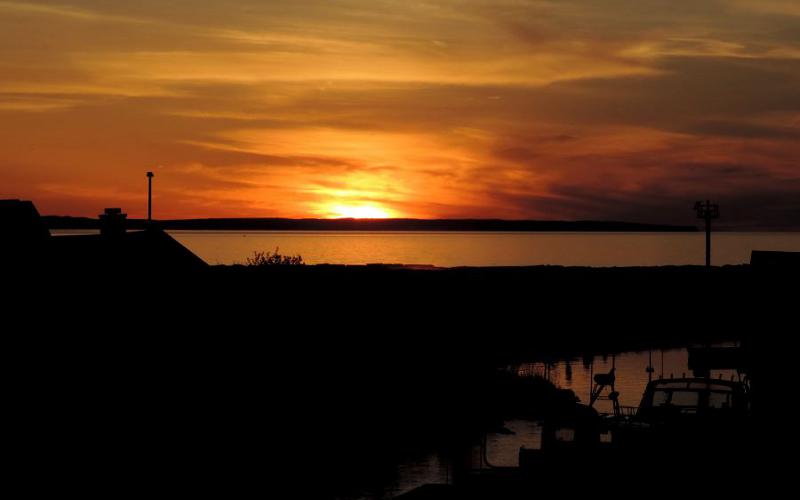 Sunset from our table at the Cove restaurant