North Eastern Kansas Weekend
January 5-6, 2007

While passing through Blaine, Kansas I stopped to photograph 1908 St. Columbkilles Catholic Church.
I continued north to Alcove Spring. Located next to a location where pioneer wagons forded the Blue River. The spring was found and named by a member of the Donner Party in 1846. This location was also the site of the first recorded death in the Donner Party - 70 year old Sarah H. Keyes, who died from consumption (pun not intended).
The spring is productive all year around, but it also is fed by a small seasonal waterfall that was active this day from snow runoff. There was even more snow here, and I was the first person to visit the springs/falls since the last snowstorm. It was quite pretty, and the sun almost came out.

Trail to Alcove Spring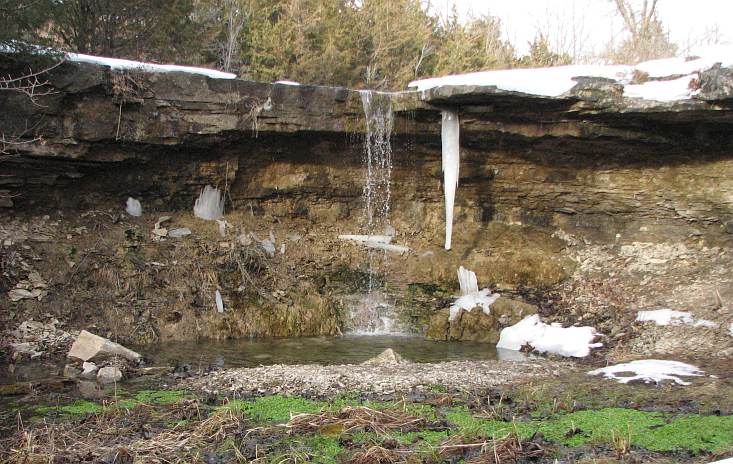 Alcove Spring with waterfall.

1950 DAR marker to memoralize Sarah Handley Keyes.

Donner-Reed Alcove Spring Mural in nearby community of Blue Rapids.
A long detour kept me from making my next stop before dark, so I drove down to Junction City where I would spent the night at the Econolodge - simple, clean and only $40 a night.
I planned to revisit Seoul Oriental Restaurant in Junction City for supper, but found that it has closed permanently. My second choice was to revisit Pusan Restaurant & Korean Dinner, but it had a sign that it is closed indefinitely. I did find a good new restaurant, Korea Garden. A small, stark, but very clean restaurant which opened in August.
The Osam Bulgogi (squid & pork belly mixed with spicy sauce) was very good. "Pork belly" turned out to be the lean bacon-like cuts of meat that I have been recently enjoying at the Korean buffet in Johnson County. I thought it was pricey for Junction City at $19.95, but it was a huge serving and came with 8 tiny sides including rice, 2 kimchis, sprouts, potato, and a coleslaw like noodle dish that was very good.