Sunday Sherry slept in while I explored some of the adjacent streets. I photographed some of the many chickens wandering Key West.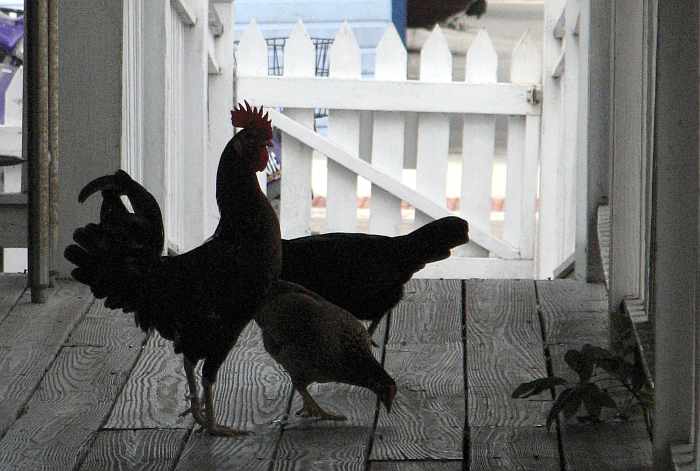 After I returned with coffee, we headed out and had a nice lunch outdoors at Mangoes on Duval Street, We had an excellent seafood chowder and split a pork sandwich. Then we walked down toward the water, window shopping along Duval Street. Sherry had the start of her life when a street performer all in white and standing like a statue suddenly moved.
We found the dock where our cruise with Danger Charters would depart, but had time to kill. Sherry had a pedicure at the Pier House Resort and Spa while I napped near their hot tub. We could have used their facilities for the rest of the day. Sherry high recommends the spa. Then back to the dock where we introduced ourselves to some of the other couples that would go sailing. While we waited, we watched hundreds of elderly tourists coming ashore from an adjacent cruise ship.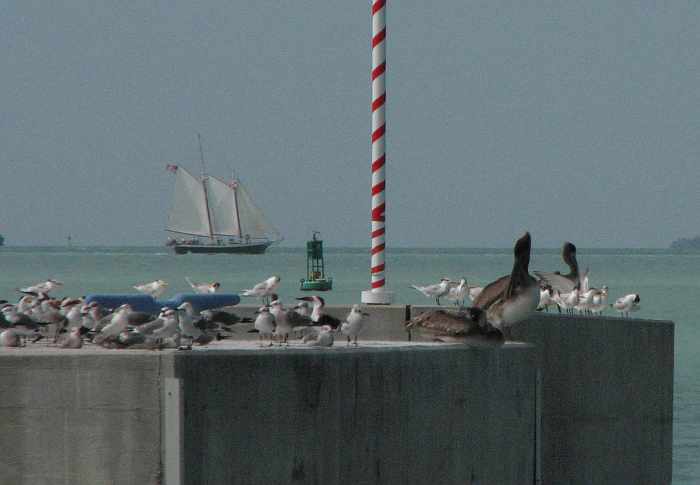 We went out on a sailboat with 4 other couples. The weather was mostly overcast and windy, but we had a shallow draft and went into a sheltered shallow area in a national park surrounded by small keys. Danger Charters was about the only combination cruise operating in the windy weather.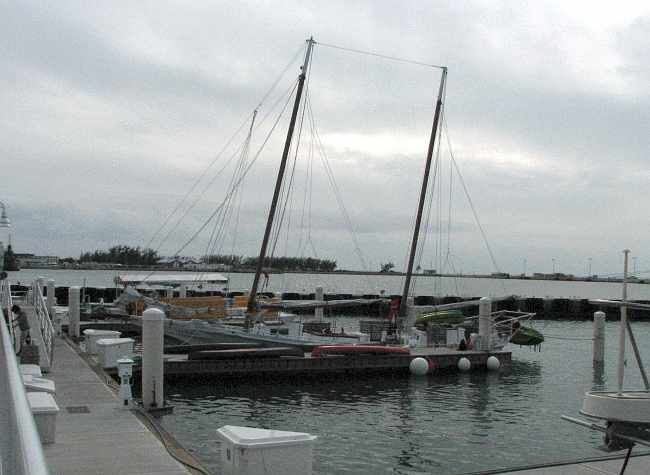 Danger's Prize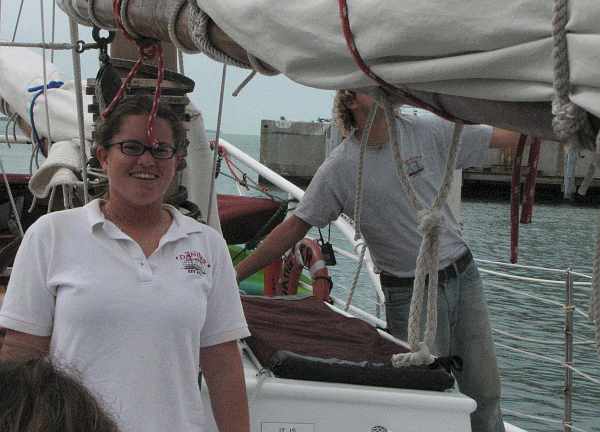 Danger's Prize's captain and her crew.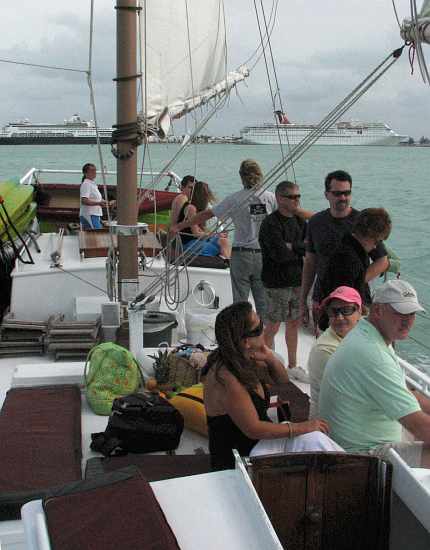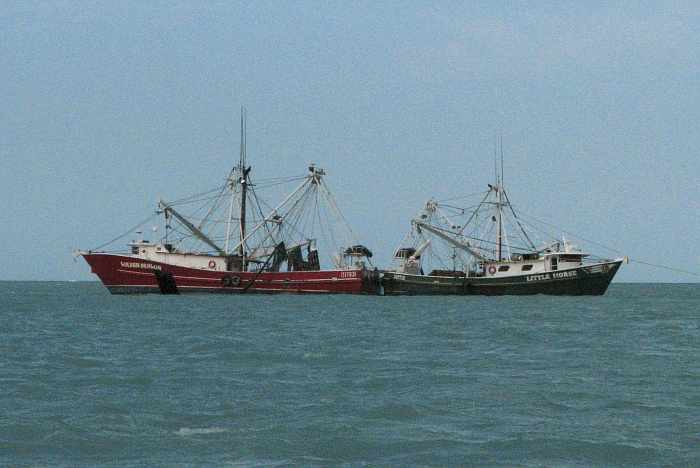 Shrimp trawlers anchored outside of port so their crews don't take off.
We snorkeled - both the first time I snorkeled and the first time I wore a wet suit. I saw mostly small fish, though I did see one ray. The wind and waves took some of the fun out of it. I swallowed salt water several times.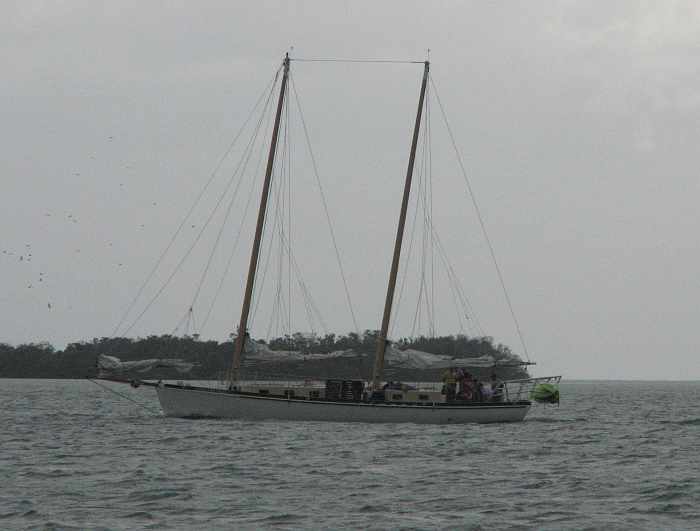 "Danger" - Danger Charters other boat already out on a full day cruise.
Next we kayaked to the closest key. Sherry and I learned to paddle as a team fairly quickly and were having fun in a sheltered bay. Our guide decided to lead us into the mangroves, but that didn't last very long when the noseeums attacked. We were all bitten, and the women developed welts.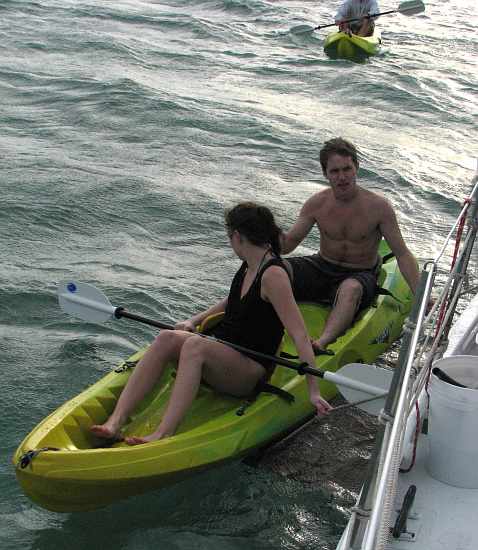 Departing on kayaks.
The trip back out to the boat, into the wind and waves, wasn't much fun. Hard, wet work and since we didn't have anchors, you couldn't stop paddling. One of the other couples overturned. We paused to make sure they were all right, but went on when the guide started towing their kayak with them hanging on.
When we got to the boat and looked back, their guide was also in the water. We passengers stayed on the anchored boat, while the captain grabbed flotation devices and a kayak to go out to help. It was another half hour and one of the kayaks was lost before they got back. That left the captain and crew worn out and grumpy and might have spoiled the trip, but we made friends with the couple that had been in the water, on the way back. They were from Big Stone Gap, Virginia, about our age and funny. Shell and Mike Wall.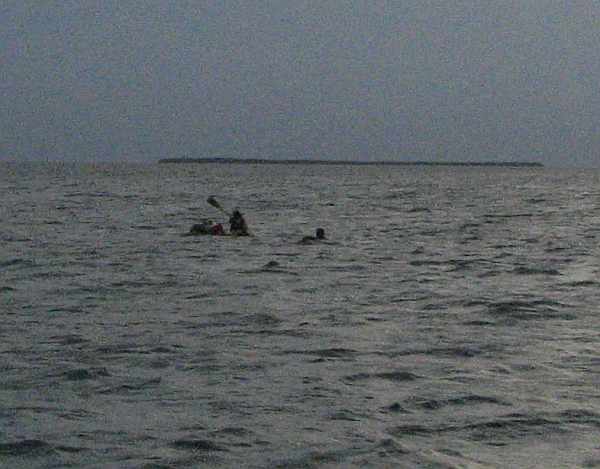 Rescuing the capsized kayakers.
We ended up joining them for dinner at Fogarty's (I had spicy shrimp with bow tie pasta, while everyone else had streak), then joined another couple from the cruise (Sue and Dave from Maryland) at Irish Kevin's and on to Sloppy Joe's Bar where there was a live band and I danced with Sherry and Shell.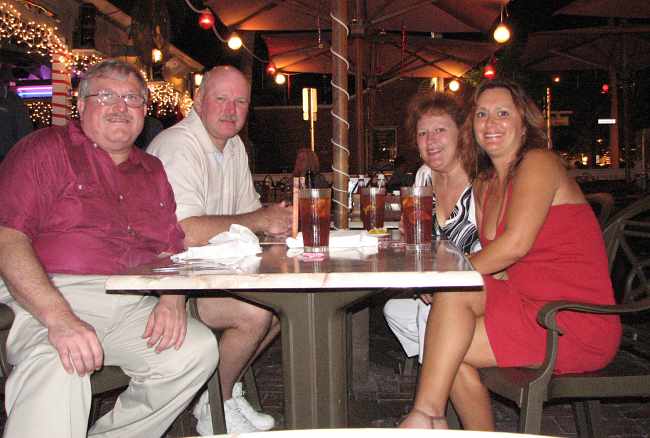 Keith, Mike, Shell and Sherry having supper outdoors at Fogarty's.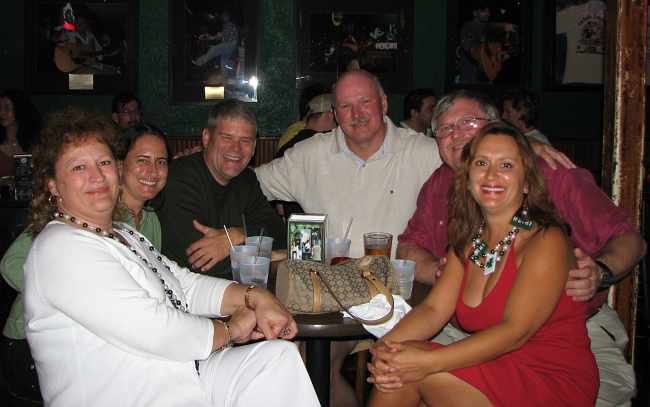 Shell, Sue, Dave, Mike, Keith and Sherry at Irish Kevin's.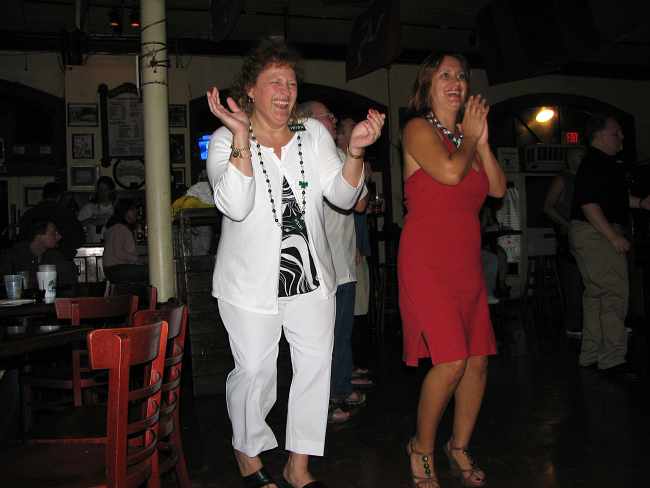 Shell and Sherry dancing at Sloppy Joe's Bar in Key West.