2014 Ireland & Worldcon trip
Trinity College
Dublin, Ireland
August 9, 2014


Brian Boru's Harp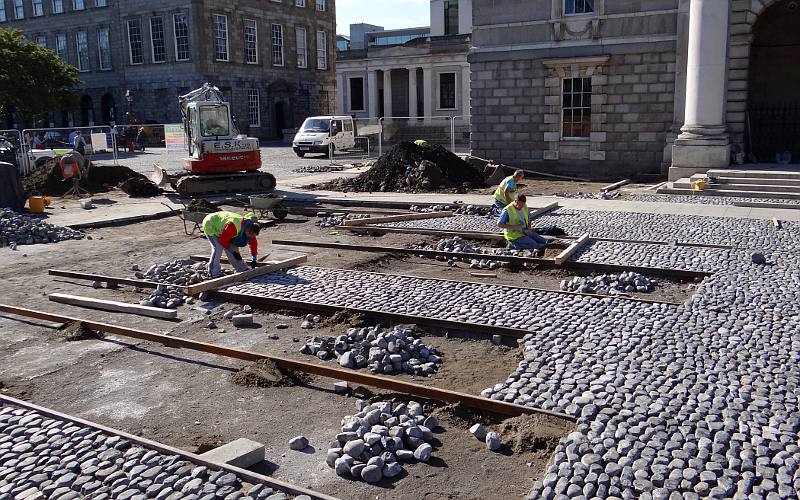 Although the river washed limestone cobblestones at Trinity College Dublin are durable, the bedding on which they rest
deteriorates over time. During maintenance the cobbles are lifted & cleaned, the old bedding s replaced and each
cobble is individually re-laid.
Saturday (day one)
Our major trip of 2014 began on Friday the 8th, when we departed for Ireland on US Airways. Our large roller bags had as much stuff as I have ever taken on a trip and Linda's bag was a little over the 50lb limit, though we weren't charged for the extra weight.
The change of planes in Charlotte went smoothly. With just six seats across, the airplane for the long leg was a little longer, but no wider than the one we flew in the first leg. It was not very comfortable for such a long flight. We didn't even try watching the movie, as the nearest small TV screen was about 7 rows ahead of our seats.
I did mange to drowse in semi-sleep for a couple of hours, but minor medical problems for someone a few rows behind us made things made things too noisy for real sleep.
Our flight arrived in Dublin a bit after 7AM and we were soon through immigration, had our luggage, and had hit an ATM for a few hundred euros. We could have taken a bus to about a block from our hotel, but it was only about 50% more expensive to take a taxi right to the hotel. On our way into town, the taxi drove through Phoenix Park, a huge (1752 acres) walled park which was established in 1662.
I had selected the Ashling Hotel because it is right across the street from Heuston Station, where we would have to be early on Monday morning. As expected, our room was not ready this early in the morning, but we checked our bags, got directions, and walked to the nearby trolley stop to ride toward the central part of the city. It was about 9AM and we were ready to start the only full day we would spend in Dublin.
Our first stop was Trinity College, the 422 year old college which is also the University of Dublin. The Old Library at Trinity College is one Ireland's biggest attractions. It was built in the early 18th Century and contains many treasures, the most famous of which are the Book of Kells, Brian Boru's Harp, and the marble busts which line the Long Room.
The Book of Kells is a very ornate manuscript containing the four Gospels, written on vellum (prepared calfskin) about 1200 years ago. It has about a half million visitors a year. The harp is the oldest of its kind in Ireland (probably over 500 years old) and is the model for the emblem of Ireland.
The Long Room is over 200' feet long and is filled with 200,000 of the Library's oldest books. It feels like a set for a Harry Potter movie. It is lined with 48 marble busts of philosophers, writers and men connected with Trinity College. The earliest ones were commissioned in 1743 and the identity of some of them is no longer known.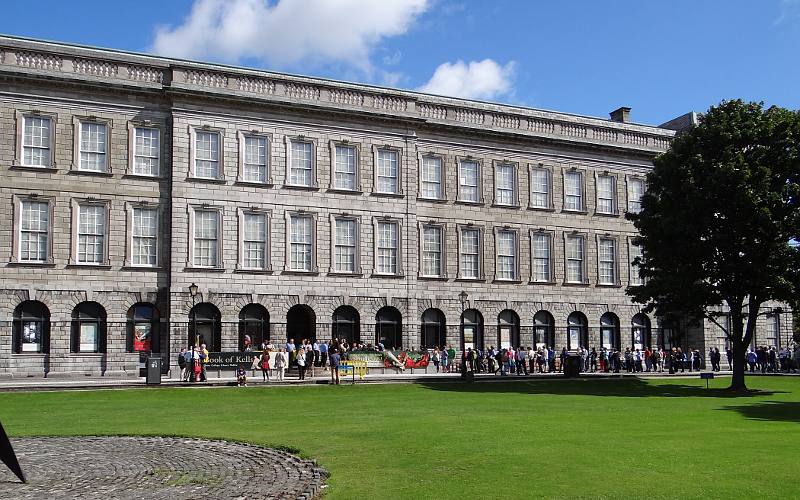 Line waiting for admission to the Book of Kells Exhibition in the Old Library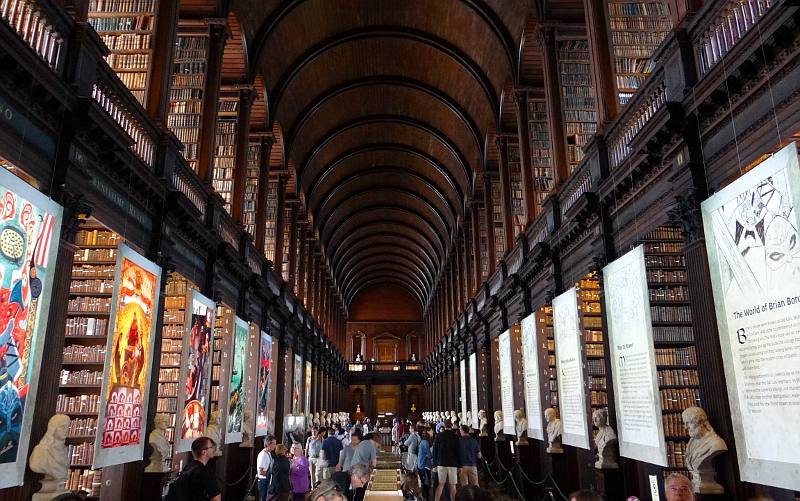 The Long Room in the Old Library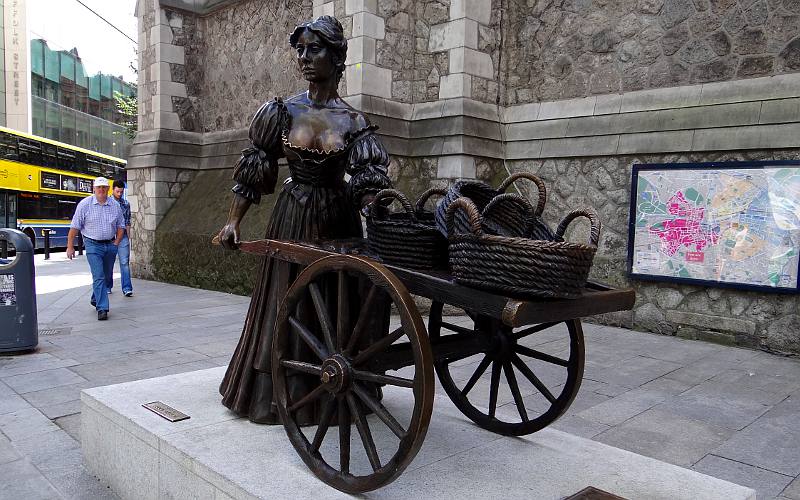 Molly Malone statue dedicated to the fictional character in the song titled "Cockles and Mussels" or "In Dublin's Fair City"
We stopped for lunch at the Larder Restaurant & Brewhouse. When Linda sat down, the lack of sleep from the previous night caught up to her and our server joked with her about how tired she was.
Linda had fish & chips, while I had a lamb burger with chips. I had chips (thick cut fries) several times during our time in Ireland and was never very impressed with them. Even though these were "triple cooked home cut," they were under cooked for my taste.
The Larder had a nice selection of craft Irish ciders and I was very tempted to try some, but as tired as I was, I decided that Diet Coke made more sense.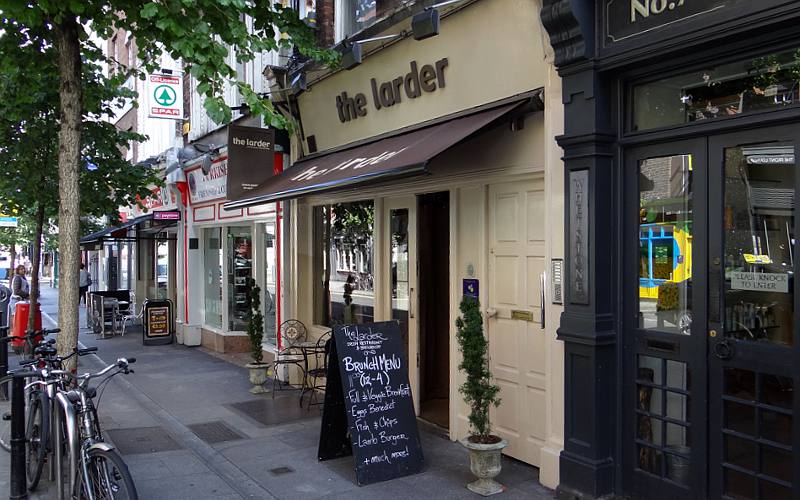 Larder Restaurant & Brewhouse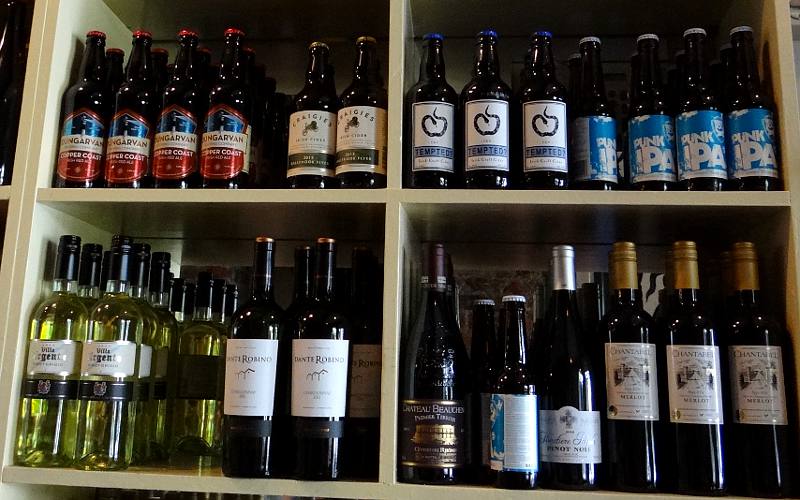 Wine, beer and craft cider display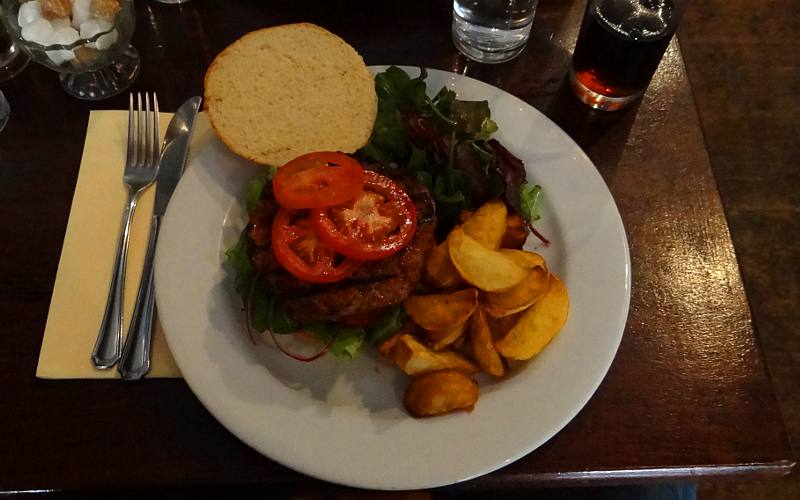 Lamb burger with chips (12€)