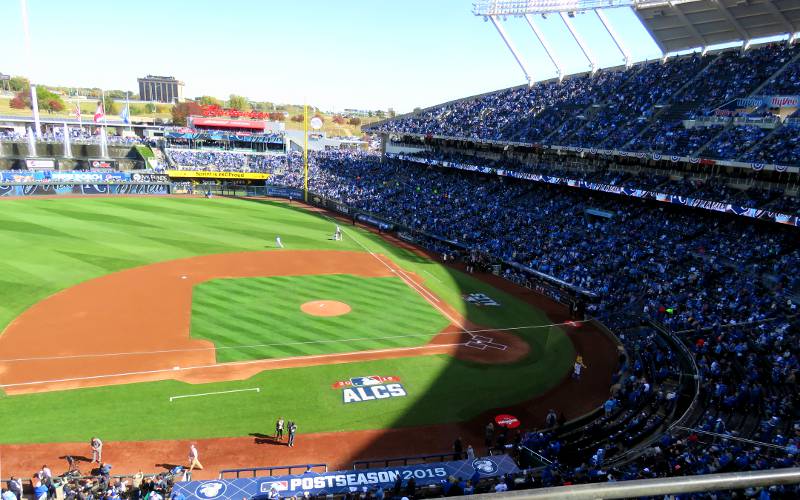 Linda and I attended game 2 of the 2015 American League Championship Series at Ewing M. Kauffman Stadium in Kansas City. The Kansas City Royals went into the game with 1-0 lead over the Toronto Blue Jays. The game had a 3:07PM start following the singing of the National Anthems of both Canada and the United States.
The Blue Jays took a one run lead in the 3rd inning. There was no more scoring until the sixth inning, when Royals starting pitcher, Yordano Ventura, left the game with the bases loaded and one out, trailing 3-0. Fortunately, reliever, Luke Hochevar, got two quick outs to get the Royals out of the inning.
The crowd could sense something was about to happen in the bottom of the seventh inning and everyone was on their feet and making noise as Ben Zobrist was the first one to bat. He popped up, but it fell between two Toronto fielders and he was on base. Lorenzo Cain and Eric Hosmer followed with more singles and the score was quickly 3-1. The Royals finished the inning 5-3.
Kelvin Herrera kept the Blue Jays from scoring in the 8th and the Royals scored a safety run in the bottom of that inning. Wade Davis finished off the ninth inning and KC won 6-3.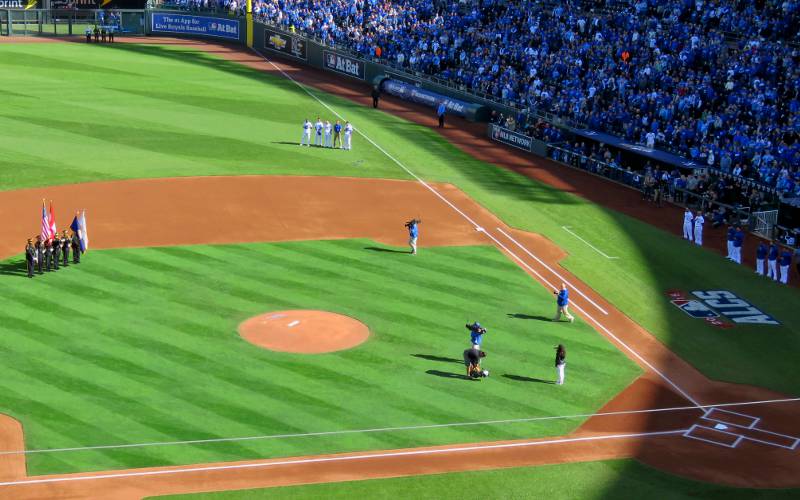 Singing the Canadian national anthem, O Canada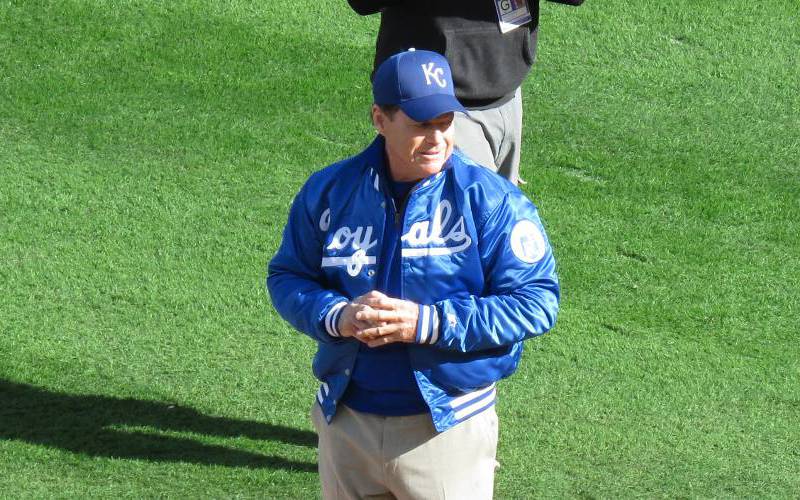 Tom Watson Throws out the First Pitch. The Stilwell, Kansas golfer has had 39 PGA Tour wins.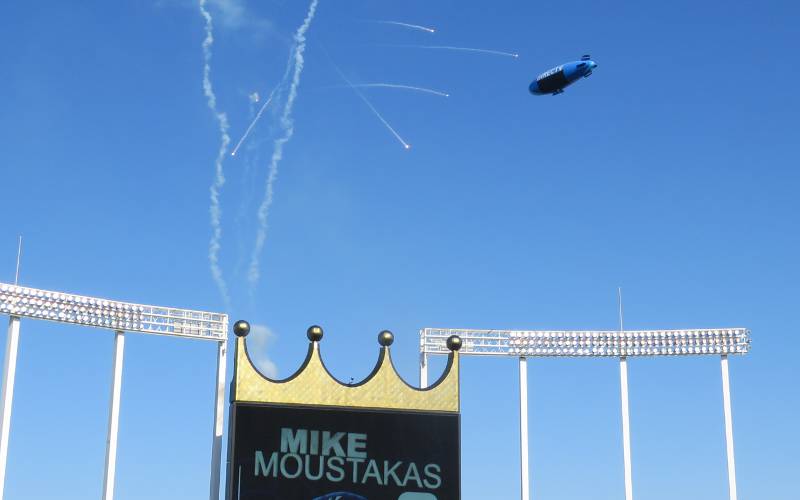 Fireworks during the introduction of the Royals' players appear to threaten the blimp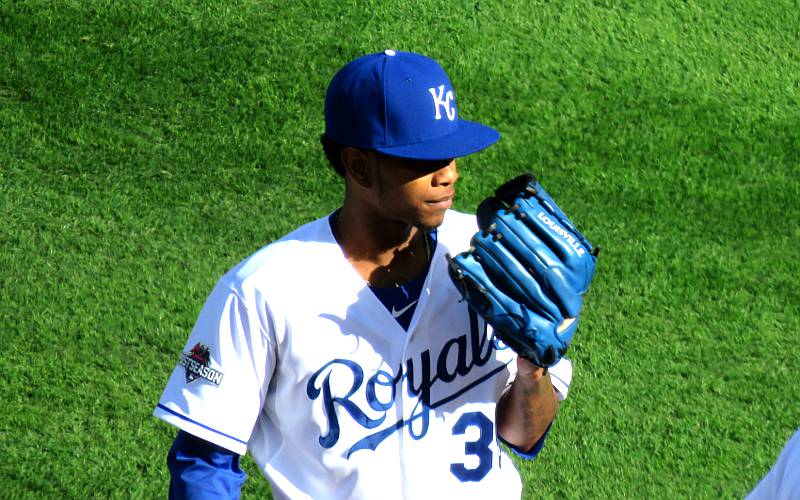 Royals' starting pitcher, Yordano Ventura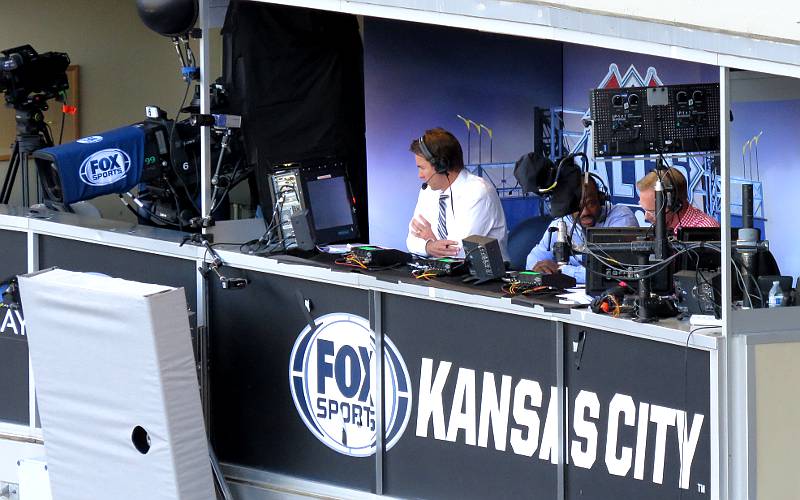 Alcides Escobar led off the bottom of the first with a single, but the next 18 consecutive Royals batters
were retired.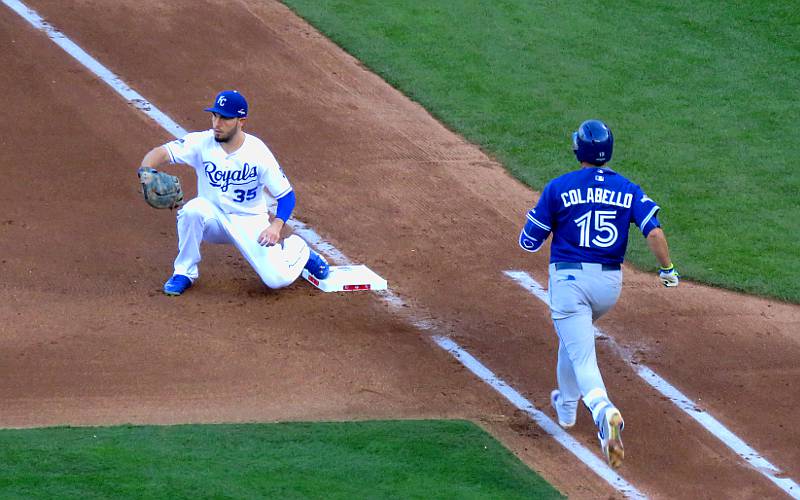 The throw to Eric Hosmer beats Chris Colabello to first base.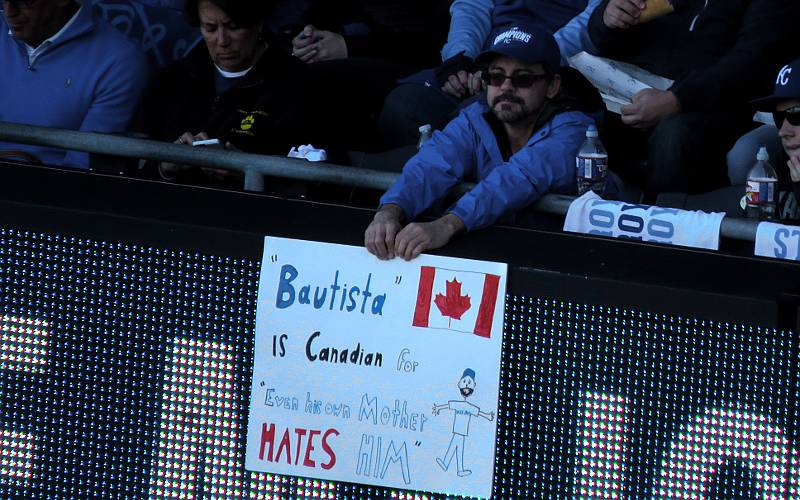 "Bautista" is Canadian for "Even his own Mother HATES him"
José Bautista faked throwing a ball to Royals' fans during game one of the series, but kept it.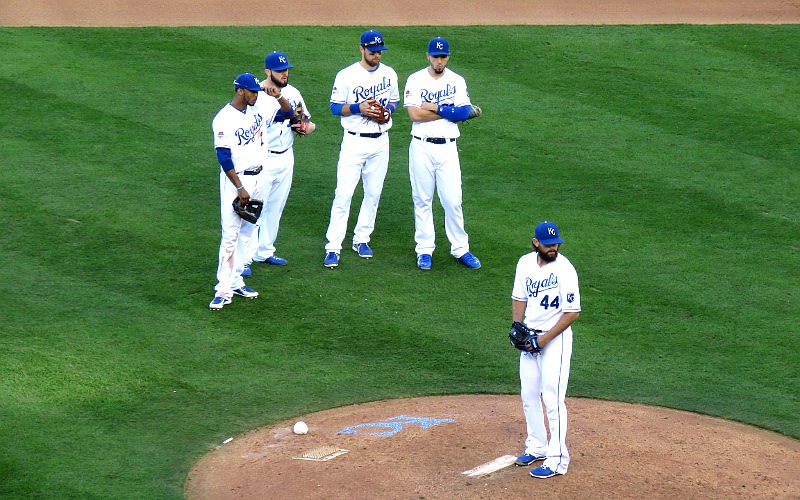 The Royals infield appears to evaluate reliever Luke Hochevar as he warms up.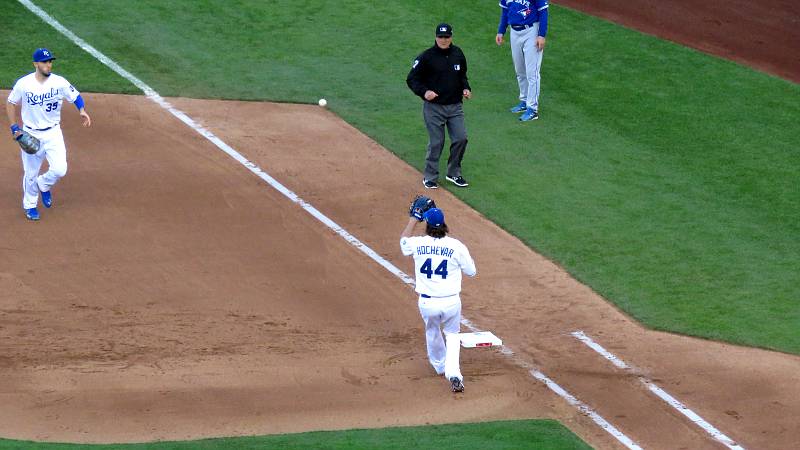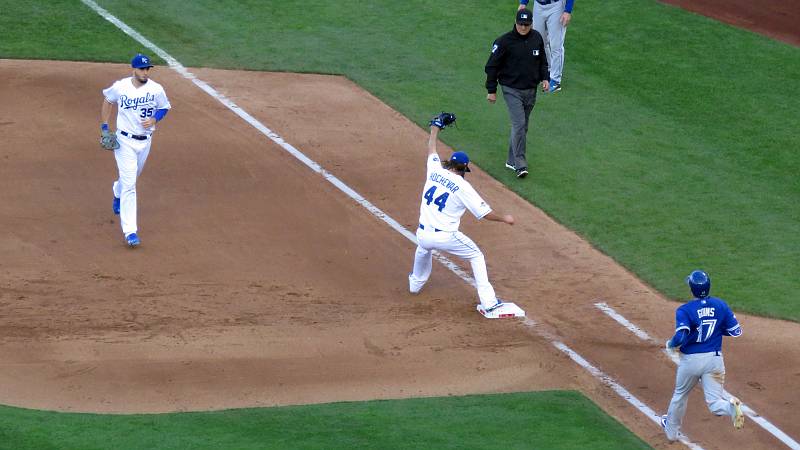 Eric Hosmer flips the ball to Luke Hochevar for the out.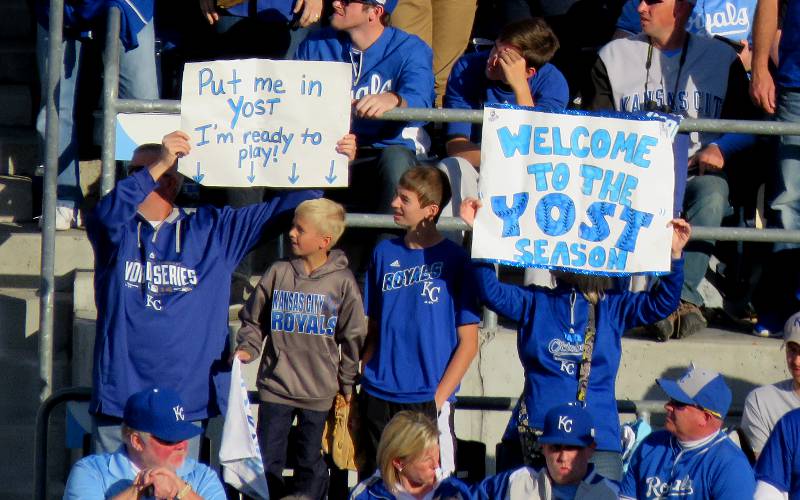 Signs supporting Royals Manager Ned Yost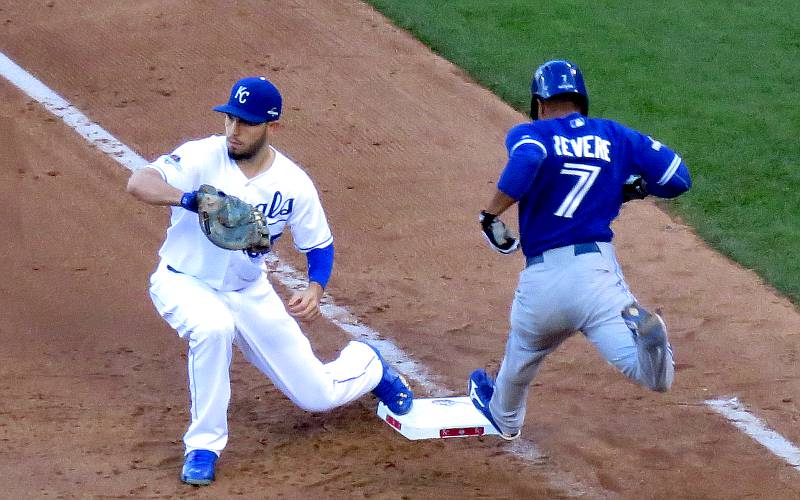 Another throw to Eric Hosmer beats Ben Revere.

Mike Moustakas scores the go ahead run on a double by Alex Gordon.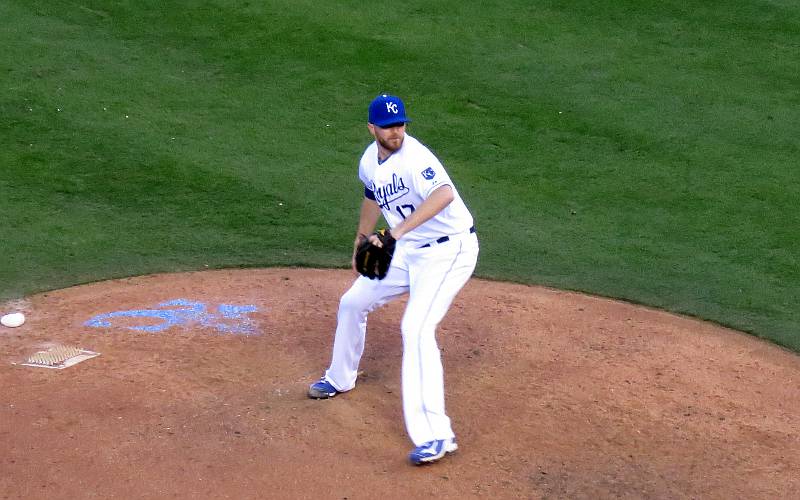 Wade Davis finishes off the Blue Jays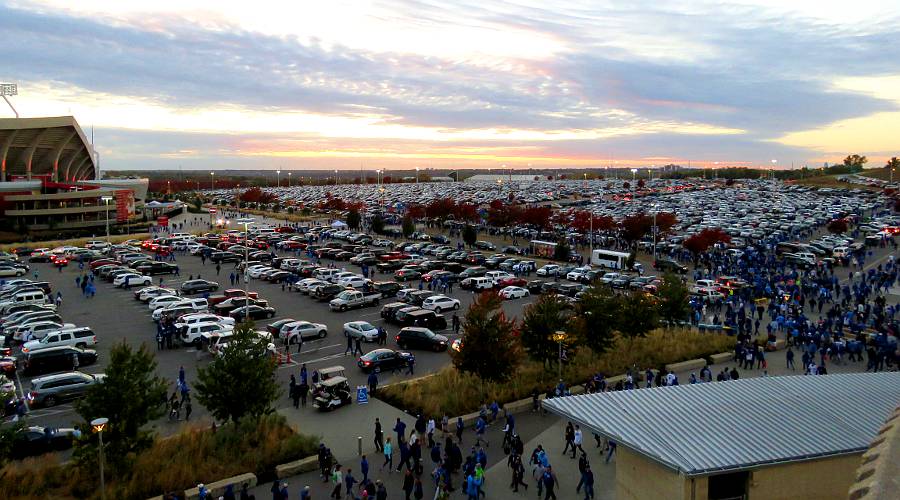 Happy fans leaving Kauffman Stadium long after the end of the game.

Page 1 - Around Kauffman before the game

2013 NCAA Basketball Tournament 2014 Big Twelve Basketball Tournament

Copyright 2015 by Keith Stokes. These photos may not be reproduced without written permission.