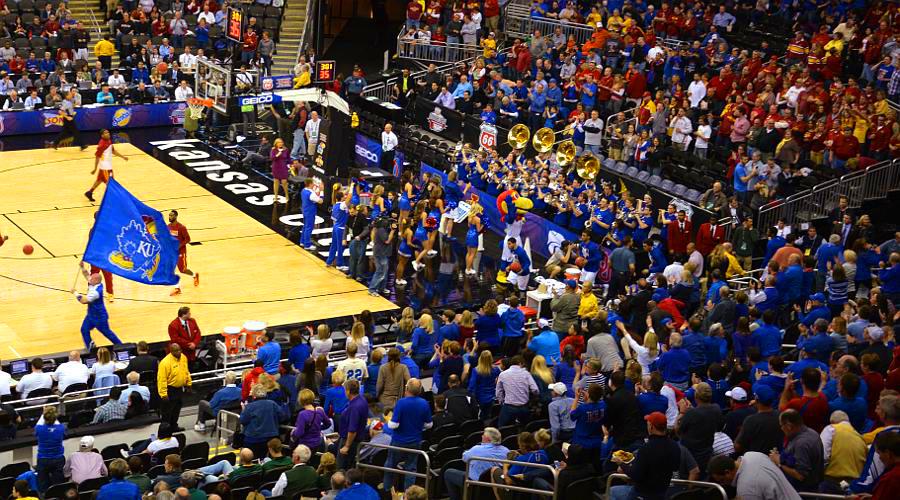 The Kansas Jayhawks take the court.
Linda and I attended the semifinal games in the Big Twelve Tournament on March 14, 2014. The opening game was the University of Kansas versus Iowa State and the second game was Baylor versus Texas. We were pleased to be invited to watch the games in the Channel 5 suite where we had seen KU beat Western Kentucky in the NCAA Tournament last March.
The photo opportunities at this location are much better than at Allen Fieldhouse. The seats are in a great location and there is plenty of room to operate a camera without interfering with other people. The lighting is bright enough for lower ISO, though the lights add an odd tint to the photos which I have only partially been able to compensate for in post production.
Iowa State got off to an early lead, but Kansas more than compensated in a 23-5 run which had the Jayhawks up by 10 points in the first half. The Cyclones came back to within 2 points at the end of the first half. Iowa State scored first in the second half, took the lead, and led for the rest of the game.
Over half of the overflow crowd left the Sprint Center following the game, but we remained for the Baylor/Texas game. Baylor dominated the first half and we called it a night at their half time. Baylor went on to win 86-69.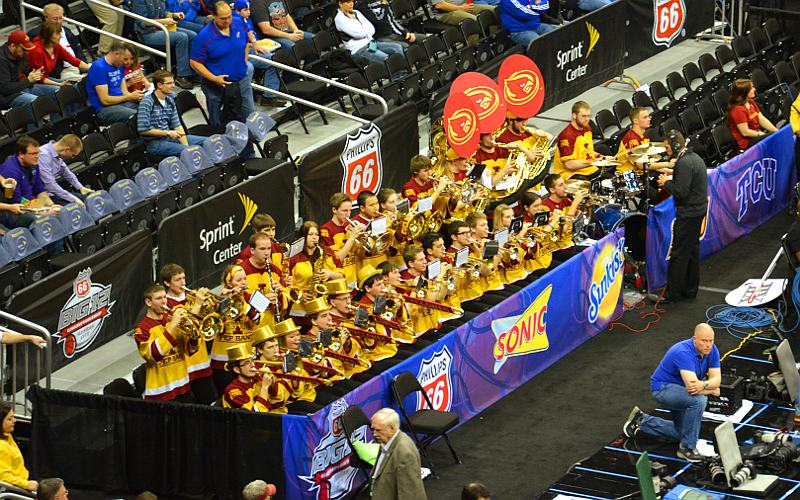 The Iowa State University Band did a great job of motivating the crowd and making a lot of noise.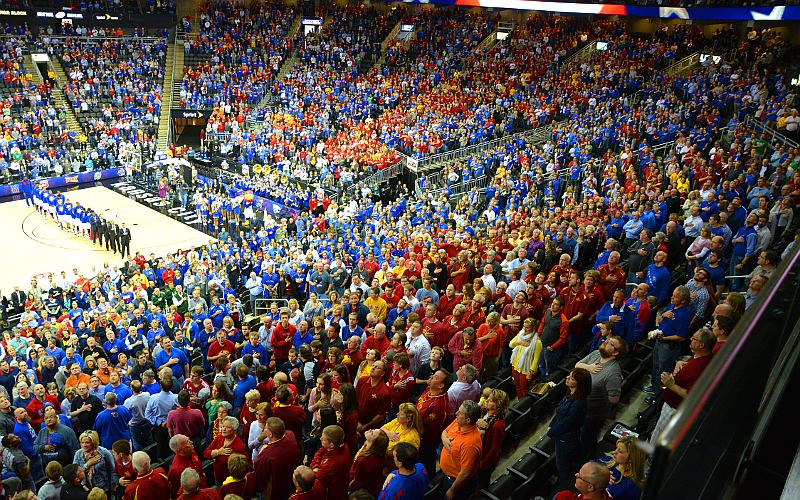 The areas of KU and Iowa State fans are clearly defined during the National Anthem.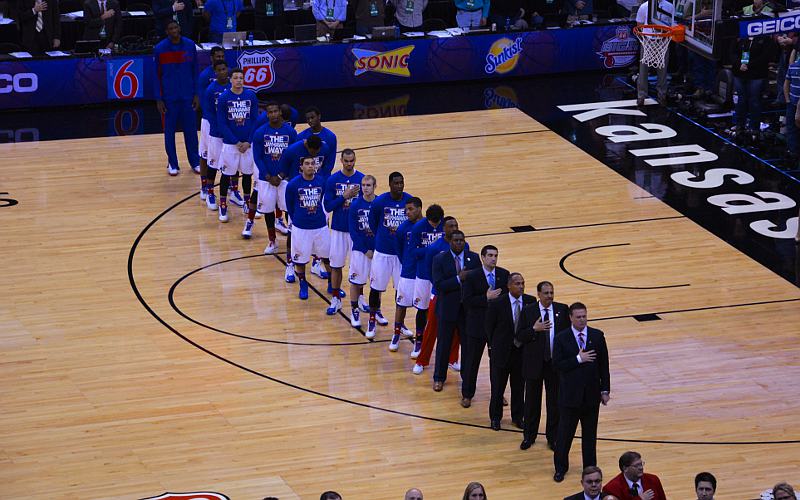 The University of Kansas Jayhawks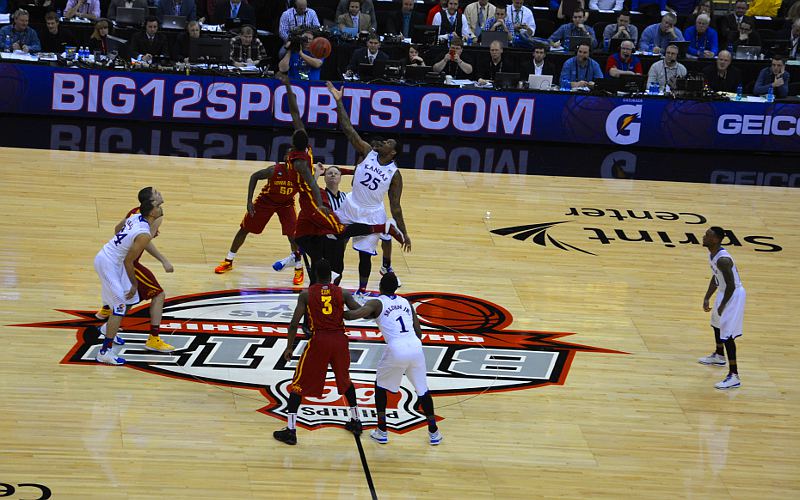 Dustin Hogue wins the opening tip off for Iowa State.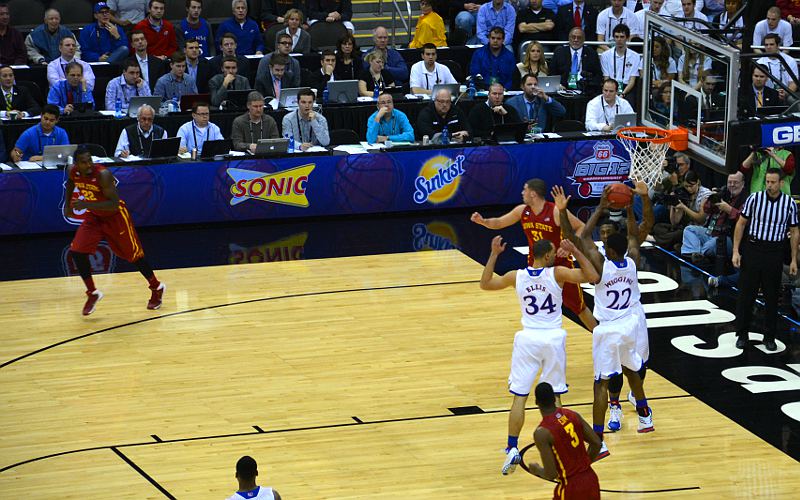 Andrew Wiggins gets an early offensive rebound.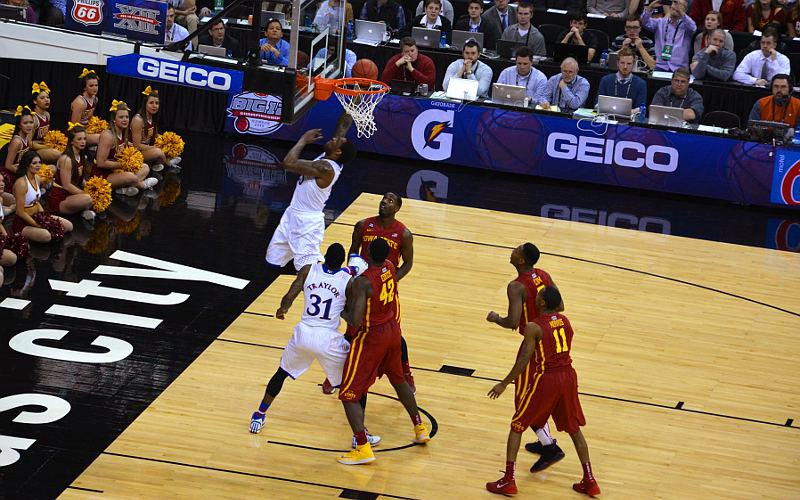 Tarik Black scores for KU.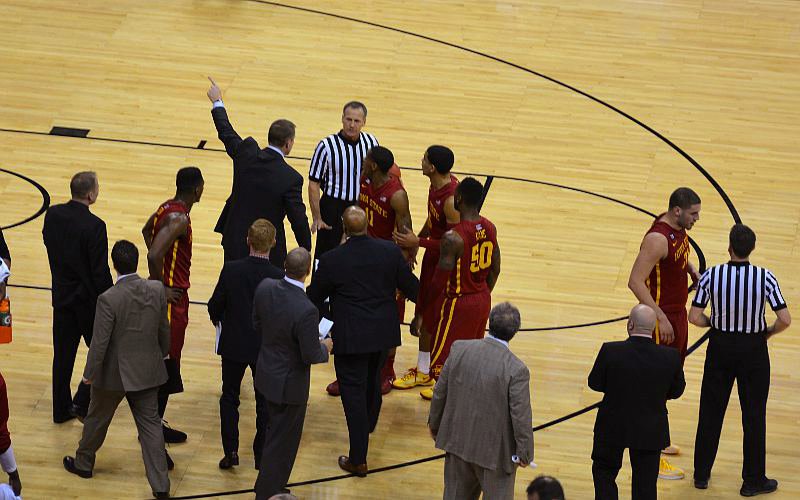 Iowa State coach Fred Hoiberg protests his technical foul.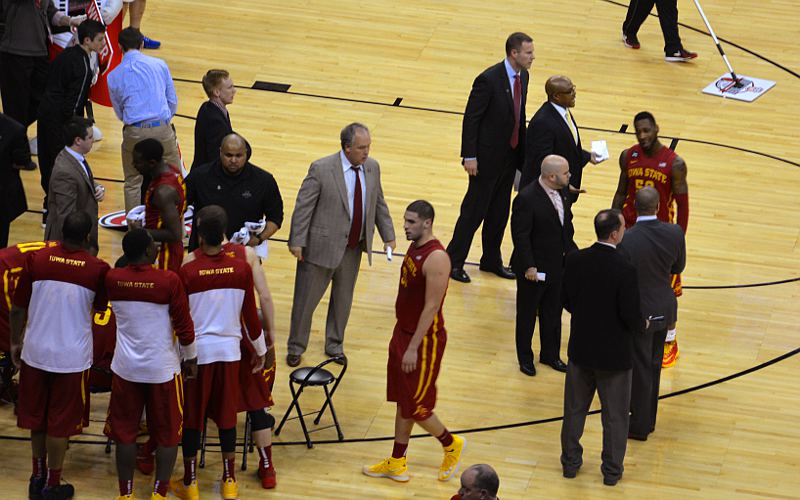 Fred Hoiberg continued to yell at the officials long into the time out. It is reported that this
was only the second technical foul of his career.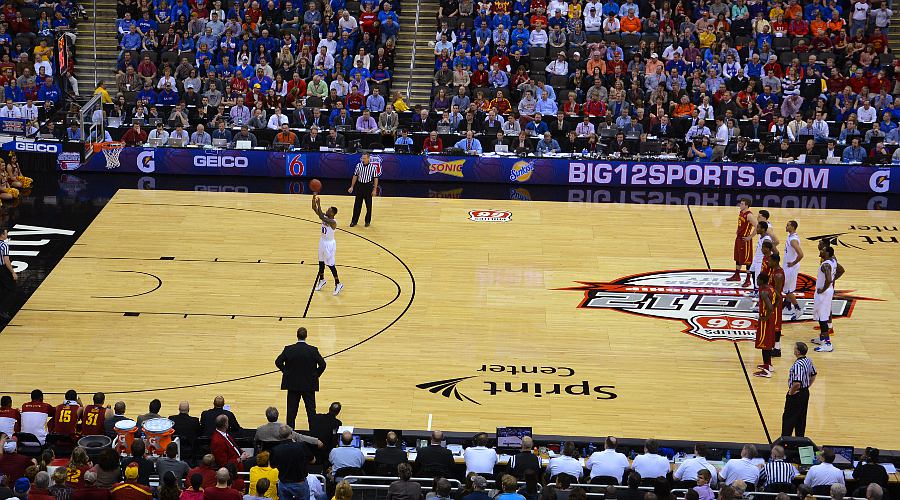 Naadir Tharpe makes the first free throw as Fred Hoiberg attempts to stare him down.
Tharpe made all four of the free throws (two for the personal foul & 2 for the technical foul).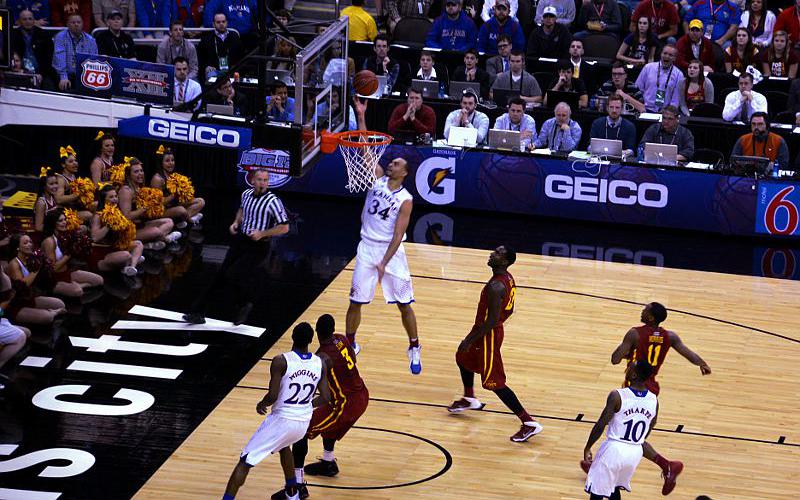 Perry Ellis scores 2 of this 30 points.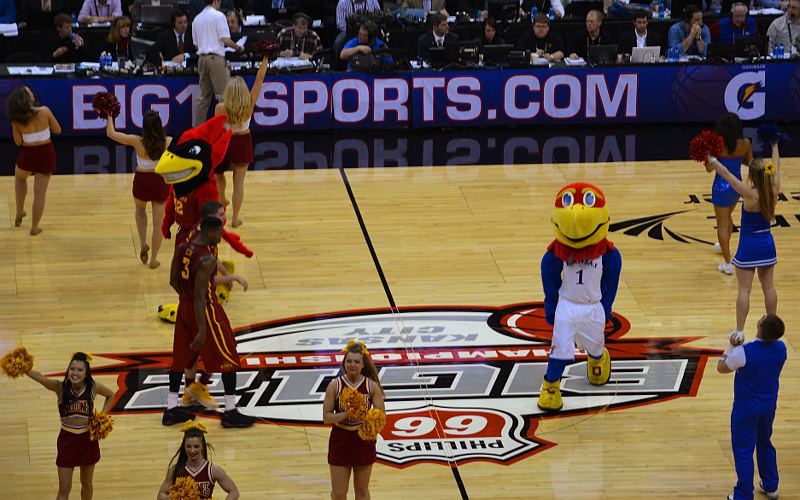 Is it me, or does the Cyclone mascot look more like a bird than the Jayhawk does?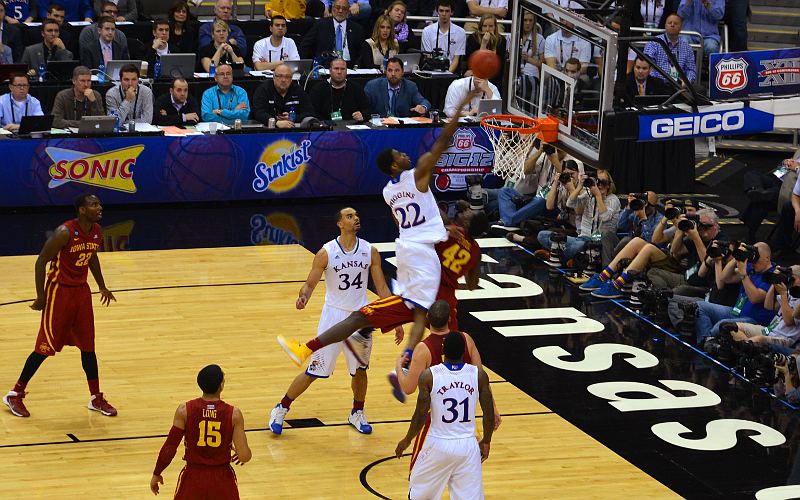 Andrew Wiggins scores in the second half.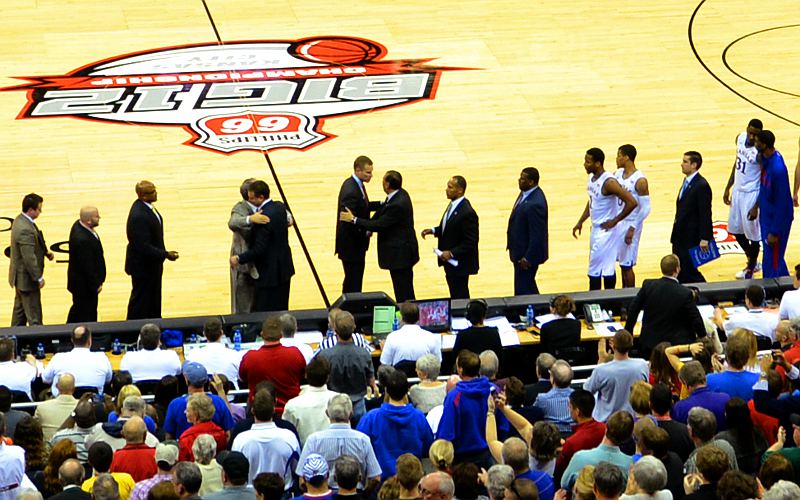 Coaches shaking hands after the game while the Iowa State players are off celebrating in the corner of the court.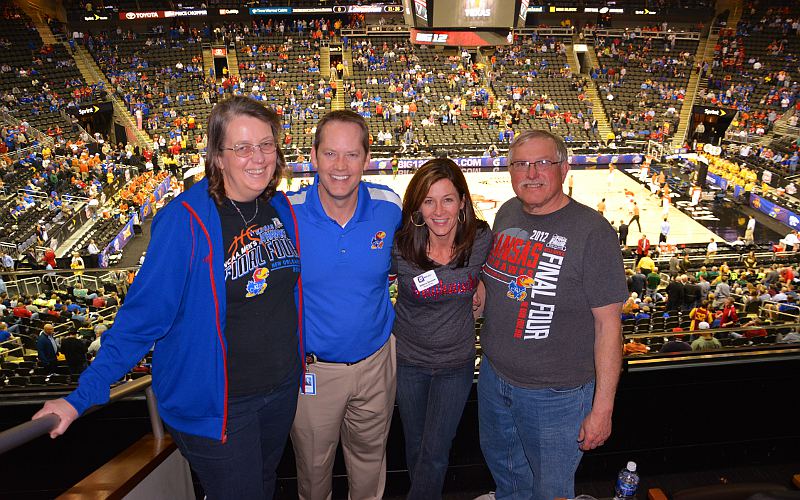 Linda Stokes, Darrin McDonald, Rebecca Boresow, Keith Stokes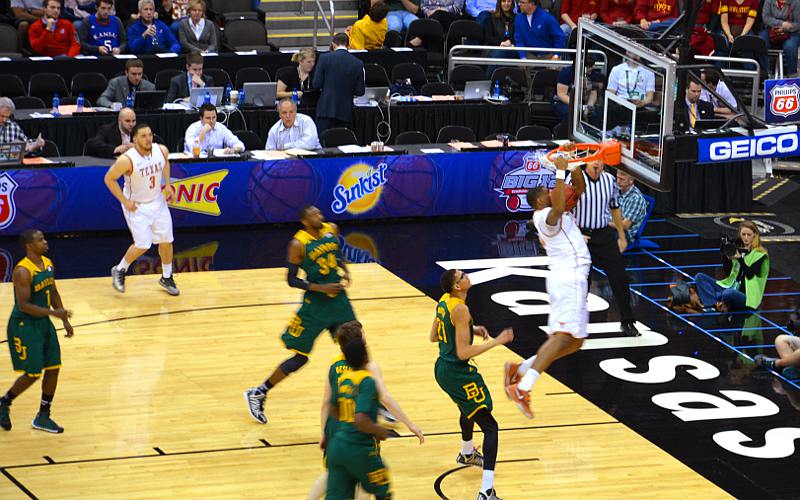 Cameron Ridley scores for Texas, early in the Baylor game.
Copyright 2014-2018 by Keith Stokes. These photos may not be reproduced without written permission.