Shuttle Atlantis launch and Nebula Awards Weekend
May 12-16, 2010

May 2010 trip to Cocoa Beach, Florida and the Kennedy Space Center for the 2010 Science Fiction & Fantasy Writers of America Nebula Awards Weekend and STS-132, the final launch of the Space Shuttle Atlantis.
Shuttle launch Next page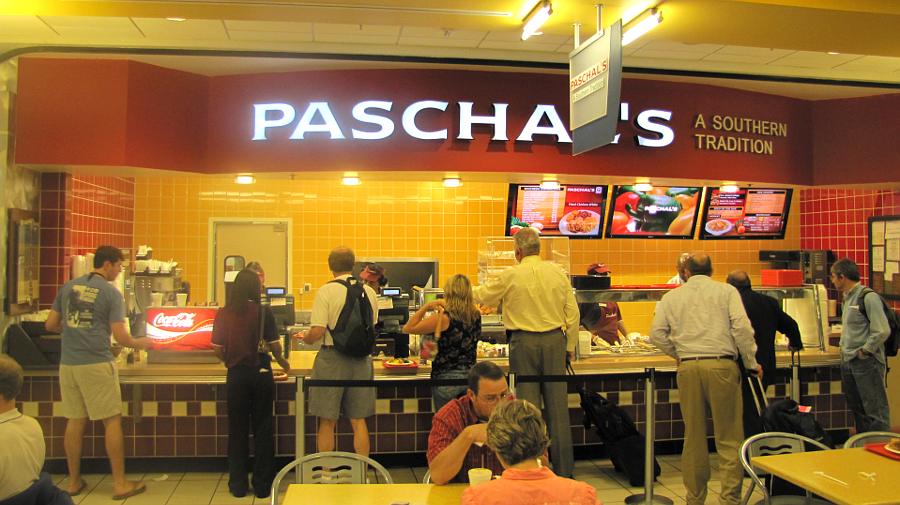 Paschal's - A Southern Tradition
Wednesday ­ day 1
Linda and I left Kansas City on Delta Airlines with a change in Atlanta for the flight on to Orlando. On the Fodors.com travel forums, I had asked for supper ideas in the Atlanta Airport and had received a recommendation for Paschal's restaurant in the main section food court in Concourse A. As it turned out, no other restaurant could have been as convenient as Paschal's. Our incoming flight docked at gate A-20, closest to the center of the A concourse and our departing flight would leave from the exact same gate about 2 hours later.
Paschal's is a small local Atlanta chain. We each had the fried chicken. Linda had white meat and I had dark meat. They each came with two sides. The dark meat turned out to be only a small leg and thigh. It had a lot less meat than the white meat order and only 19 cents cheaper. The chicken was a little cool, but otherwise, all of the items tried were good. The yams may be a bit too sweet for some tastes.
The standout was the fabulous peach cobbler. Anyone going through ATL should give Paschal's cobbler a try.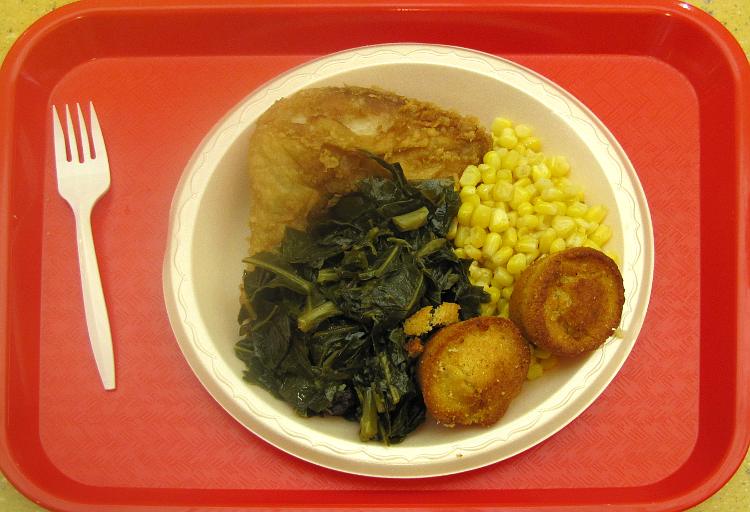 Fried chicken (dark meat), collard greens, corn and corn muffins ($8.31)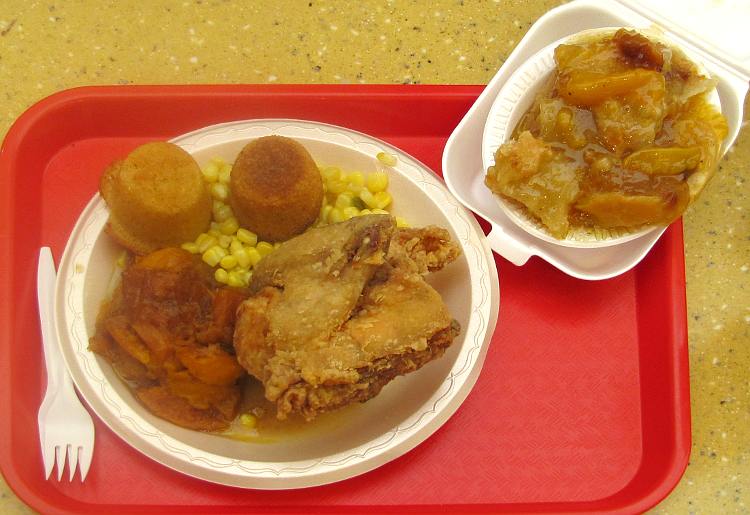 Fried chicken (white meat) candied yams, corn and corn muffins ($8.50) Peach cobbler ($3.48)
We got into the Orlando Airport about 30 minutes late, but all seemed fine until we got to the Dollar rental counter. There were only about 7 or 8 parties in line to pick up rental cars, but the clerks were going to great lengths to try to get people to pay for upgrades and additional products. Even though a 3rd clerk came on duty, it took over an hour for us to get away from the Dollar rental counter and it was after midnight before we left the airport.
It is a good thing we were staying the night just a few miles away at the Best Western Airport Inn & Suites.

Thursday ­ day 2
After a quick breakfast at the motel, we headed east toward the Kennedy Space Center, stopping a few times to pay tolls. Arriving at the NASA visitor's complex we found our way to the VIP parking and checked in for our briefing on Friday's launch. As the briefing began and we watched a video of some previous launches, I became truly aware (for the first time) of the danger that our astronauts face. After all, this was only STS-132. Out of just 131 shuttle missions, we have lost two crews.
The one hour presentation was largely a pep talk for the NASA program, but I enjoyed the background, particularly an animated video of the development of the International Space Station. The video showed the ISS growing as each component was added or moved around until it has reached the length of 3 football fields today.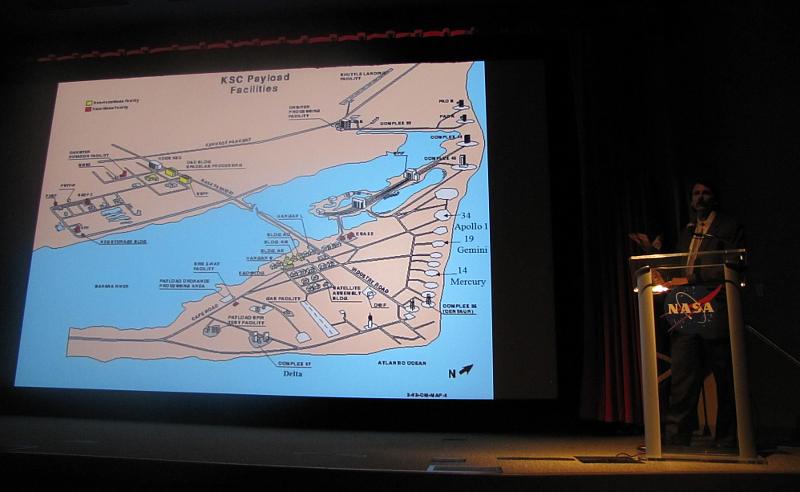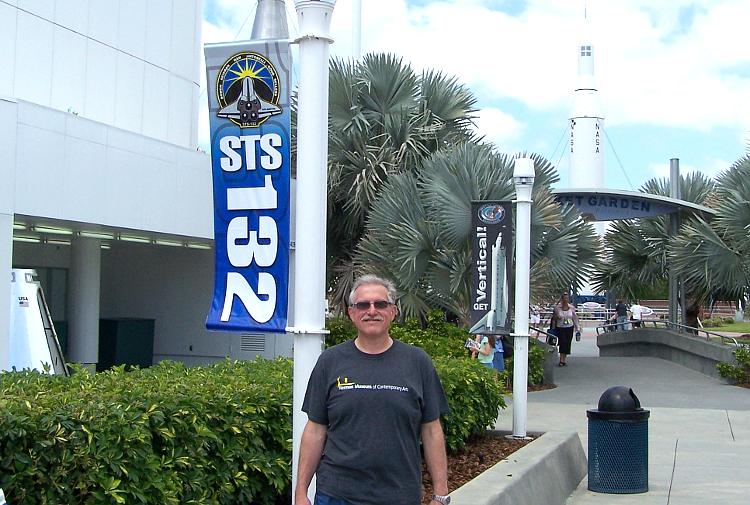 Me with STS132 banners

Kennedy Space Center Rocket Garden
Before leaving the Kennedy Space Center, we toured the Rocket Garden and visited the large NASA gift shop which had many items made specially for the Atlantis STS-132 mission. I went crazy - buying a polo, ball cap, T-shirt and several gifts. For me, that is a lot of gift shopping.
Next we drove across the width of Florida to Tampa, where we met my brother and sister for lunch and a two hour chat at the Hard Rock Casino. They had just returned from a one week cruise on the day that we left for Europe, so we had many things to talk about.
Then back across the width of Florida to Cocoa Beach to check into the Nebula Awards Weekend hotel - the Hilton Cocoa Beach Oceanfront Hotel.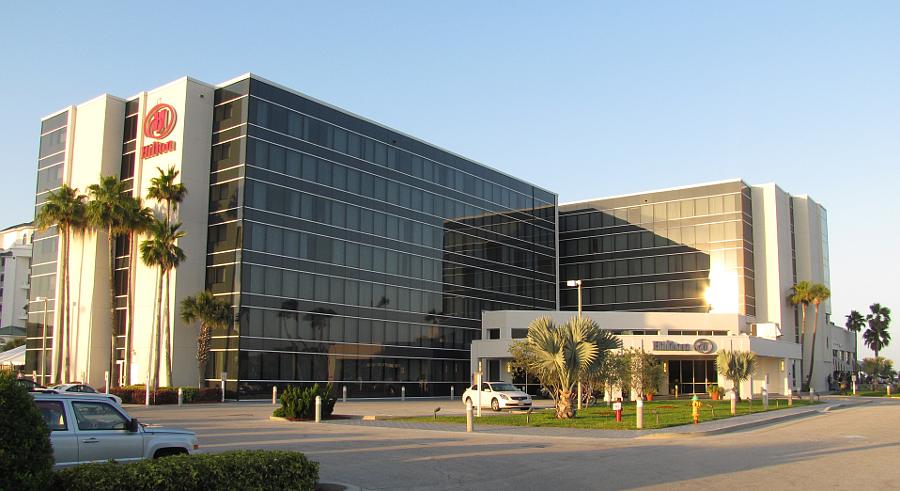 Hilton Cocoa Beach Oceanfront Hotel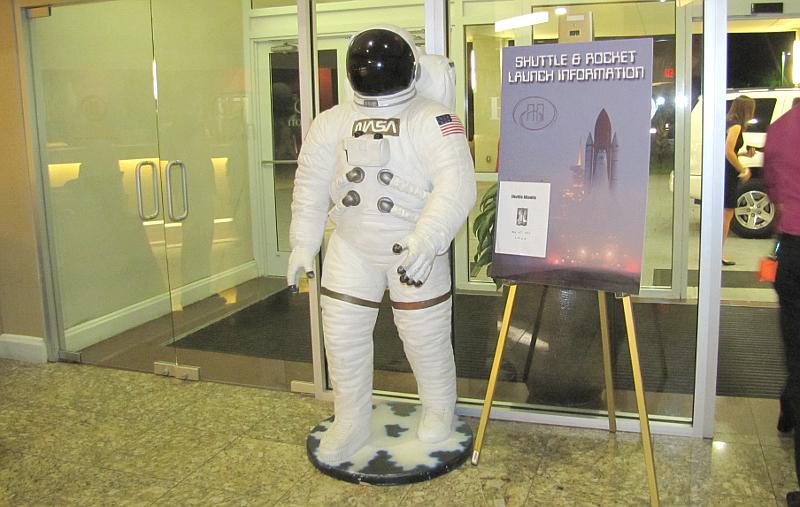 Astronaut mannequin in the hotel lobby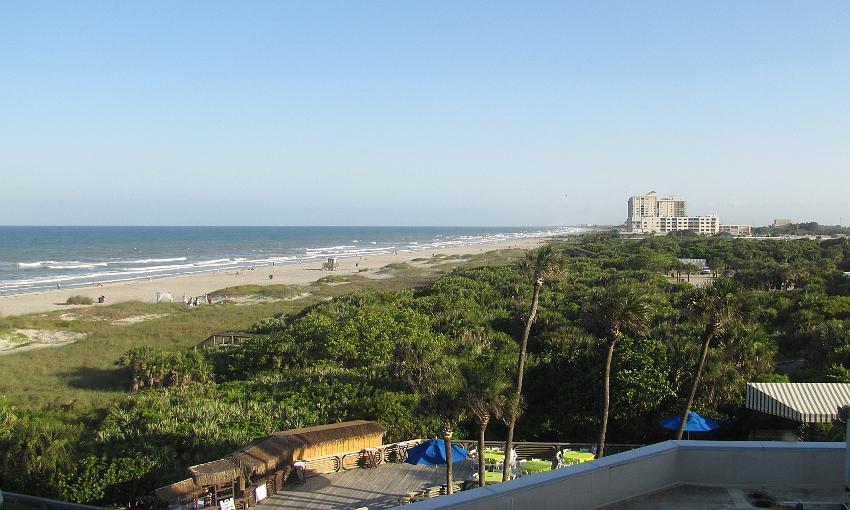 View of the ocean and beach from our 5th floor room