More time in Mackinaw City
& St. Ignace
May 25, 2013
Linda & Keith Stokes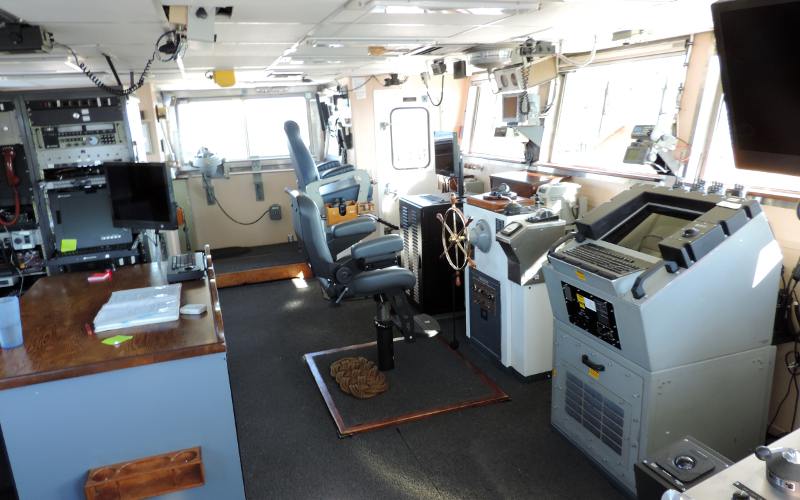 Bridge of the Biscayne Bay
Saturday - day 4 (continued)
Linda was ready to relax in the motel after the pageant, but I returned to St. Ignace, because none of the photos I had taken of the bridge of the Biscayne Bay on Thursday had been useable. LT. Perodeau had arranged for me to return to take new photos of that part of the ship.
As I was taking a couple of exterior shots of the Biscayne Bay before leaving, I noticed a sign on the fence at the end of the dock saying that since 2001, the end of the dock has been reserved for the largest nesting colony of common terns in the upper Great Lakes. This is a collaboration between the Coast Guard and the Seney National Wildlife Refuge staff. Populations of the common tern have declined due to loss of breeding habitat and competition with gulls for nesting sites.
Before returning to Mackinaw City, I did some additional photography of the Mackinac Bridge from the Upper Peninsula and of St. Anthony's Rock, one of several "sea stacks" in the area. Castle Rock is a much better sea stack.

Common Tern Reserve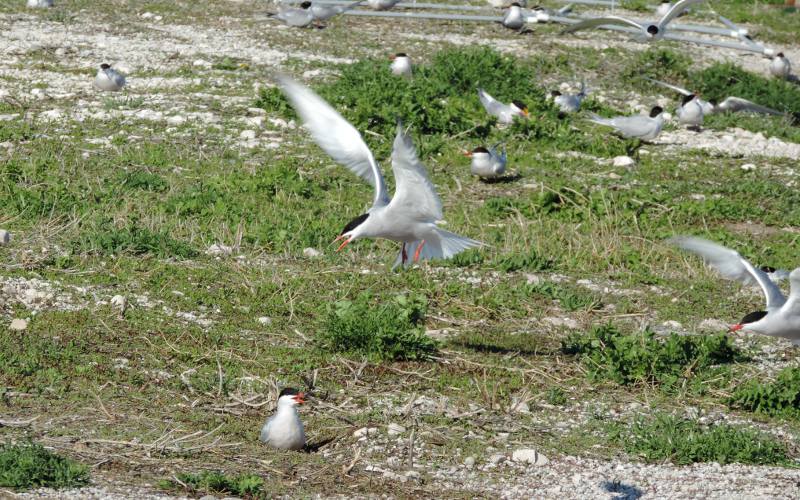 Common Terns (terna hirundo)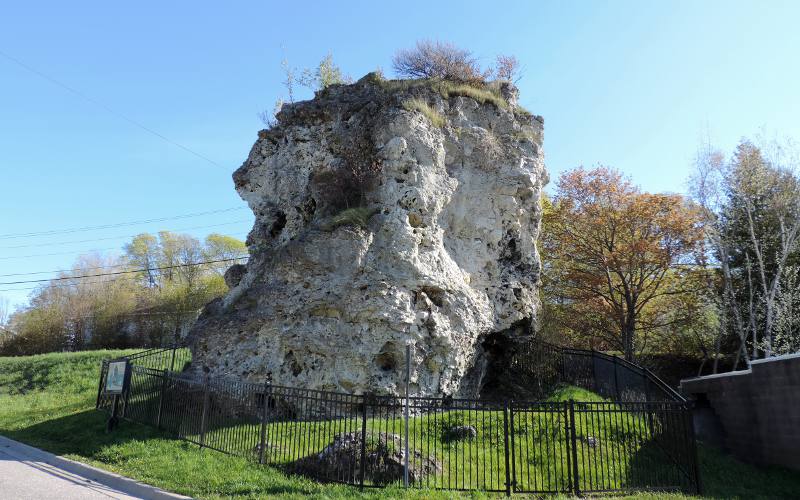 St. Anthony's Rock is believed to have been named by the French explorer È-Robert Cavelier, Sieur de La Sall
This evening we had supper at the Chippewa Room in Audie's Restaurant. It is the only fine dining in town and they do a very good job. Most of my trips to Mackinaw City include one meal in the Chippewa Room.
Meals in the Chippewa Room come with a complimentary serving of Edgar's beer cheese served with garlic toast and crackers. It was so good that we emptied the crock and the waitress ended up bring us more cheese.
Linda had planked whitefish, while I had Cajun spiced, broiled whitefish and a side of fried perch. We concluded the meal with a flaming peach melba, which was prepared table side by our server. It was a good meal as always.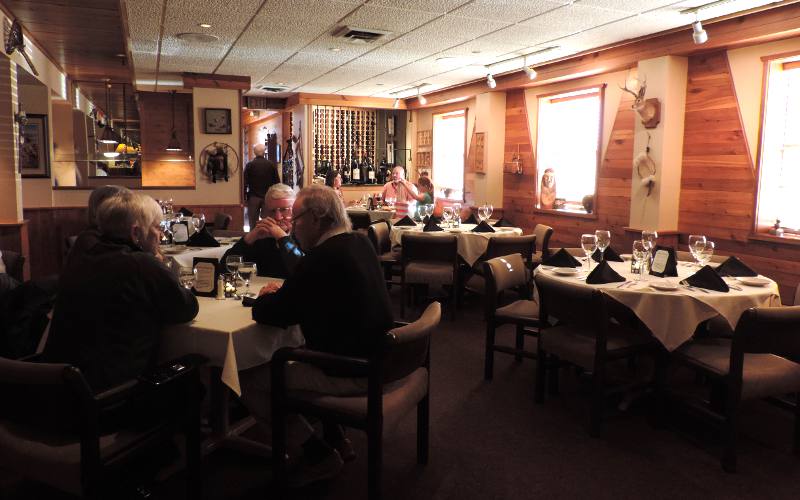 The Chippewa Room has a totally different menu than the rest of Audie's Restaurant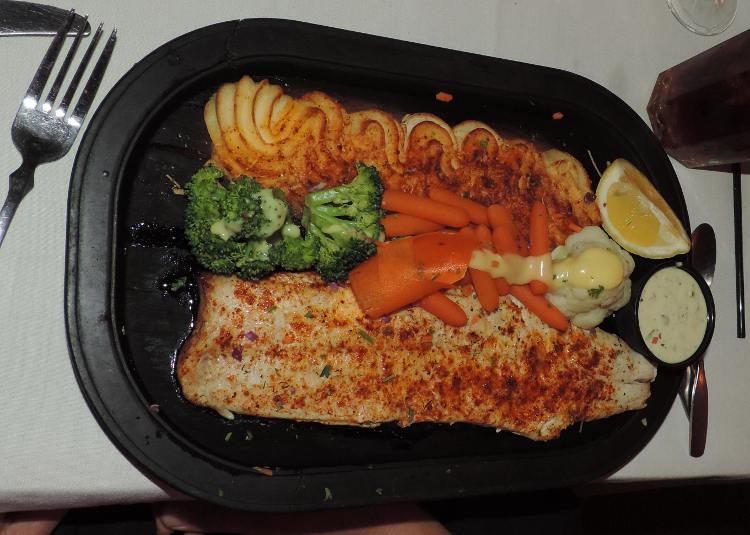 Planked whitefish on a maple board and surrounded by duchess potatoes & a medley of vegetables - $21.99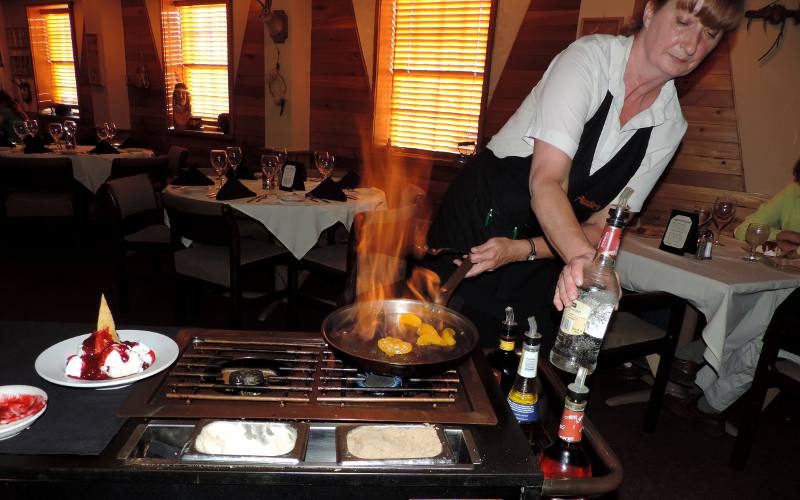 Peach Melba - peaches flamed table side with Kirsch and peach brandy, served on French vanilla ice cream and
topped with melba sauce - $6.89
We followed up with some shopping in the downtown while waiting for dusk and a fireworks show. The one day past full moon came up during the fireworks and my time was split between photographing the moon and the fireworks.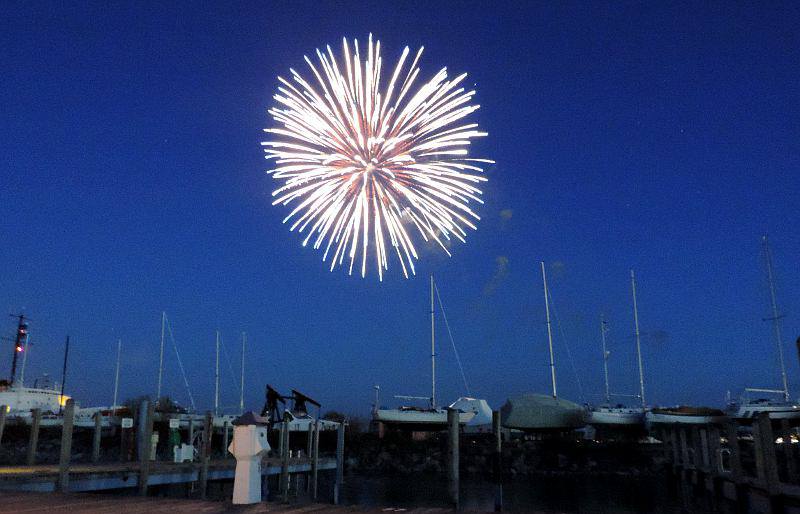 Fireworks seen over the top of the Mackinaw City Railroad Dock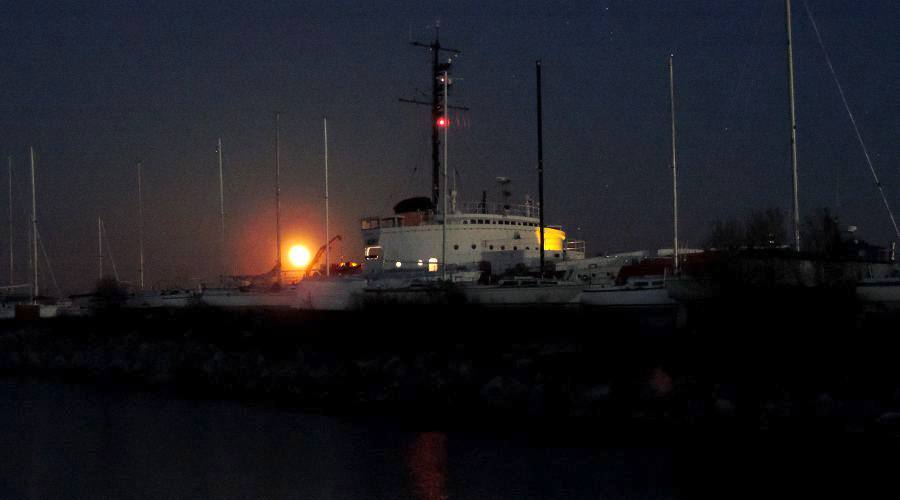 The moon rising above the Coast Guard Cutter Mackinaw Maritime Museum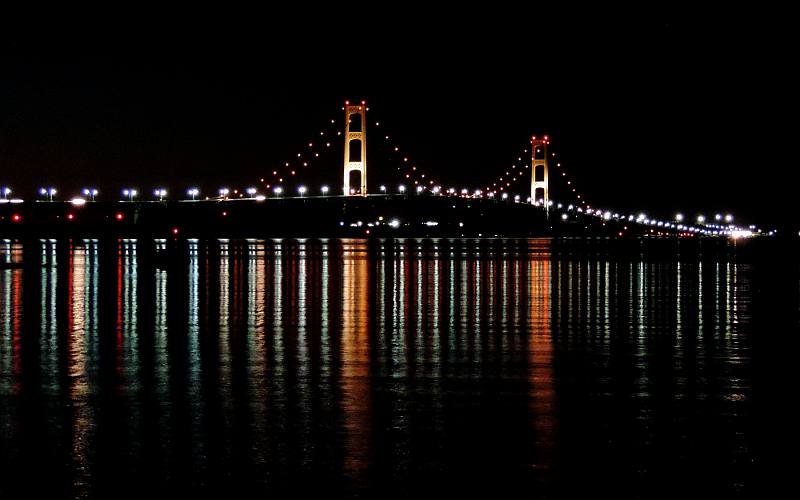 Mackinac Bridge (Prints & greeting cards of this image)