Poas Volcano National Park
Keith Stokes' Costa Rica Trip
January 15, 2008
Previous Page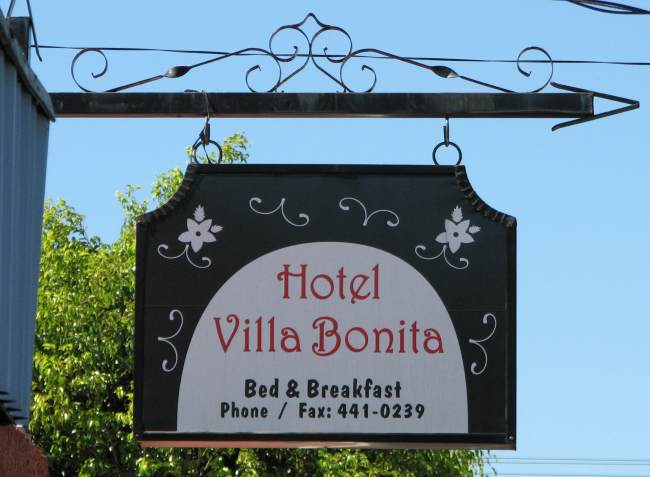 martes - day 7
I didn't sleep well at all last night. Lay awake for long periods, and was up before my alarm went off.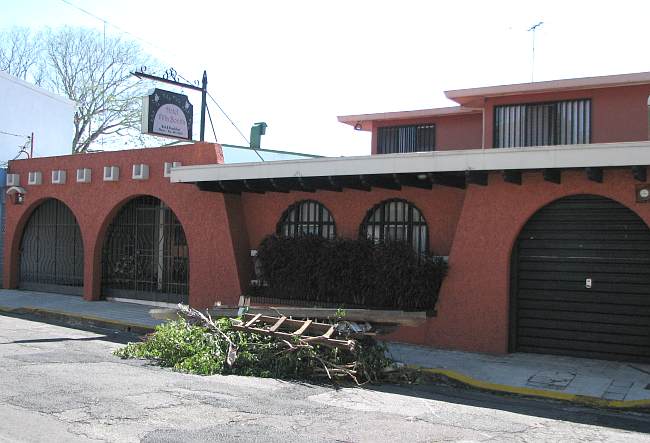 Hotel Villa Bonita.
Before checking out I moved most of my gear into my suitcase which I left with the desk when I checked out.
The drive up to Poas took about an hour. I missed a turn on the way out of town, but found another route that was probably just as fast. I arrived at Poas Volcano National Park a few minutes after it opened at 8:30 AM.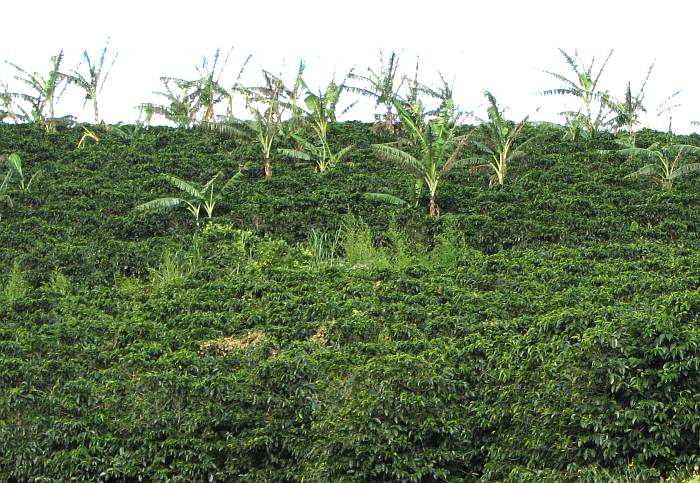 Coffee plantation.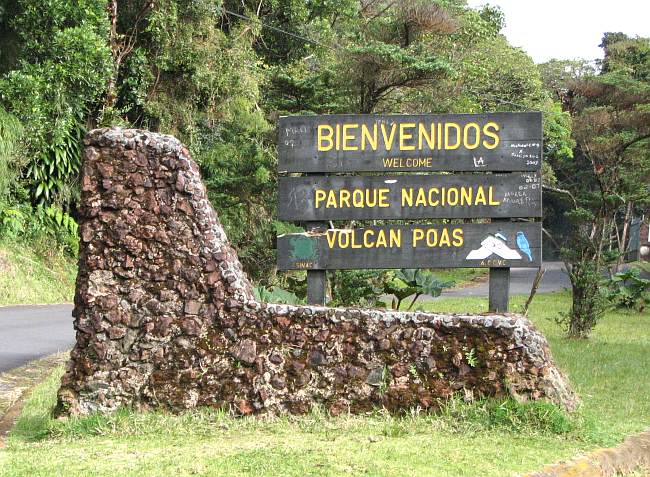 Parque Nacional Volcan Poas.
Admission and parking at Poas Volcano was about $14 (foreigners pay more than Costa Rica residents). At the packing lot, an attendant indicated that I should back into the parking. I later noticed that the parking receipt said to park facing out "due to emergency evacuation procedures."
There is a visitors center with good bathrooms, a fairly nice gift shop and a small unattended museum about the park. The paved walk to the volcano overlook takes about 5 minutes. With an altitude of 8,445 feet the weather was crisp, but not too cold.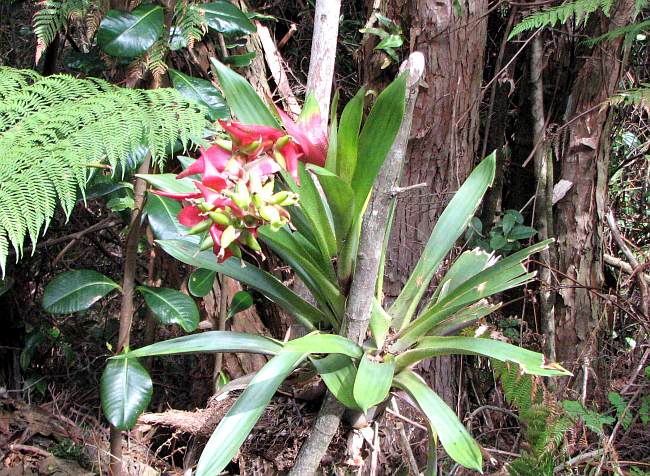 The view of the crater was clear. The sulfuric acid lake below had a fair amount of steam rising, but any active geysers were blocked from our view by the lip on our side. There were only about 20 visitors this early in the day. Although I could hear a few birds, I didn't see any. But did get a few photos of plants along the walk.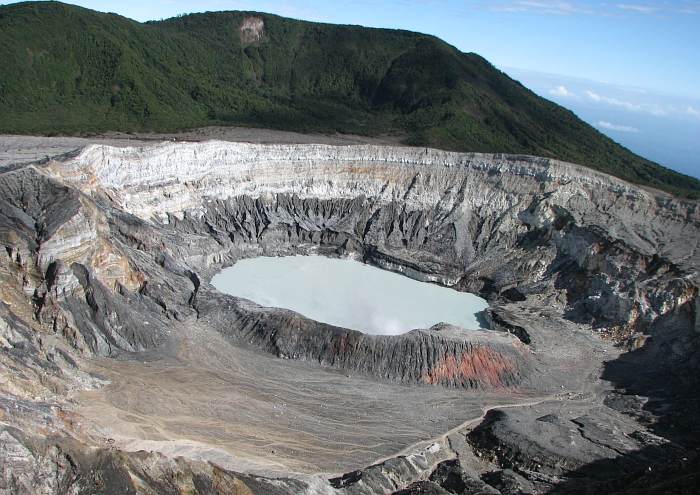 Poas Volcano crater with sulfuric acid lake almost a mile long. The small bunker like shape in the lower right
it the dome of the volcano.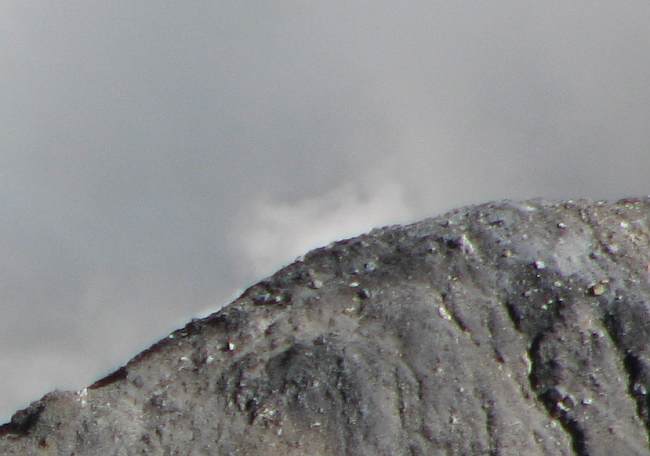 Close up of steam rising at the edge of the crater.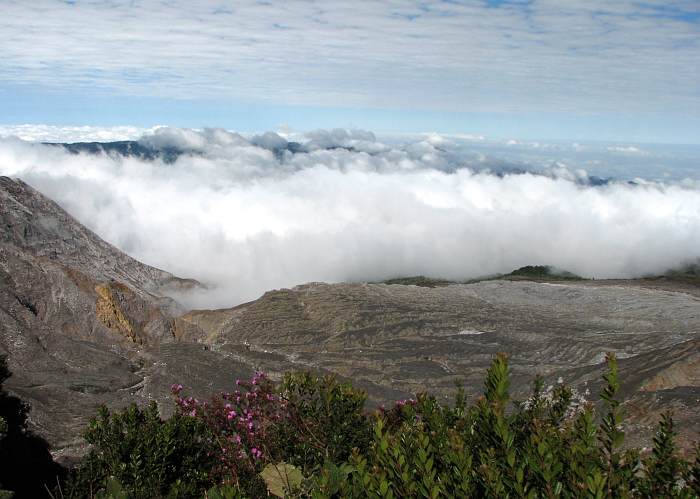 View down the mountain.
The ride back to Alajuela was pretty and uneventful. After picking up my suitcase at the hotel, I took Tortuga back to Tricolor. They were jammed with people picking up cars, but after a 10 minute wait, the Sales Manager, Claus Schultz, came out and handled my turn in himself. I told him that their Ignis was now named Tortuga and that he should tell the next people that rented it, to make them laugh & have good luck. But I don't think he got my humor.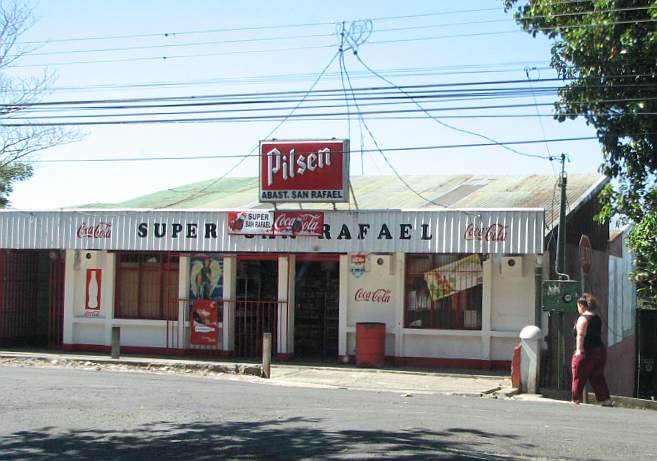 One of the many small markets.
Tricolor's courtesy van dropped me at the aeropuerto about 11:20 AM, and it took about 40 minutes to pay the departure tax ($26), check in with American Airlines and clear security. The departure tax could be paid in US dollars, Costa Rican Colones or by credit card (treated as a cash advance).
I didn't have to take my shoes off or take the computer out of the bag to go through the machines at the security checkpoint. After I was through, I realized that I had accidentally taken a bottle of water through, but security did not object.
With 2.5 hours until boarding, I checked out the shops (typical for an airport) and restaurants The food options were disappointing, only Burger King, Church's Chicken, Papa John's, Cinnabon, and Schlotzsky's. There's no place like home.
All prices quoted anywhere in the airport were in US dollars. I finished my fast food tour of Costa Rica with Church's chicken tenders & fries.
Free (but very slow) wifi was available in the congested area at the food court, but I found a quieter spot and started writing this trip report.
When boarding the planes, the carry on bags were opened and inspected and bottles of liquid removed. I had forgotten that the same thing happened in Mexico a year before.
The flight to Dallas was uneventful. I turned down the meal this time.
Something different happened at immigration. Because of the horseback ride, I checked that I had contact with livestock while out of the country. This resulted in a detour to be interviewed by an Agriculture Inspector, but after a couple of questions and a glance at my shoes, he sent me on my way.
I got home at 12:30 AM, so tired that in the morning, I discovered that my suitcase had sat outside my apartment all night.



Previous Page Costa Rica Trip home
Keith's other trips Mighty Mac Home