Lunch at Grills & wildlife photography at Merritt Island NWR
May 15, 2010

Lunch at Grills in Cape Canaveral, Florida & wildlife photography at Merritt Island National Wildlife Refuge.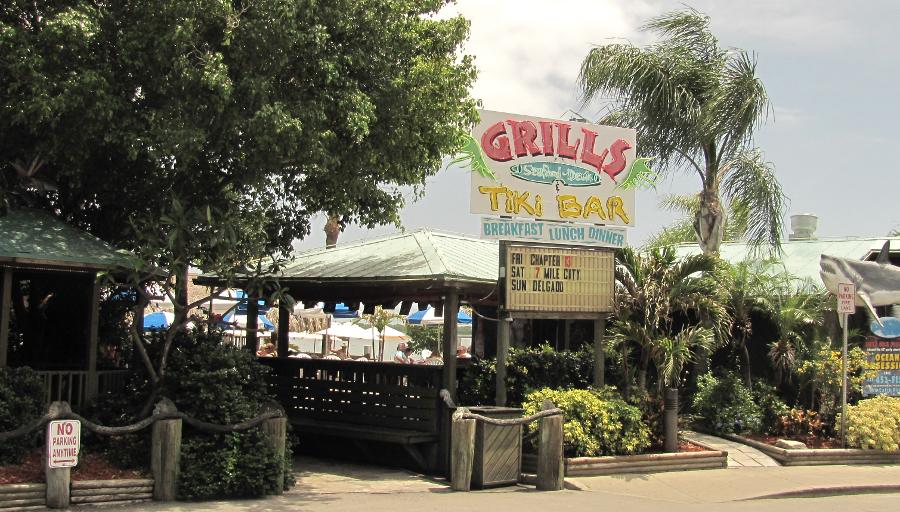 Grills Seafood Deck & Tiki Bar
Saturday ­ day 4
We decided to sleep in a little today, then made our way down to the main floor of the Hilton where I photographed a few panels.
For lunch, we drove up to Cape Canaveral to Grills Seafood Deck & Tiki Bar, which was only a few blocks east of Milliken's where we had dined two evenings earlier. We snagged the last open table on the water side of the deck and were quite pleased with the view.
We decided on 5 appetizers: shrimp jammers (butterflied shrimp filled with cheese and fried in a batter, $7.99); shrimp on a skewer ($7.99); cheese bread ($1.49); Steamed Clams ($7.99) and (hickory smoked) Smoke'n Fish Dip ($7.99).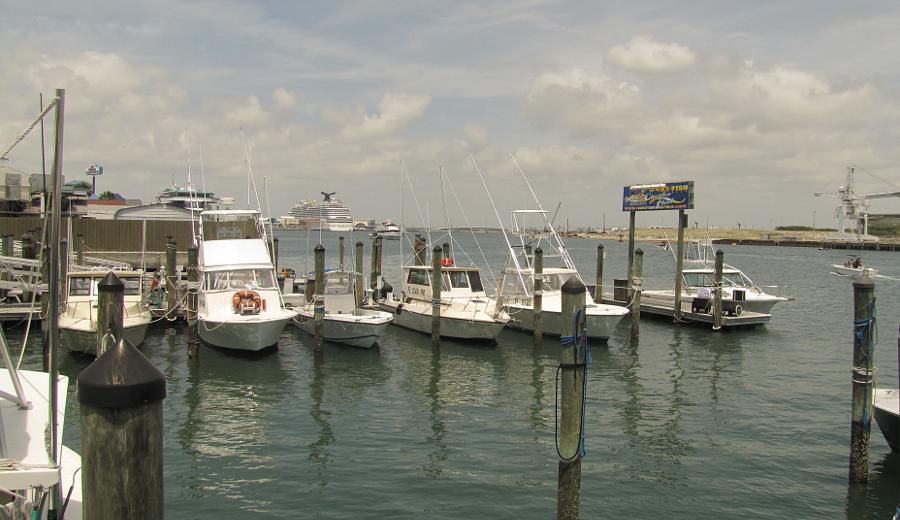 View from Grills Seafood Deck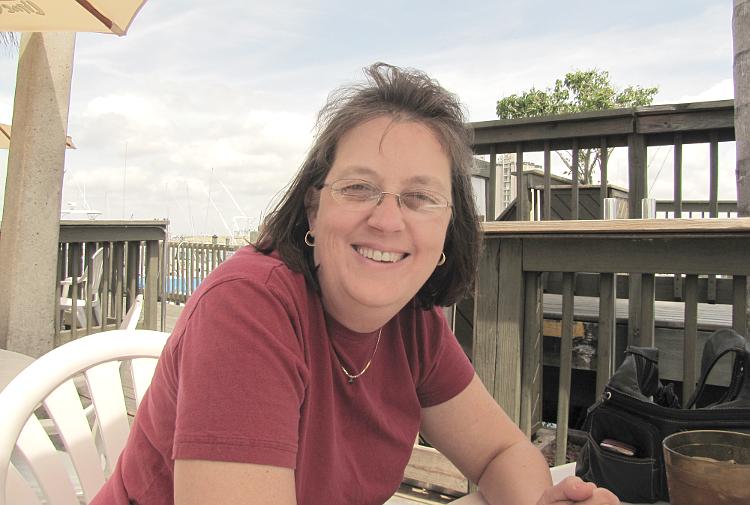 Linda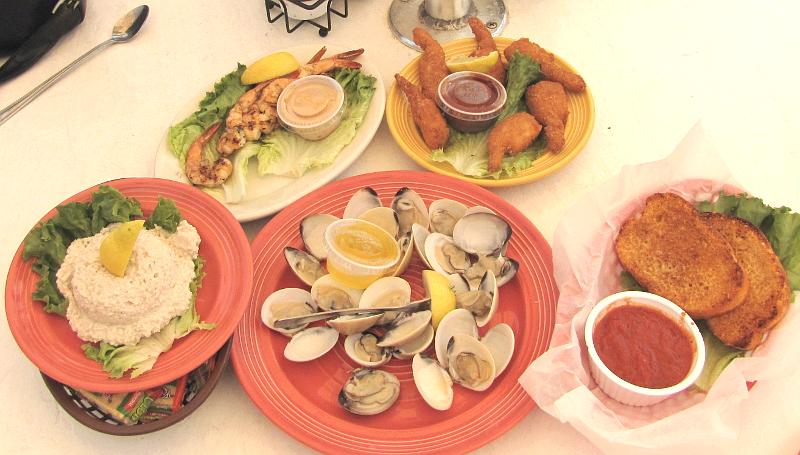 Shrimp on a Skewer, Shrimp Jammers, Smoke'n Fish Dip, Steamed Clams, Cheese Bread
We decided to spend the day at the Merritt Island National Wildlife Refuge which surrounds the Kennedy Space Center. I had bicycled the refuge with Gay & Joe Haldeman when we did Bike Florida 2001: A Space Odyssey and wanted to share the experience of seeing manatees up close, in the wild, with Linda.
We first stopped at the NWR Visitor Center to get a map of the Merritt Island Refuge and directions. We also walked the 1/4 mile board walk trail that goes out from the visitor center and saw an osprey nest with four birds, many butterflies and a large snake.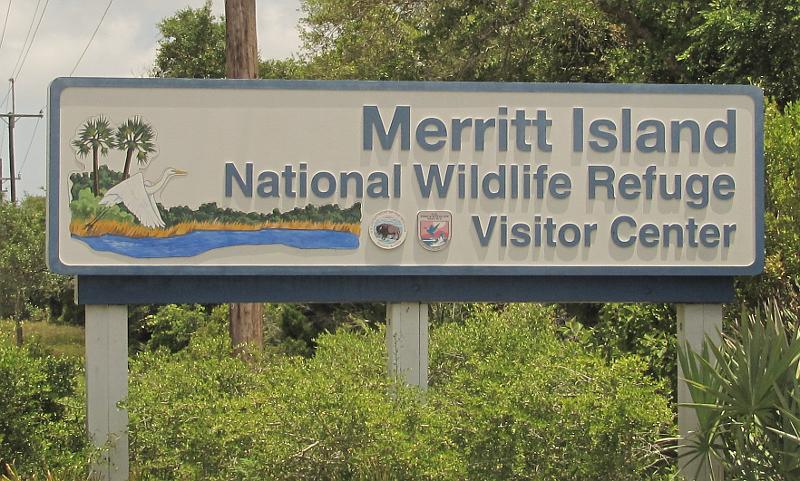 Merritt Island National Wildlife Refuge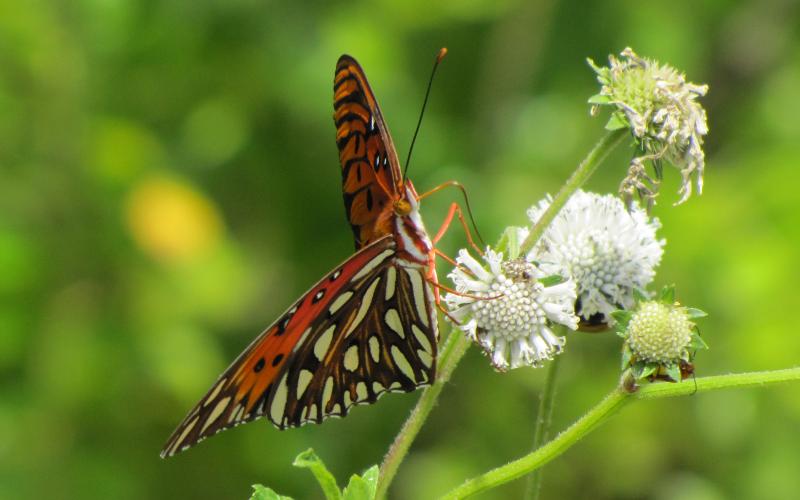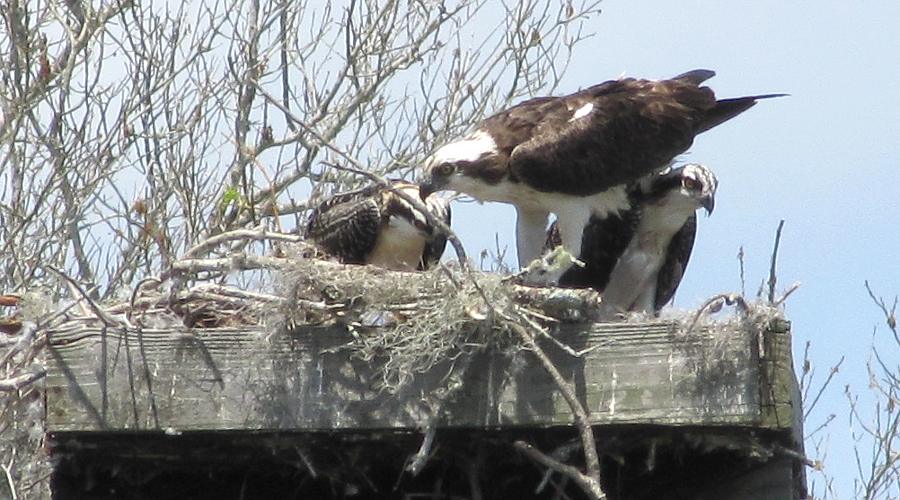 Ospreys (Pandion haliaetus)
We drove on down to the Black Point Wildlife Drive where we made many stops to photograph shore and wading birds, osprey, alligators and other natural features. Continuing to the Manatee Observation Deck located on the northeast side of Haulover Canal we found many people photographing a group of 4 or more manatees. The manatees were being fairly quiet and hard to see, so we followed up on a recommendation and crossed the canal to the Bairs Cove boat launching ramp where there were a dozen or more, much more active, manatees.
Before leaving Merritt Island National Wildlife Refuge, we turned off on one more drive - Bio Lab Road, which seemed to get much less traffic. It goes along the shore of Mosquito Lagoon and we saw many more water birds, including some good looks at roseate spoonbills.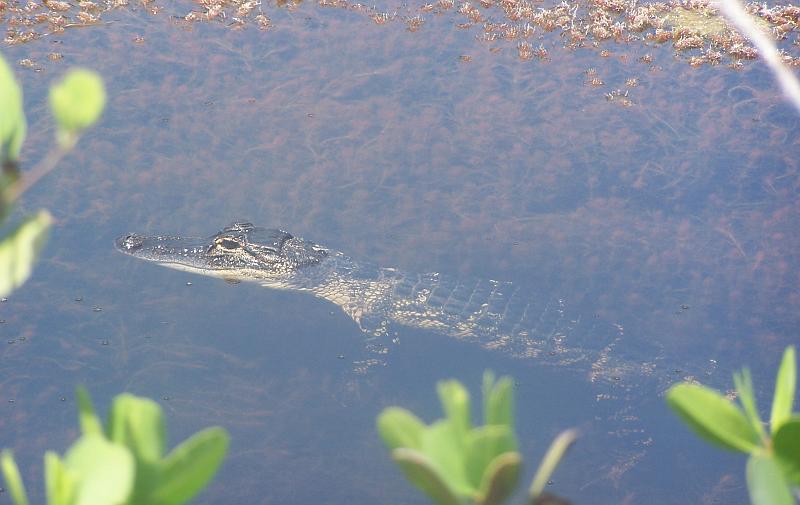 Alligator (Alligator mississippiensis)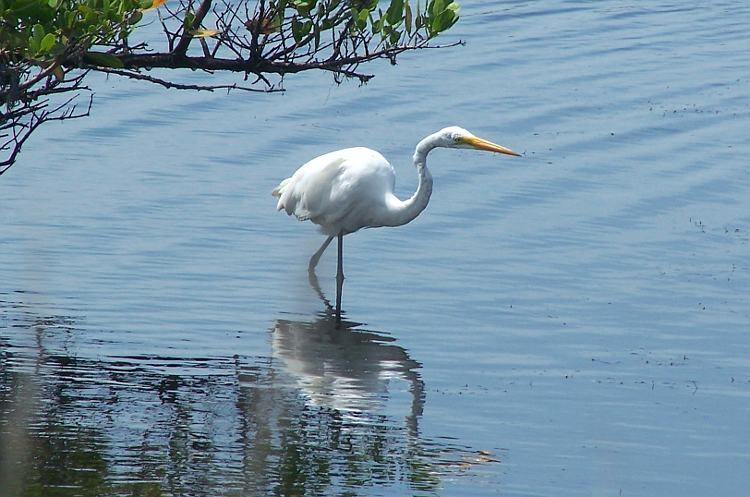 Great Egret (Ardea alba)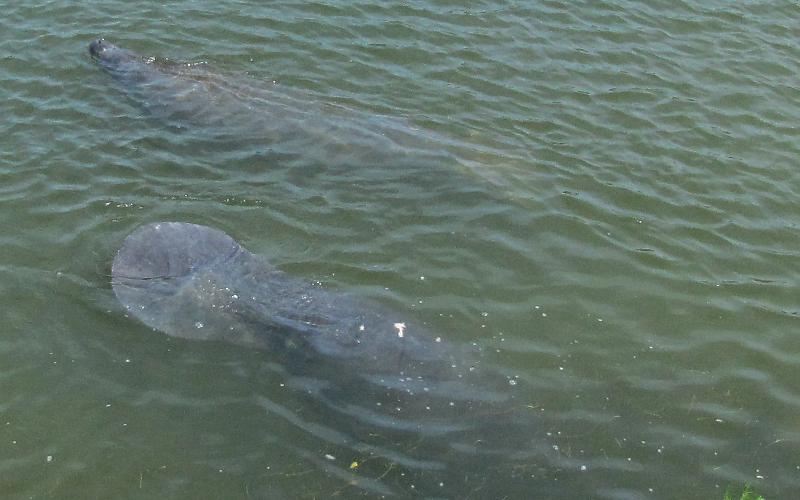 Manatees (Trichechidae Trichechus), baby at top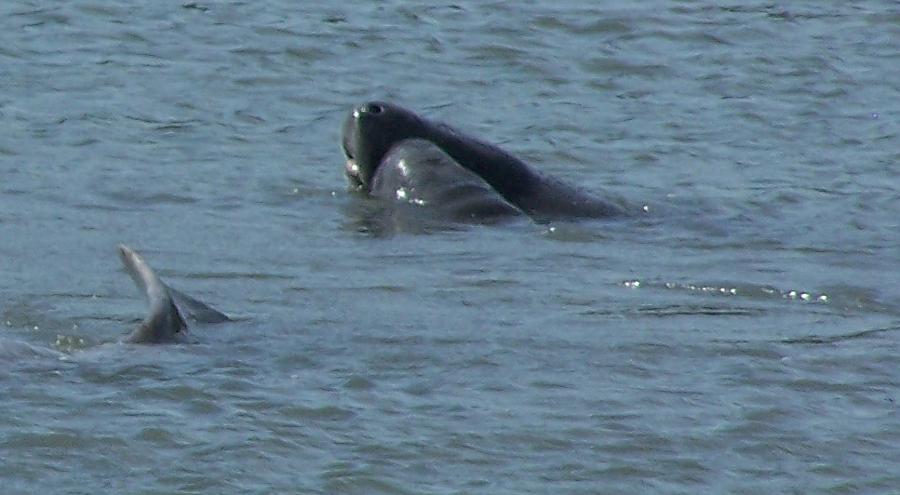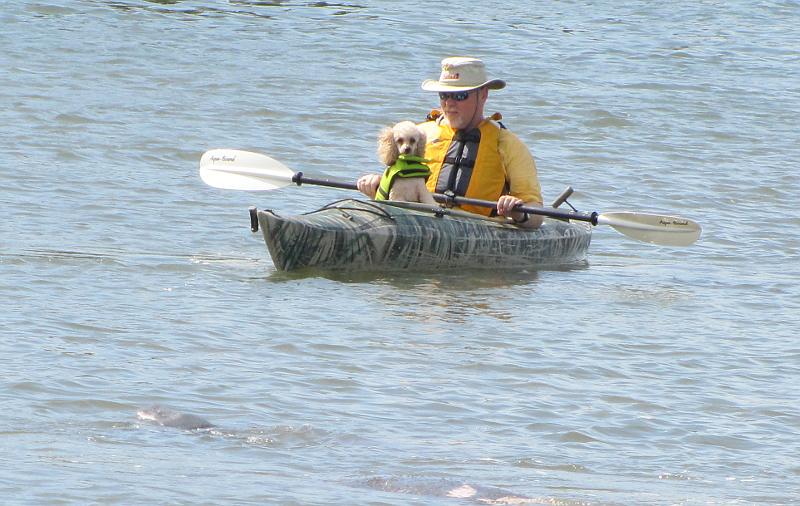 Kayaker and dog approaching a Manatee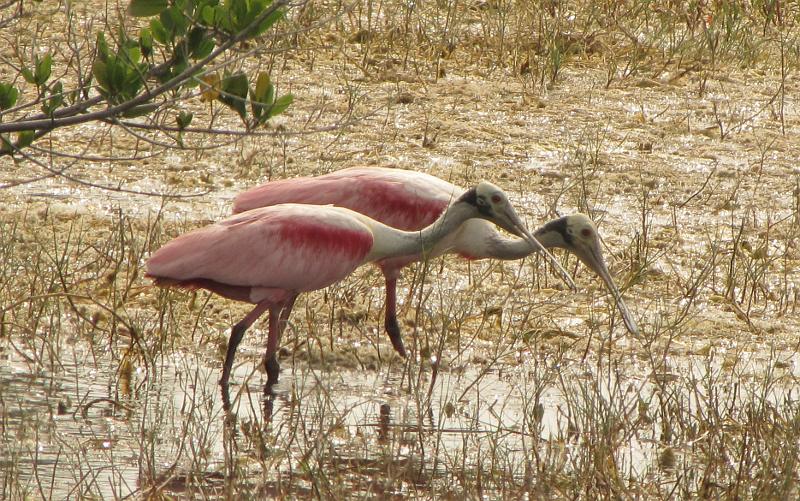 roseate spoonbills (Platalea ajaja)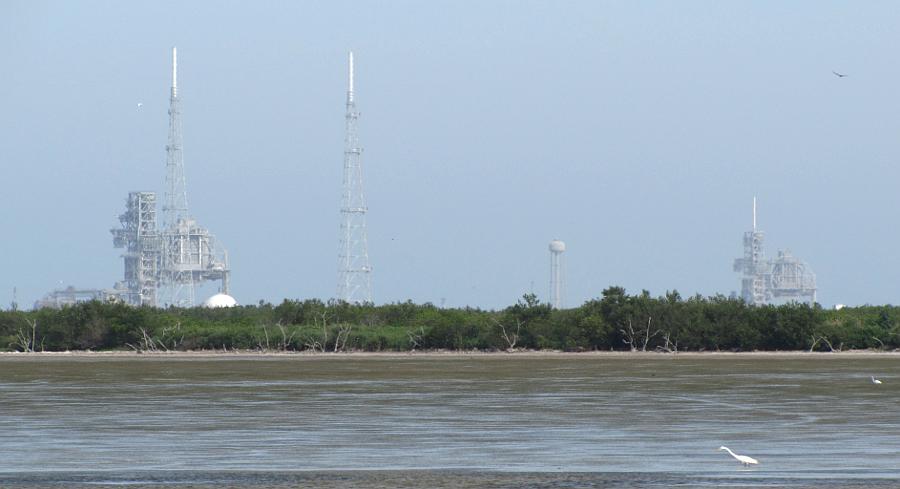 Kennedy Space Center Launch Complex 39's Pad B (at left) and Pad A. The Shuttle Atlantis launched the day before from Pad A. Following the
previous month's launch of STS-131 (Discovery), Pad B has been modified with much higher lightening rods for the Constellation Program.